Hotel Poseidon (2021) – Film Review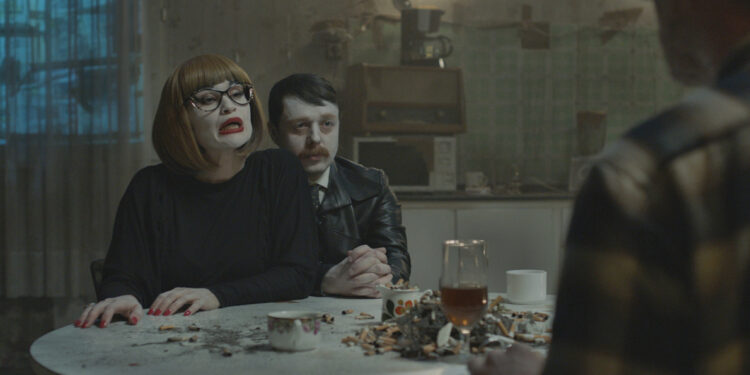 Director: Stefan Lerous
Cast: Tom Vermeir, Ruth Bequart, Anneke Sluiters
By @Roger Crow
I've seen some filthy cinematic hostelries in my time, from those in Guest House Paradiso and Barton Fink, to the decrepit place Ed Norton moves into in Fight Club. But nothing comes close to Hotel Poseidon. No, not the namesake one in Positano, one of the greatest parts of the world, but somewhere from a Netherlands netherworld.
Even if Alex Polizzi was hired to spruce the place up, The Hotel Inspector would recommend knocking the place down on the spot and starting from scratch.
The opening few minutes involve a constant revolve around a dirty room. A dead fish in a tank; decay; dirt, grubbiness. It's only the camera's movement that keeps you watching, and the more you watch the more you feel like you need to get some hand santiser, or eye drops. Maybe a shower. It's one of those movies.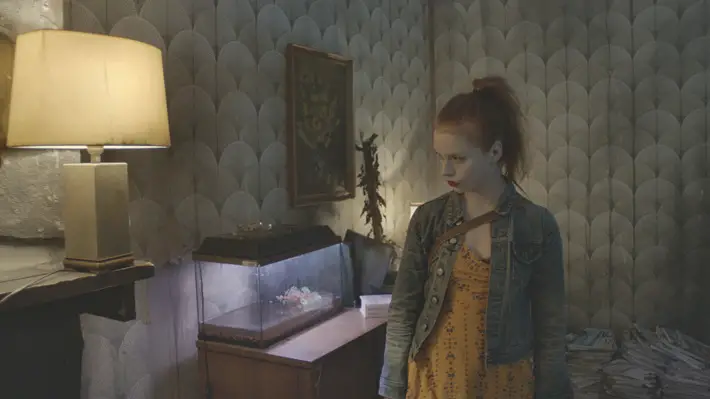 "Jaw-dropping"
And then the logo forms out of random objects, and you suddenly realise something special is going on from Belgian writer/director Stefan Lerous. There are touches of Python; Beetlejuice; Jean-Pierre Jeunet; the League of Gentlemen. You get the idea.
The titles seem positively clean compared to what follows. A guy (Tom Vermeir) lies in a filthy bed while his unseen neighbour watches something obscene. If a house had been left with no roof for a month during the rainiest time of the year, the contents might look like this. The sense of decay is almost tangible, and that guy in bed… I can only imagine the state of his head.
Yet with some morale-boosting words from his neighbour, 'Dave' does make an effort to embrace the day in a jaw-dropping, occasionally comical 'cleaning' routine. A single spray of deodorant down his pants made me laugh, mainly because everything else was so grim.
If the movie feels like something from an avant garde stage outfit, that's because it is. The film was produced and financed by the Belgian theatre company Abattoir Fermé. Apparently they are a well-established name in theatre circles, often acclaimed for far-out visual fantasy and the cinematic quality of its stage plays.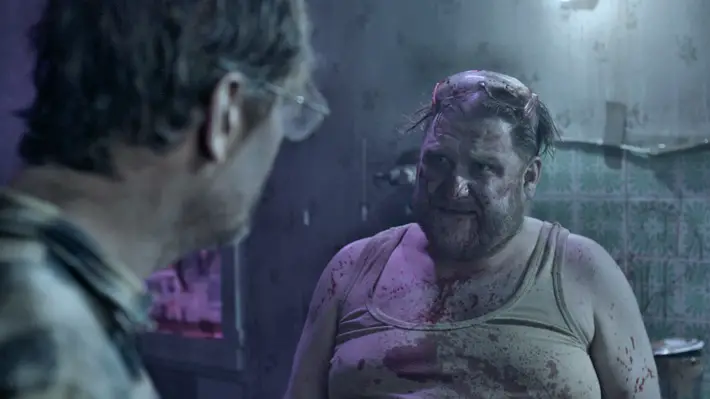 "Pure madness"
A full-length feature film like this was inevitable, though it takes about 20 minutes to acclimatise to the filth-encrusted madness.
The arrival of Nora (Anneke Sluiters), a beautiful young landscape gardener certainly helps. That and the fact that you're not sure what will happen next. In fact what unfolds is pure madness, with flashes of brilliance. The score is often fascinating, a series of stabbing chords, possibly on a cello. Any echoes of Psycho are apt, and the discovery of a corpse also felt like a nod to Hitchcock. Poor 'Aunt Lucy'.
The plot defies description, so the best thing is to just brace yourself and go with it. Some will turn off early. Others will keep watching and wonder what they've just seen.
One thing is for certain: it's one of the most unusual films you'll see in 2022.