Funeral Parade of Roses (1969) – Film Review
Director: Toshio Matsumoto
Cast: Pîtâ, Osamu Ogasawara, Yoshimi Jô
Certificate: 18
by Sarah Morgan
A couple of months ago, if somebody had asked me if I wanted to watch an experimental Japanese New Wave movie, I'd have probably turned the opportunity down. It just sounds on paper so dull.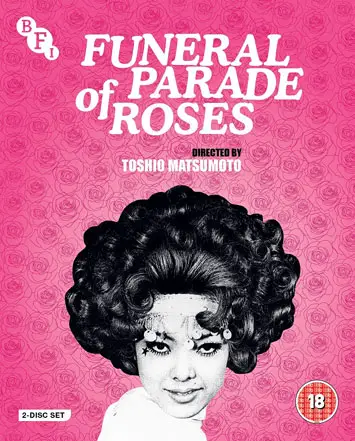 However, more fool me because if I had, I would have missed Funeral Parade of Roses, writer-director Toshio Matsumoto's insight into Tokyo's underground 1960s gay culture, so I've got the lockdown and the extra time I now have because of it to thank for extending my cinematic knowledge.
The movie is receiving a re-release via the BFI's Japan season; the season should be showing at London's National Film Theatre, but instead its films are streaming on the BFI Player and/or are being released on DVD.
"Bizarre and startling"
Funeral Parade of Roses is a mix of traditional narrative with surrealism and documentary. It features real footage of late-1960s life and interviews with a variety of characters, both real and fictional, as well as bizarre and startling images.
But the main thrust is the story of two transgender gay bar employees. One of them, Leda, is the establishment's madam, the other is Eddie, its most popular hostess; both are having affairs with the club's owner, Gonda.
Close to the start of the tale, Gonda and Eddie are driving through Tokyo following a night of passion when they spot Leda by the roadside; it appears she has been spying on them. Gonda tells Eddie not to look back, but it soon becomes clear that Eddie can't do anything else.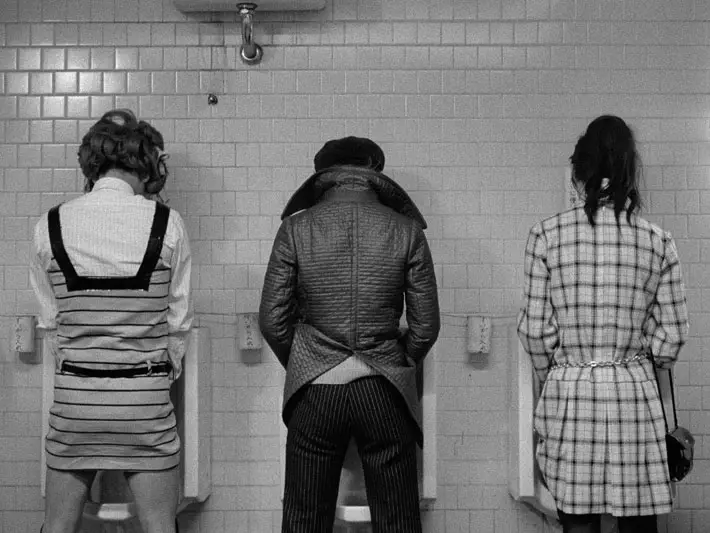 "Visceral"
Matsumoto's script was inspired by Oedipus Rex, so we begin to see flashbacks to Eddie's difficult relationship with his parents, which seem to haunt his every waking moment.
His father vanished when he was a child and all he has as a reminder is an old family photo with the patriarch's face burnt out; his mother, meanwhile, was left bitter and twisted by the experience of being abandoned. As a result, her relationship with her son descended into frustration, disappointment and, ultimately, violence.
Just when you think the story can't get any more visceral and tragic, Matsumoto delivers a final gut-wrenching punch that will leave viewers reeling.
Although more than 50 years old, Funeral Parade of Roses feels as modern and relevant as if it was made yesterday; here's hoping it finds a new audience.
Special features:
New 4K digital restoration, presented in High Definition for the first time in the UK
Feature-length commentary by Chris D, punk poet, singer, actor, film historian and author of Outlaw Masters of Japanese Film
Original Japanese trailer (1969)
US theatrical trailer (2017)
Eight recently restored avant-garde shorts by Toshio Matsumoto made between 1961 and 1975 (105 mins total): Nishijin (1961), The Song of Stone (1963), Ecstasis (1969), Metastasis (1971), Expansion (1972), Mona Lisa (1973), Siki Soku Ze Ku (1975) and Atman (1975)
2-disc edition only includes a 34-page booklet with essays by Jim O'Rourke, the BFI's Espen Bale, Hirofumi Sakamoto with Hiroshi Eguchi and Koji Kawasaki, notes and credits for the feature, the short films and special features
Funeral Parade of Roses is released on Blu-ray by BFI, £24.99