Dream Demon (1988) – Film Review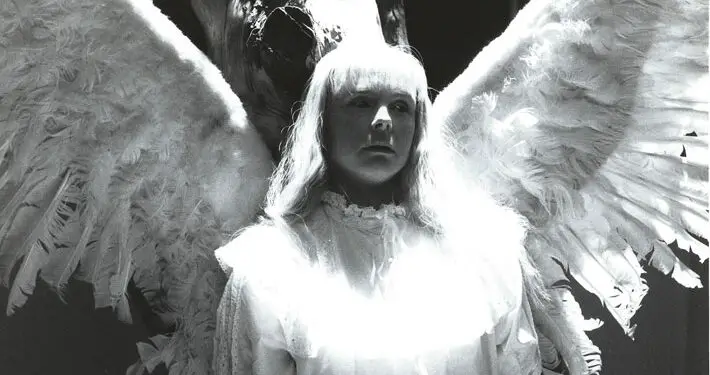 Director: Harley Cokeliss
Cast: Jemma Redgrave, Kathleen Wilhoite, Timothy Spall
Certificate: 15
by Sarah Morgan
It's not often that you catch a moment in a film, the likes of which you've never seen before. However that happened early on for me while watching Dream Demon.
One of the opening scenes involves a wedding. The couple are standing at the altar, supposedly about to exchange their vows when the bride announces she can't go through with it. He hits her and she then slaps his head off.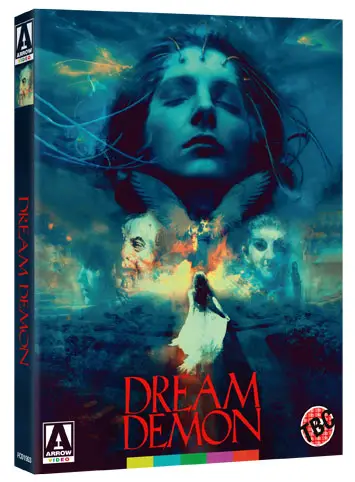 That's right – slaps his head off. It turns out it's all part of a bad dream, but as the movie progresses, you get the impression that really, he deserves such a fate.
The couple in question is slimy Falklands hero Oliver and his sweet if naive fiancée Diana. As their big day draws closer, she becomes increasingly haunted by nightmares. They get increasingly vivid as time goes on, but she finds it difficult to convince anybody just how disturbing they really are.
"Hideous visions"
That changes when she meets Jenny, who was raised in America but is researching her early life – she was born in the house where Diana now lives and is sure the property holds the key to unlocking the secrets of her past.
Jenny is also beset by hideous visions, leading to an extraordinary exploration of the property's basement – as well as some chilling revelations.
I remember Dream Demon receiving its cinema release in 1988 when I was just starting to take a serious interest in cinema. I wasn't old enough to see it (it was an 18 certificate), but it sticks in my mind because it was a rarity for a relatively low budget British film to get quite so much attention.
But then it disappeared for the best part of 30 years. In one of the special features, its American director Harley Cokeliss explains the lengths he had to go to to find the negatives and copyright holder, allowing it to be recut and ready for a new release.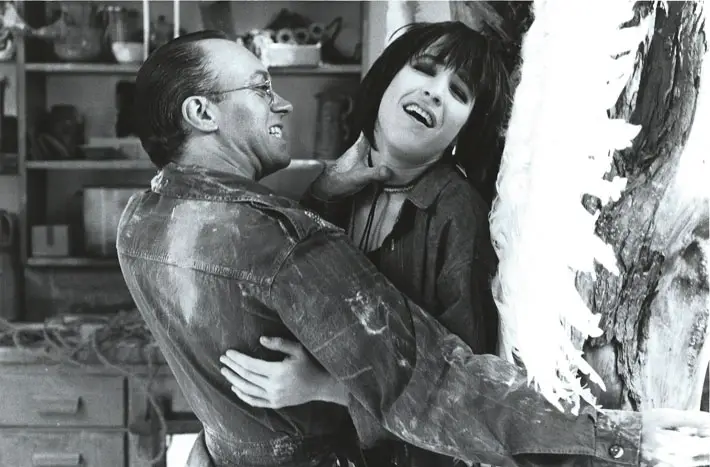 "Psychological issues"
Was it worth all the trouble? Absolutely. It's an intriguing storyline, inspired by disparate ideas from a number of sources, including the relationship between Prince Charles and Lady Diana Spencer, the significance of female friendships and A Nightmare on Elm Street.
Jemma Redgrave, in her film debut, is outstanding as Diana. She has a similar ethereal quality as a young Kate Bush, which helps her depict the character's psychological issues. Opposite her is US actress Kathleen Wilhoite (later to become familiar thanks to a recurring role on ER) as Jenny.
Nikolas Grace pops up, while Timothy Spall and Jimmy Nail – shortly after starring together in Auf Wiedersehen, Pet – also appear as rather vile members of the press.
A range of interviews with the cast and crew offer fantastic insights into the making of this minor horror classic.
SPECIAL EDITION CONTENTS
• Brand new 2K restoration from the original camera negative, supervised and approved by director Harley Cokeliss
• Director's Cut and Original Theatrical Version
• High Definition Blu-ray (1080p) presentation
• Original uncompressed stereo audio
• Optional English subtitles for the deaf and hard of hearing
• Brand new scene-select audio commentary with director Harley Cokeliss and producer Paul Webster
• Newly-filmed interview with director Harley Cokeliss
• Newly-filmed interview with producer Paul Webster
• Newly-filmed interview with actress Jemma Redgrave
• Newly-filmed interview with actor Mark Greenstreet
• Newly-filmed interview with actor Nickolas Grace
• Newly-filmed interview with actress Annabelle Lanyon
• Newly-filmed interview with composer Bill Nelson
• Foundations of Nightmare: The Making of Dream Demon - contemporary documentary taking a look behind the scenes of the production of Dream Demon, featuring on-set interviews with director Harley Cokeliss, producer Paul Webster, actors Timothy Spall, Jemma Redgrave, Kathleen Wilhoite, composer Bill Nelson and many more
• Image Galleries
• Original Theatrical Trailer
• Reversible sleeve featuring original and newly-commissioned artwork by Christopher Shy
Dream Demon is released on Blu-ray by Arrow, £24.99