Black Moon Rising (1986) – Film Review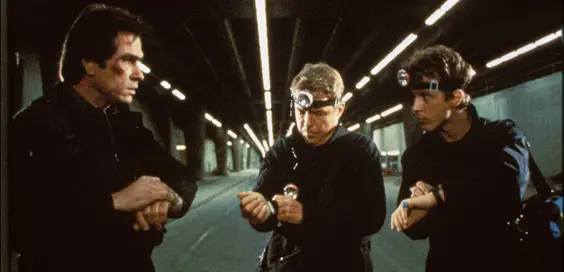 Director: Harley Cokeliss
Cast: Tommy Lee Jones, Linda Hamilton, Robert Vaughn
Certificate: 15
by Sarah Morgan
Whenever the name John Carpenter is mentioned, productions such as Escape from New York, The Thing and, of course, the brilliantly terrifying Halloween spring to mind.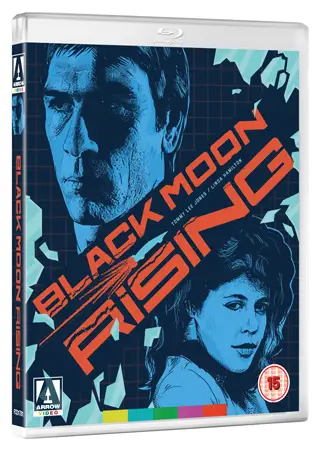 But when he was a struggling film-maker back in the pre-Michael Myers days, he penned several screenplays, some of which were turned into movies quickly, while others never saw the light of day. Black Moon Rising was written by Carpenter during that period, but took more than a decade to actually be filmed. In the space between, he became a star director, but as the script had already been sold, didn't get a chance to make it himself. In fact, he lost all interest in it.
"Entertaining"
Instead, Harley Cokeliss was offered the chance to direct, and he does a sterling job, although lets make no bones about this – it isn't a classic by any means. What it is is an entertaining, typically slick 1980s action thriller with a strong cast who manage to give the overblown plot more kudos than it perhaps deserves.
Tommy Lee Jones plays some kind of thief employed by the government to steal information. His latest case sees him hide the evidence he's risked his life getting in an experimental car subsequently stolen by Linda Hamilton's upmarket carjacker, who works for suitably slimy crime kingpin Robert Vaughn.
On realising that Vaughn's character is actually a very nasty piece of work – and after falling for Jones' manly charms – Hamilton agrees to help her lover and the car's developers find a way to get it back, which involves lots of hi-tech chases and games that take place in a brand new office development.
"Some panache"
Cokeliss may not have gone on to become a household name à la Carpenter, but he does a decent job here on a minuscule budget. In fact, the final major stunt which, although completely unbelievable, is completed with some panache and was later copied in the Fast and Furious franchise.
There are several special features on the disc, including a wonderful interview with Cokeliss who details his career, which seems to have developed via a series of happy accidents that involved making documentaries for the BBC, being in the right place at the right time to land a job on The Empire Strikes Back and a chance encounter with Roger Corman (his New World Pictures backed Black Moon Rising).
He's almost as intriguing as the movie itself.
6/10
'Black Moon Rising' is released on Blu-ray by Arrow, £24.99