The Lost Café Schindler by Meriel Schindler – Review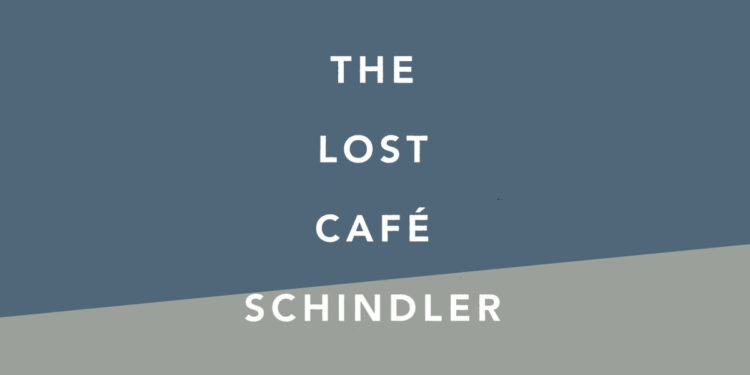 By Richard Mansfield
This book has its origins in the author's ambiguous feelings towards her father, Kurt Schindler, a less than model parent, who died in 2017. Her quest to find explanations for the failings which led to this disenchantment sets the reader on a course that begins in the mid-1800s in Austria and introduces us, in due course, to the glamorous Café Schindler in Innsbruck, which her grandfather, Hugo, had opened in 1922.
Meriel Schindler's precise and very well researched book effectively traces her family history from her great-grandfather's time and is set to the backdrop of a Central Europe enduring the turbulent times of two world wars; very dramatically so for Jewish people who were to encounter a history of resentment and persecution.
Kurt, a man very much a stranger to truth and to the realities of sensible business practices had provided his family with little genuine security. In his lifetime he had served a prison sentence for dishonest and deceitful practices while running mostly failing business enterprises. Meriel and her sister had themselves once been required to hide upstairs from the bailiffs while their parents were out! Following release from prison he had abruptly uprooted the family to head back to his native Austria, where they then lived for five years before returning to the UK.
At one level it feels as if Meriel Schindler's intent in writing this book might simply be to seek resolution of her feelings towards him and to gain some form of empathetic closure following his death. However, at the book's conclusion it remains uncertain whether, as she puts it, she feels to have succeeded in 'recalibrating her feelings of estrangement and anger towards him'. Perhaps though there does seem to be some element of reconciliation, if not any wholehearted forgiveness.
Kurt had been a name dropper so far as the family's reputed connections to notable people were concerned and the author sets out, after looking through the numerous papers and old photographs that her father had kept at his reclusive Hampshire home, on an endeavour to distinguish fact from fiction through her own research. Besides extensive use of various archives, she makes contact with estranged relatives and these take her not only to Austria, but to America and Italy. The endeavour results in quite an educational, yet gripping story and the sometimes grand history of the Café Schindler.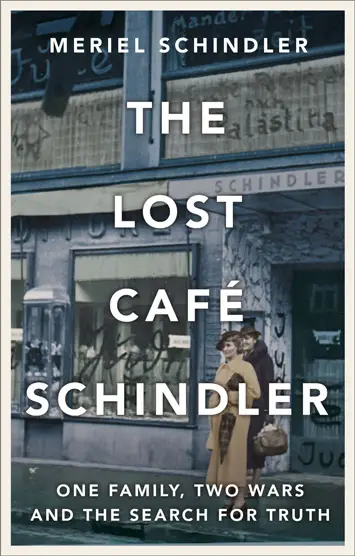 It has been said that it is through family histories that we can gain a 'way in' to understanding the social realities of peoples lives during sometimes vast historical events. In this regard The Lost Café Schindler provides a comprehensive guide and insights into what life was like for entrepreneurial people during the decline of the Austro-Hungarian empire, its participation in the First World War, the growing prejudice towards and the persecution of Jewish people, Hitler's ascendancy, Kristallnacht, the Second World War and its aftermath.
"A troubled personality"
It is via her search for some understanding of her father's personality and history that the author introduces this renowned café, and this takes the reader into areas of family success that Kurt was later unable to replicate.
The Schindlers had built businesses in Innsbruck that were originally associated with processing fruits and drinks. Then the author's grandfather, Hugo Schindler, branched out. In 1922, catching the mood of the times, Hugo opened the Café which thrived as the 'place to be' during the years when, as people sought to put the misery and carnage of war behind them, 'Art Deco' flourished and those who could afford it enjoyed the flamboyance, glamour and style of what proved ultimately to be a phoney peace. As the storm clouds gathered the Schindlers came to England in 1938, the café falling into the wrong hands by means of cosmetically cloaked swindles. When hostilities ceased the Schindlers did not really recover what they had built up in Innsbruck, one that had been catering to sophisticated palates and vibrant social scene of the inter-war period.
Overall this is a very readable, illuminating, informative and enjoyable book, though at times one might not be quite sure whether it was written and intended simply as a storyline or was meant to be something more academic in nature. In some ways it might also be seen to be twin-tracked, even perhaps multi-tracked in its approaches and in what it achieves.
It certainly succeeds in providing that 'way in' to the history and social circumstances of the times, from the 1850s to the present, and we gain a perspective on the two world wars from geographical and culturally different perspectives that reflect a genuine feel for the times portrayed. For instance much of our own understanding of the impact of the first war is driven by what we have been told about the 'Western Front', but less well known here perhaps are the facts and circumstances of the 'Southern Front'.
There is an arc to the family story as it concludes with further consideration of Kurt's character, but on this it perhaps remains inconclusive, particularly from the author's perspective. To his daughter, and indeed to us, he remains a troubled personality and the reasons for that remain may remain speculative in many respects. Perhaps he was he was a man who suffered from the example of a successful father, one whom he could not emulate and this did for him.
Finally, in a book where a classy café in Austria is featured as a central character, one ought not to ignore… cake!
In the end pages four recipes feature from the Schindler period, including inevitably one for Apfelstrudel, from the original Café Schindler menu and followed by a fifth from the owner of the present incarnation of the premises in Innsbruck, reminiscently named 'Das Schindler'.
The name and the tradition live on.
'The Lost Café Schindler' by Meriel Schindler is published by Hodder & Stoughton, £14.99 paperback