Troubled Blood by Robert Galbraith – Review
By Sarah Morgan
Reading JK Rowling's work these days is more of a marathon than a sprint.
Her first Harry Potter book, The Philosopher's Stone, was a relatively slim tome at 352 pages. But the series ended with The Deathly Hallows, which came in at 640 pages.
Now her Cormoran Strike series, penned under the pseudonym Robert Galbraith, is similarly getting longer; Troubled Blood, the latest entry, at a whopping 927, contains more than 250 pages more than its predecessor, Lethal White.
It's a good job, then, that she's a master storyteller. It's a cliché to describe a book as a 'page-turner', but that's exactly what Troubled Blood is – despite its epic length, there was never a point at which I was bored.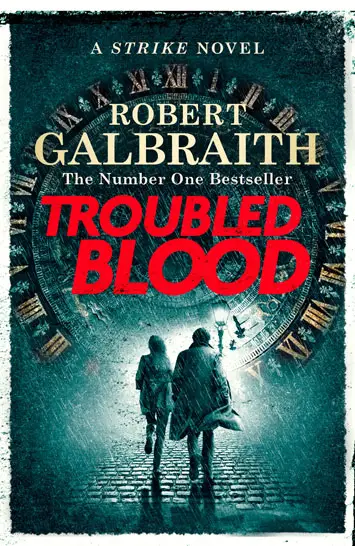 I've never been a Potter fan, I just can't understand the appeal, but I love the Strike books and after reading the latest, I probably admire Rowling more than ever before; it can't have been easy to keep all the different strands of the story ticking over before managing to tie them up so neatly at the end.
"A bold tale, brilliantly told"
There was a time when she was the goddess of the literary world, but in recent months that particular bubble has burst due to her controversial views on certain subjects – we've all read about them and they need no further comment from me.
I would, however, suggest that anybody turned off Troubled Blood by the comments of those who criticised her depiction of a transgender character should read it and make up their own minds whether or not Rowling deserves to be condemned. To explain my own feelings on the matter would mean giving away far too much of the plot.
Strike and his business partner, proud Yorkshire lass Robin, are hugely busy when we catch up with them again. Their detective agency is successful and popular thanks to the number of high profile cases they have solved over the years – and they're about to take on perhaps their most intriguing and notorious investigation yet.
They're hired by Anne Phipps, the daughter of Margot Bamborough, a GP who vanished in the mid-1970s; no trace of her has ever been found despite an extensive police investigation at the time.
As both detectives deal with personal issues, they become obsessed with finding out what happened to Margot. Numerous wrong turns, red herrings and the fevered theories of the original investigative officer throw them off the scent until the chilling truth and a killer right out of the headlines is revealed.
It's a bold tale, brilliantly told, and regular readers won't be disappointed. I've only just finished the book, but can't wait for the sixth instalment – even if it ends up topping 1,000 pages.
'Troubled Blood' by Robert Galbraith is published by Little, Brown, £20 hardback