Heathers – Review – Sheffield Lyceum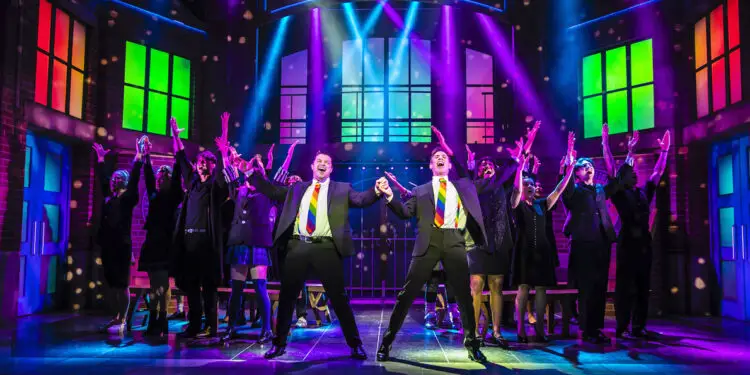 By Helen Johnston, September 2021
Multiple murders, a suicide attempt, sexual assault and bullying. Teenage drama doesn't get much darker than this.
This isn't your typical high school musical and at times it seemed an uncomfortable mix of horror and comedy.
Set in 1980s Ohio, Westerberg High School is full of stereotypical teenagers. The three Heathers are the bullying bitches, pretty girls who roam the corridors in their bold primary colours, stylish and sophisticated and cold as ice.
Then there's the shy, plump girl Martha 'Dumptruck' (Mhairi Angus) and the insecure jocks Kurt (Liam Doyle) and Ram (Rory Phelan) trying desperately to lose their virginity and spending half the show in just their Y-fronts.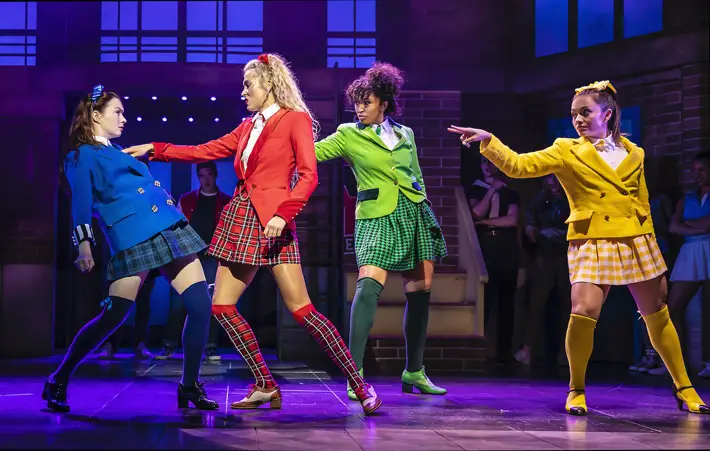 "Darkly mysterious"
In the midst of all this is the sensible Veronica Sawyer (Rebecca Wickes), friend of Martha and scathing about the shallowness of the Heathers while secretly craving to be part of the in-crowd which follows them about.
Instead, she falls in with the darkly mysterious Jason 'JD' Dean (Simon Gordon) who turns out to be anything but the nice guy she imagines him to be. Head to toe in black he was like a Goth without the make-up.
Wickes clearly relishes her role, belting out her songs and getting every ounce of drama from the rollercoaster of emotions her character is taken on. A strange giggling laugh indicates Veronica isn't always as sensible as she might seem.
Heather Chandler (Maddison Firth) is boss of the three and particularly nasty. Firth gives her a maniacal cackle worthy of any pantomime witch and a cold sneer worthy of any catwalk model as she strides across the stage.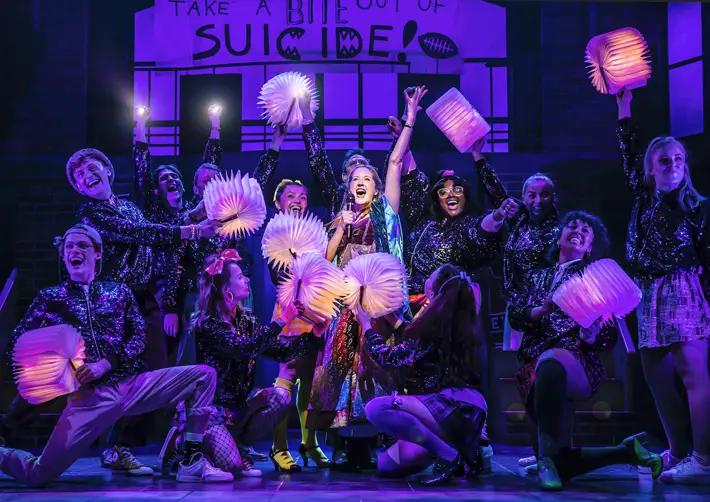 "High energy"
Georgina Hagen puts in a notable performance as the well-meaning teacher Ms Fleming, whose ill-judged attempt at an assembly on the topic of suicide ends in disaster. Hagen put the spotlight on a male audience member who she asked to stand up as though she was talking to a parent in the school. All credit to him for playing along.
I didn't know much about the story behind Heathers and hadn't seen the 1989 film and with all the publicity there is now about teenage mental health it sometimes felt a bit dated in its approach. However, the audience members who clearly knew the story were lapping it up and clapping at every opportunity.
This was my first time back at the theatre for 18 months and it was wonderful to hear a live band and feel the high energy of actors who must be loving every moment back on stage after so long. Every one of them was giving it their all and it was good to be part of an almost-full theatre again.
images: Pamela Raith Photography