How To Build a Universe by Brian Cox & Robin Ince – Book Review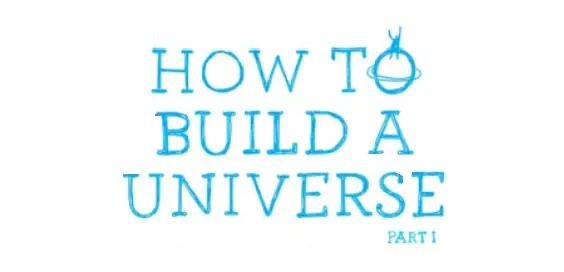 By Roger Crow
Forty years ago, writer and presenter James Burke teamed up with director Mick (LA Story/Denial) Jackson to make Connections. It was a BBC TV series that offered a breathtaking look at science, but, thanks to Burke's brilliant delivery, never alienated the viewer. It was later repeated on BBC Two at teatime, and the 10-year-old me devoured every episode, twice.
Sadly there's little chance of such brilliant educational teatime programming these days, at least on TV. Thankfully Radio 4's The Infinite Monkey Cage is continuing in that rich vein of edutainment. For newcomers it's the show in which Professor Brian Cox and Robin Ince discuss life, the universe and everything with special guests.
Given the fact it's right up my street, it's strange that I never listen to it, probably because I default to repeats of The Big Bang Theory instead.
Reading Cox and Ince's book How to Build a Universe (Part 1), a sort of 'bests bits' from the radio series (with illustrations that look like they were knocked up by a four year old), I realise I need to download as many episodes as I can and play catch up.
"Work of genius"
The book is bursting with brilliant bits of trivia and the sort of pub conversations that are no doubt taking place every day at MIT, Imperial College or other esteemed establishments. The conversations in my local are usually a lot duller, sadly.
I'm no stranger to Brian Cox's work. A few years before he became famous, I interviewed him about a Horizon documentary and expressed my concern that once switched on, the Large Hadron Collider would open up a gateway to hell, like in the movie Event Horizon. He reassured me that that wasn't going to happen, and so far it's been as good as his word.
Within around 12 months of that chat, Cox became a household name thanks to his Wonders of the Solar System BBC series, and suddenly folks were documenting his rise to fame with rather good biographies, such as Ben Falk's tome. (In the interests of transparency, I did provide some of the research for that offering).
Cox and Ince's current book is a work of genius, and the childlike doodles are intentional. The more complex the subject matter, the simpler the layout should be. (That's one of the reasons mind-bending graphic novel Watchmen is such an easy read, despite tackling extraordinary themes).
"Head-scratching concepts"
There's a feast of fascinating subjects addressed with such an array of guests, for newcomers like me, it's a pleasure to consider when a strawberry is considered alive or dead. And other equally head-scratching concepts, such as an infinite hotel review supposedly submitted to Trip Advisor.
It's one of the funniest sections, not least for the idea of a lift travelling near light speed that can lead to awkward problems with dead spouses due to the time it takes to get from one part of the hotel to the other.
Though I've never been more than just a casual fan of some of the issues addressed, it's reassuring to know that even some of the smartest folks in the world who contribute share the same passion for Carl Sagan's landmark 1980s series Cosmos as well as Doctor Who and 2000ad.
I'm guessing it's only a matter of time until the show is adapted for TV, preferably as a replacement for the infinite episodes of Eggheads that dominate the BBC Two teatime slot. And when that happens I hope they get James Burke to offer his thoughts on a few issues.
A perfect stocking-filler for the smart folks in your life, and those who love asking random questions about strawberries and time travel.
'How to Build a Universe (Part 1)' by Brian Cox and Robin Ince is published by William Collins, £20 hardback