Planet Hollywood, London – Restaurant Review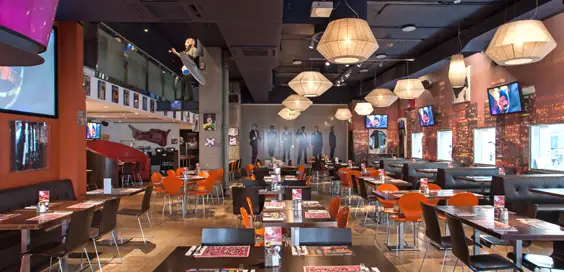 Planet Hollywood, London
Restaurant Review
by Roger Crow
Life is strange. A day after listening to a podcast with make-up wizard Rick Baker, recalling how he discovered his wife had gone into labour while working on Gremlins II, I'm sharing a table with one of his masterpieces from that film.
I'm at Planet Hollywood, London during its 25th anniversary celebrations, and I already feel like a movie star. My name has popped up on one of the huge video screens welcoming me to the restaurant. It's up so long, I think some of the punters are wondering who this person is, whether he's famous and should they Google him. A little like me with the bulk of most alleged celebrity reality shows.
I still recall Michael Aspel interviewing restaurant-founders Bruce Willis, Arnold Schwarzenegger and Sylvester Stallone during one of his chat shows in 1993. It was less of an interview and more of a chance for them to plug the brand for an hour. Aspel wound up reading from the menu while they recalled a few anecdotes between them. Not great TV, but that's Tinseltown stars for you. They have that habit of absorbing the attention without doing much, and successful US celebs are all about the hard sell.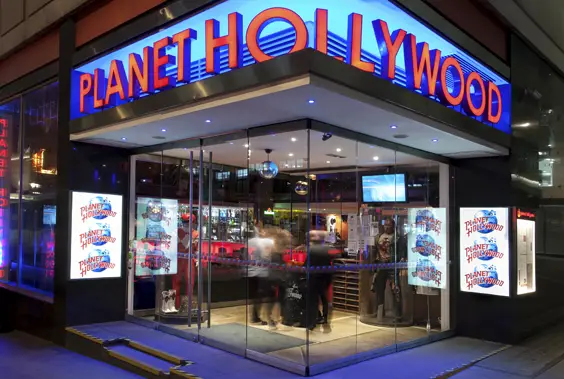 "Impressive menu"
I remember walking past Planet Hollywood a few months later, basking in the newness of it all, and expecting some of that showbiz glamour to rub off by osmosis. It was years before I actually became a punter, fully expecting to be let down by the food.
However, Arnie, Sly and Bruce were right to be proud of their venture. It was a revelation. Along with a rival themed burger chain, Planet Hollywood became a must visit every time I was in Florida, Paris or New York.
Nine years after geeking out at the Big Apple branch on honeymoon, I order the same cocktail, a Dark Knight, and peruse the impressive menu. I'm won over by the Celebrity Burger, not least because the meat is courtesy of the same company who provide for royalty. And what better seal of approval do you need? Fit for Arnie is one thing, but a royal seal of approval goes way beyond an Austrian screen icon.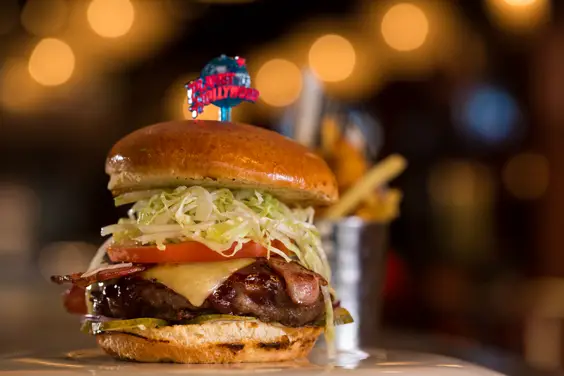 "Outstanding"
The burger does not disappoint. There's no gristle, it's beautifully cooked, and comes with a skewer of shrimp, which is my idea of heaven. Plus, the obligatory brioche bun, a must for any posh burger venue these days. Iceberg lettuce is also essential for any quality burger chain. It's a personal bug bear, but I hate those lacklustre restaurants which use more stalk than leaves, or tasteless excuses for lettuce such as rocket. No such problems here. The sweet potato fries are also outstanding.
Dessert is a Super Nova Shake, a milk shake like no other. Welded in chocolate to the side of the glass is an array of candy which is not coming off without some serious digging. Inside are more calorific treats, and the shake itself is terrific. Not so thick and glutinous that I suffer a headache trying to get it up the straw, and not so sickly that I feel ill by the end.
My partner Rachel's veggie burger (literally called Veggie Burger) is equally terrific, while her strawberry Super Nova shake is a fine alternative if you don't fancy chocolate.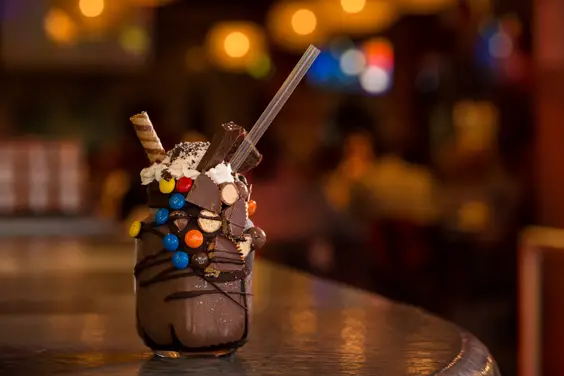 "Still the daddy"
Pottering around the restaurant, I grab a few shots of Han Solo in carbonite from The Empire Strikes Back (nirvana) and a huge model of the Enterprise from Star Trek (ditto). Seeing one of the actual T-Birds jacket from Grease is a nice touch as it celebrates 40 years.
If you're a movie lover who also adores great food (yes, there are plenty of alternatives to burgers and shakes, including pastas, hot dogs and tempting Asian dishes), then Planet Hollywood is a must, especially if you're in town to see a show. It's in the heartland of London's theatre district, and the prices are very affordable for those special occasions.
A quarter of a century after its inception, this is still the daddy of all movie-themed eateries, obeying that essential trilogy of checkpoints for any good restaurant: great food at a decent price, wonderful setting and outstanding service (take a bow Monika, our Bafta and Oscar-worthy waitress).
To paraphrase you know who: 'We'll be back'.
Planet Hollywood, 57-60 Haymarket, London, SW1Y 4QX
Opening Hours: 
Mon-Fri 11.30am – midnight 
Sat 11.00am – midnight 
Sun 11.30am – 11pm
Advance booking is highly recommend, especially during holiday periods and peak eating times.
020 7287 1000
planethollywoodlondon.com