The Potting Shed, Harrogate – Restaurant Review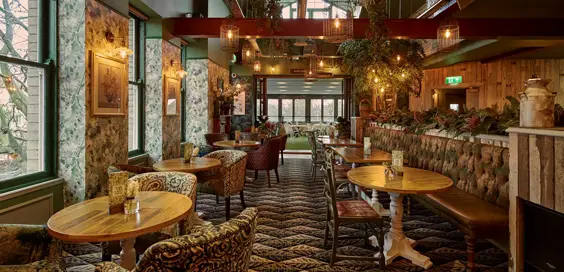 By Katie Leon
The Potting Shed's fifth Yorkshire venue (with two more in the pipeline) has opened in Harrogate and, being new to the brand, I was keen to check it out. My husband and I had recently attended the launch night where we got to see the venue and sampled some of the delights from the kitchen. I was keen to come back to see what the venue was like in a more relaxed atmosphere – so I chose a Thursday evening to check it out.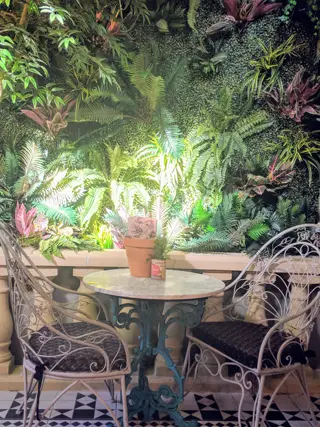 Arriving slightly early, my husband and I struggled to see where to report for our reservation. After hovering just inside the door for a while and being passed by a waitress a few times, we proceeded to walk around looking for someone to help us before a chef from behind the pass asked if we were okay and subsequently directed us to the bar. At the bar, we spoke to someone who found our reservation.
"Relaxed, informal"
He advised us that he had reserved one of the sheds for us but as it was quiet we could sit where we wanted. The bar area was quite loud due to the live music and I was excited by the novelty of the sheds, so we opted to take our reserved seats. We were led to a more secluded area, which had a lovely outside-in feel to it and more chilled out music. Unfortunately, you could hear both the live music and the relaxing music jarring together, which upset the atmosphere a little. Although there was some initial confusion about how to get seated, it fits with the feel of the venue, which is very relaxed, informal and fuss-free.
The décor is quite unique: it felt as if we were sitting in a conservatory or on a patio, with the furnishings all done in lovely bright colours and there are lots of plants and references to gardening. I particularly liked the plant pots that held the cutlery and menus, all contributing to the novel al fresco vibe of the brand.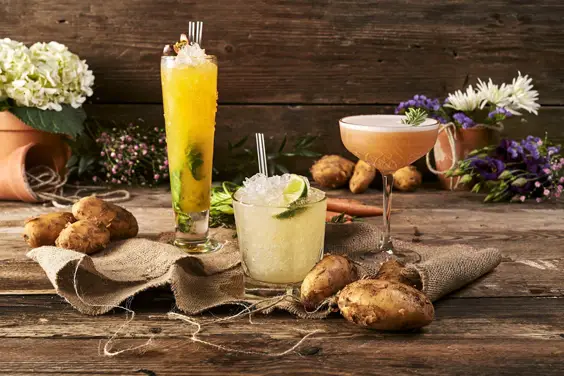 "Share-style experience"
The menu consists of light bites, pizzas, salads, burgers, roasts, sandwiches, sides, 'Shed recommends' and desserts. Our waitress explained that they don't really do starters but you can get a few light bites and have a share-style experience. My husband opted for the Cajun Chicken Burger (£9.95), I opted for the Chicken Shed Kebab (£10.95) with a side of Hand-Cut Chunky Chips (£3.00) and some Calamari to share (£6.45). Together with a Diet Pepsi each (£1.50 each), the bill came to £33.35.
Our food came very quickly, within five minutes. We were excited to get stuck in, but disappointed that despite the quick service, the food was a bit cold. But we both tucked in and gave each other nods of approval after taking our first bites. The Calamari had a light crisp batter and came with a really tasty sweet chilli sauce. The Chicken Burger consisted of Chicken breast, Chorizo, lettuce, tomato and really unusual sweetcorn relish, which was delicious.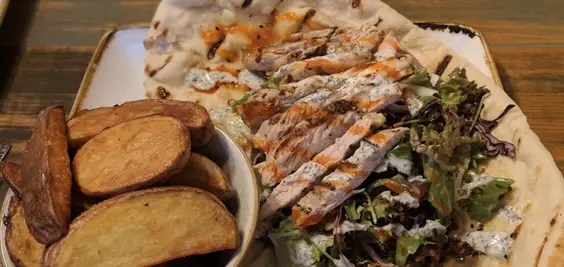 "Great if you are having a quick bite"
The Chicken Kebab was a really generous portion of chicken strips on a bed of minty chopped salad, all piled on a huge garlic flat bread and drizzled over in a tangy sweet chilli sauce. I didn't really need to order the side portion of chips! The hand-cut chunky chips were more like roast potatoes, very big and chunky! They were really nice but I had to get my husband to help me to finish them as again the portion was very generous. His burger came with twice cooked fries, which were lovely although a little salty for my liking. I was delighted to see that you can ask for a Gluten free burger bun, although the Brioche bun that comes as standard was lovely.
Due to the speed of the food arriving, we were done within half an hour of arriving – great if you are having a quick bite before the cinema or theatre. That said, when the waitress cleared our plates and went to get us the bill, we waited twenty minutes before we finally gave up and went to the bar ourselves. This made our visit almost twice as long as it needed to be.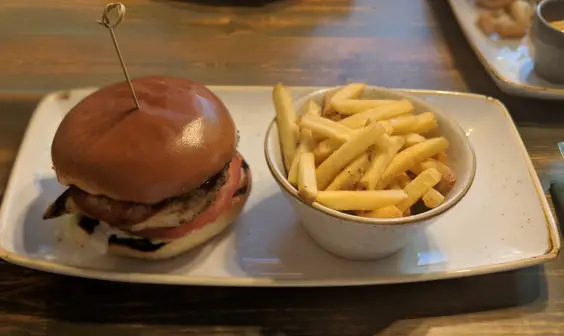 "Refreshing change"
While we were waiting at our seats, the waitress at the table behind us was apologising to the diners for their wait, which seemed odd as we had been served so quickly. That said, the waitress did offer them a discount as compensation. When we got to the bar, our waitress was there but did not acknowledge us or the fact that we had been kept waiting for the bill. We spoke to another member of staff instead who got us all sorted so that we could be on our way.
Overall, The Potting Shed is a lovely quirky little venue which strives to cater for everyone. The live music is a refreshing change, the décor is very unique and the food is really nice – once they iron out attention to detail from serice, it will be a nice addition to a brand with a rapidly growing portfolio.
The Potting Shed, Harrogate closed in February 2019