Hotel du Vin, Harrogate – Review
By Charlotte Oliver
When packing for our stay, I passed over the trendy impulse-bought dress which will be probably be out of fashion by next year, and instead chose my classic one which never dates and is lovely to wear. As we relaxed in the buzzy reception area of Harrogate's Hotel Du Vin looking out at Autumn on The Stray, I knew I had made the right decision. Beautiful furniture, tasteful lamps, muted colours and potted rosemary plants all work together to whisk guests away from fast-paced modern life and gently deposit them in a place of timeless elegance and quality.
Warmly greeted by reception staff, we were personally shown to our room and made comfortable. The basement room, though in need of a little refreshing in places, was a nice size and well-furnished. However, the thoughtful touches are what elevated it well above the average hotel; treats such as top-notch Egyptian cotton bedding, an excellent coffee machine, fresh milk and an honesty hamper of Yorkshire goodies. I have paid more to stay in far less lovely rooms than this.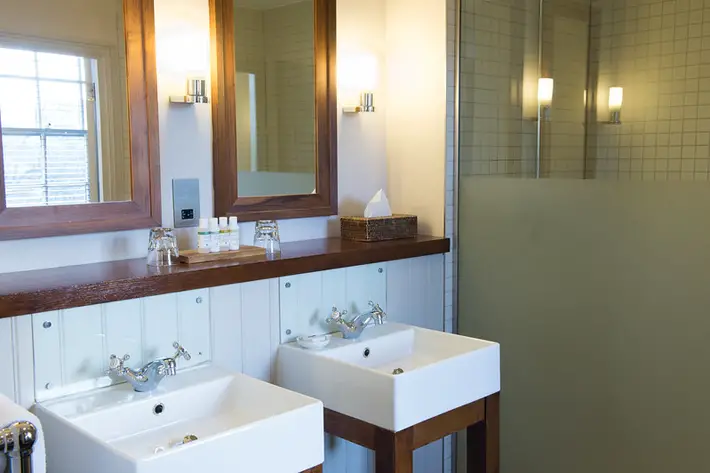 "Great shopping opportunities"
The bathroom was gorgeous, with a freestanding bath practically big enough to swim in, a wet room area, and a cloud of fluffy white towels. It also contained my all-time favourite bathroom products, by l'Occitane – always a great sign!
A quick sit-down in our room revealed that the wooden-floored reception was directly above us and it was a busy time for people checking in and out, so we took the opportunity to get out and explore the vicinity. The hotel could not be more central, with the great Yorkshire institution of Betty's Tea Rooms just a short walk across the town square and some great shopping opportunities on the road behind the hotel. We strolled around as darkness fell, and warmed up by the fire in a pleasant old pub as the working world passed by outside.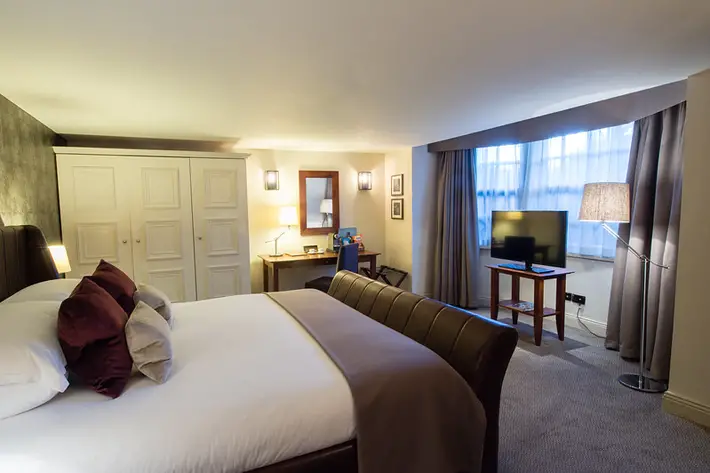 Returning to Hotel du Vin for dinner, I walked into the Bistro (in my very appropriate dress) and was again plunged into the world of chic sophistication. With gigantic leather Chesterfield sofas, floor to ceiling windows, wood panelling and sparkling tableware, this is a special place. The whole experience has clearly been very thoughtfully considered; gentle (but good) background music, subtly attentive waiting staff and a lamp on every table, which casts an intimate glow for each group of diners. The house red was rich and satisfying, and went beautifully with the fresh bread and oil we were served as we decided on our meal. Head Chef Stan Lendel's seasonally-conscious menu includes some wonderful flavours of Autumn such as mushroom, beetroot and pear, and I was hard pressed to choose.
Eventually I opted for a Tartiflette starter. The onion and potatoes were slightly al dente, but the rich Reblochon cheese and cream sauce was truly delicious. My husband's chicken liver parfait, served with brioche toast and raisin chutney, was apparently as perfect as its name claims. Next for me was Sole Meunière – pan-fried lemon sole with caper and parsley butter. It was without doubt one of the best fish dishes I have ever eaten; cooked to flaky perfection, with a light but definite flavour and glistening with buttery capers. French fries were the perfect accompaniment (as was the house red).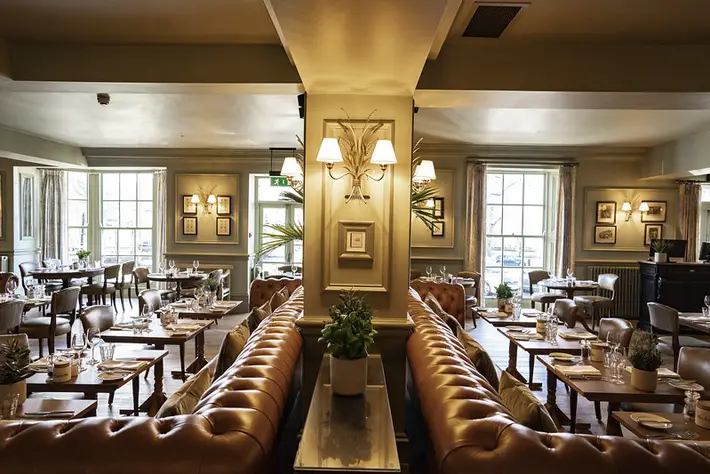 "Gentle atmosphere"
My husband's Cassoulet was delicious though he commented that the deeply tasty and unctuous bean stew itself was the star of the show, rather than the added meat elements. I can confirm that his side order of Lyonnaise potatoes was truly magnificent and would, even on its own, be reason enough to return. Crème Brûlée topped our meal off fittingly, accompanied by a glass of Amaretto. This was served with exactly the right amount of ice and was the ideal way to savour the gentle atmosphere of the bistro a little longer.
Guests are spoiled for choice for places to sit and relax after dinner: an outdoor area with heaters and fur throws; a reception lounge full of comfy sofas; or the Cellar Snug, with squishy armchairs and a full-sized pool table. We opted for the latter and enjoyed a fine hour of pool before retiring for a very comfortable night's sleep.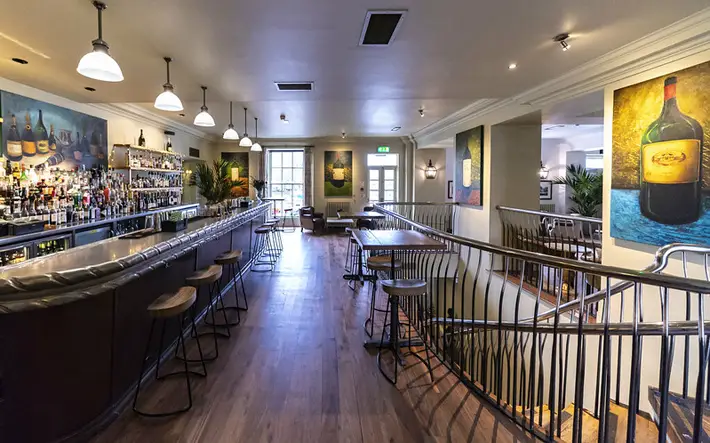 The following morning, after a few lengths of the bath and a first rate coffee from the machine, we were ready for breakfast. With choices ranging from a light breakfast to a full English, the menu caters for all tastes. I very much enjoyed my smoked salmon and perfectly scrambled eggs, and my husband gave the Eggs Benedict a glowing report. The coffee was good and plentiful, and it was a treat to have newspapers on hand.
Checkout was as warm and courteous as our welcome had been, and we were able to say with total honesty that we had really enjoyed our stay. The Hotel du Vin provides a wonderful escape to a more genteel time and place. It is run with thought and care, and I would be delighted to be whisked into that world again (and not just for the Lyonnaise potatoes!).
Hotel du Vin Harrogate, Prospect Place, Harrogate, HG1 1LB
Best rate room prices start from £84 for a standard double room only per night, or £97 with breakfast for 2 people. Room packages and offers are available online
01423 608121
hotelduvin.com