KitSound Diggit XL Bluetooth Outdoor Speaker – Review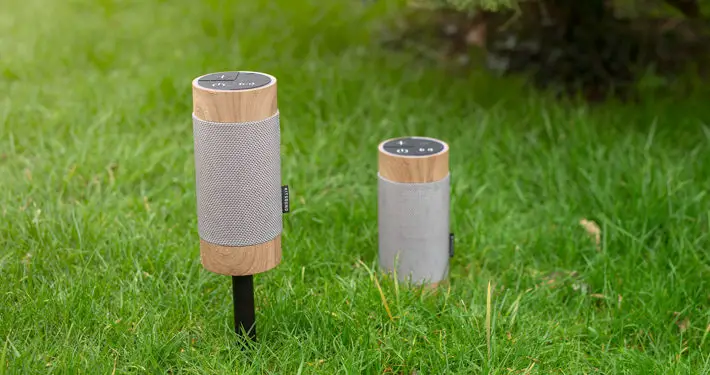 by Ryan Madin
What KitSound Say:
KitSound describe their Diggit XL as "the answer to outdoor audio."
They sum up this portable Bluetooth speaker as follows: "The Diggit XL's removable stake allows music to flow without getting muffled. It's also IP66 weatherproof, has 24-hours play time, and can connect to over 100 other speakers!"
Features:
KitSound have used Bluetooth v5.0 in the Diggit XL boasting smooth, lag free sound which is perfect for audio play back of both music and video. The ability to connect up to 100 speakers together is an underrated feature. For atmosphere creation, parties or events, this could be a game changer, enabling wireless outdoor surround sound at the literal push of a button. It's an impressive idea.
The battery life is also another big selling point, with an advertised play back time of up to 24 hours. This makes the Diggit XL look like a perfect option for days out at the beach, outdoor parties, BBQs and events. The battery takes up to four hours to charge from flat.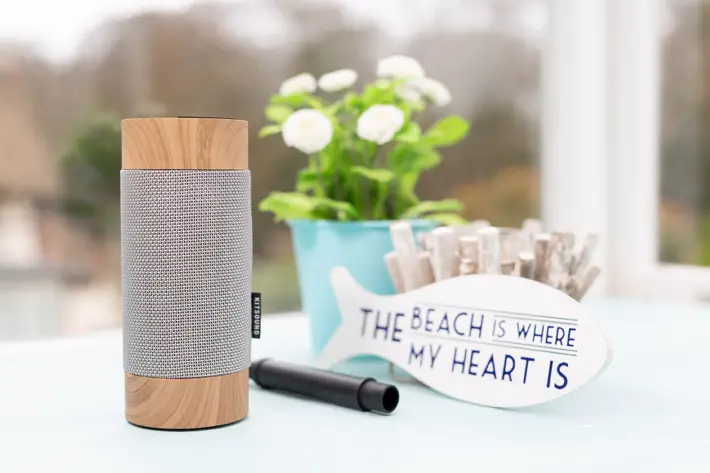 The big feature, and what make this speaker different to most of the others on the market, is the outdoor capabilities. It is water and dust proof to a rating of IP66. IP66 means the product is 'dust tight' and protected against heavy seas or powerful jets of water. KitSound say that: "You need a speaker that won't let you down outdoors with unpredictable weather. We created the Diggit XL to be not just powerful, but also weatherproof with its IP66 water and dust resistant rating."
Basically, its safe from anything up to (but not including) total immersion, but rain, dew, and water spray, sand, dirt and dust won't affect it. This means it should be perfect for the garden, picnics, camping or even the beach.
The styling of the product is very nice. A sleek cylindrical speaker offering virtual 360 degree sound, that uses a wood effect for the outdoorsy feel. The LED downlights are a nice feature and the large ergonomic buttons on top are easy to use. The inclusion of a stake means that you can stand the speaker off the ground in grass or sand, but it's not necessary to use this if it's not needed.
My Experience:
I like it a lot. The sound it great, the battery life is substantial, it looks good and it is really easy to use.
Out of the box it is simple to set up. Pairing with your device takes seconds and once paired it remembers, linking the speaker and your device whenever the speaker is on. The volume can be controlled from your device or with the buttons at the top of the Diggit Xl, which is a nice touch. I use this for my phone, laptop and have even successfully tried it with my TV.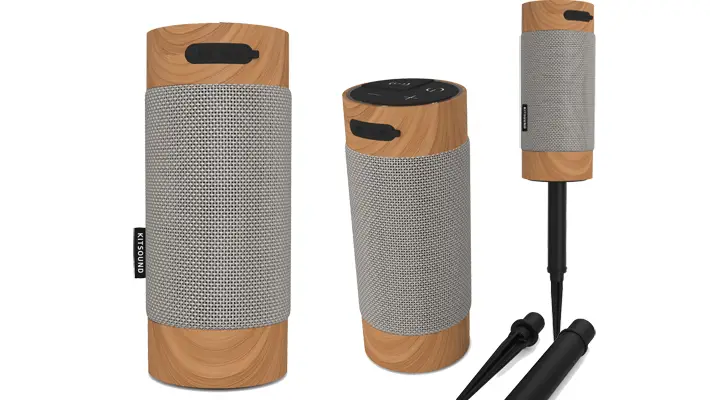 I've only had limited chance to use it outdoors. Summer has ended and I'm not out in the garden much, but I have had it out a couple of times. But the speaker is a great all rounder. Its versatility is what makes it great. You can carry it anywhere. I use it all the time around the house, from in the kitchen when cooking to playing music while I shower. The ability to pick it up in one hand, have it sat on the side or table, to take it into the garden when needed really sets it apart. I also can't wait to take it camping.
The sound quality is better than I expected for the size of the product. It is crisp and clear with balanced bass and treble. Having v5.0 Bluetooth means that when used for video play back it also works. Having two or more of these connected could be a really nice alternative surround sound.
The Verdict:
The KitSound Diggit XL Bluetooth Outdoor Speaker is a great all-rounder that packs a sonic punch. It will look good in your home and has the options for outdoor use. If you're eyeing up more expensive and similar speakers, I would have a serious look at this, especially considering the price. It would be a great Christmas present for anyone who listens to stuff digitally, from music and radio to podcasts and video play back, it really works. It is versatile, unobtrusive and has great quality sound for under £80.
The KitSound Diggit XL Outdoor Bluetooth Speaker is on sale now, RRP £79.99
A versatile and stylish Bluetooth speaker that packs great sound quality for under £80. A great gift idea for Christmas.