Red Sonja (1985) – Film Review
Director: Richard Fleischer
Cast: Arnold Schwarzenegger, Brigitte Nielsen, Sandahl Bergman
Certificate: 18
By Roger Crow
When Conan the Barbarian was released 40 years ago, it inspired a new wave of fantasy epics featuring muscle-bound heroes, fearsome fighting women and nefarious villains.
Inspired by Robert E Howard's novels and Marvel Comics adaptations, John Milius's movie was a full blooded affair which helped make a star of Arnold Schwarzenegger.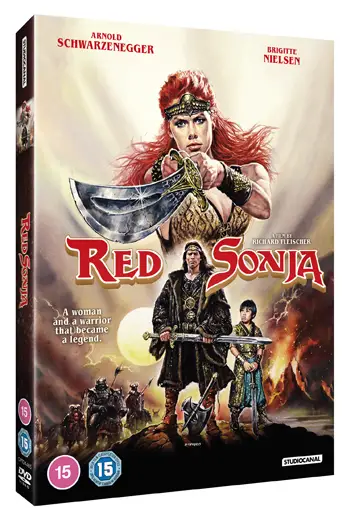 A sequel was rushed into production with Richard Fleischer at the helm, and while that 1984 offering, Conan the Destroyer, was a bit of a let down, compared to Fleischer's other fantasy epic Red Sonja, it looked like a masterpiece.
"All-powerful"
Boasting a dire script and truly awful performances by Brigitte Nielsen and Arnie, this 1985 offering must rank as the low point of the big budget fantasy genre.
Arnie plays Kalidor, a mercenary warrior who trots around in what looks like a pyjama suit. When a magic talisman is stolen by the evil Queen Gedren, the sister of the eponymous character escapes and lives just long enough to pass on some crucial information to Kalidor. He tracks Red Sonja down and without a glimmer of empathy, tells her that her sister is dead.
(It's remarkable for any film that just about every line of dialogue is badly delivered).
Sonja sets off on a quest to retrieve the all-powerful talisman, but sadly crosses paths with a brattish boy ruler (Ernie Reyes Jnr) and his hulking sidekick (Paul L Smith, who starred in flop after flop, including Popeye and David Lynch's Dune, before making this disaster).
On the plus side there are some truly impressive helmets and armour. I'm guessing the bulk of the budget went on costume design, because it sounds like at least a tenner was spent on the script.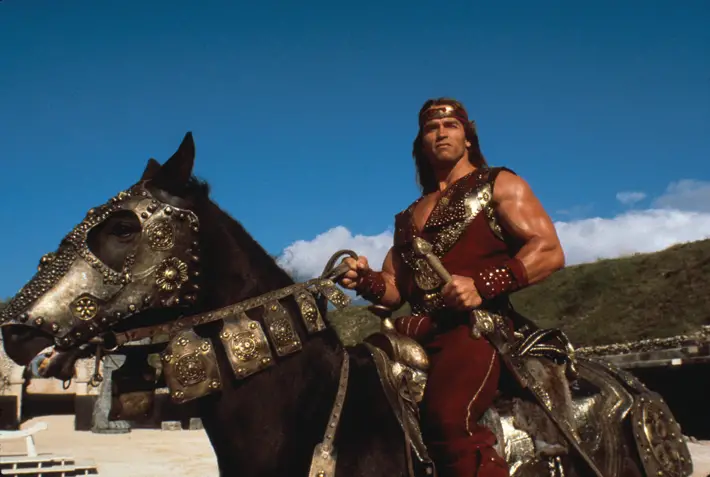 "Athletic physique"
While Raiders of the Lost Ark veterans Ronald Lacey and Pat Roach don't manage to pass on any of the magic from that film, at least there's the odd nifty action scene courtesy of Vic Armstrong, with some hilarious death screams. Brigitte might look the part with her flaming red locks and athletic physique, but every line she delivers is unconvincing. It would have been a much better movie if nobody had said a word, especially that young protagonist who ruins every scene he's in.
For years Hawk the Slayer has been unfairly slated as one of the worst fantasy adventures ever, but that was made for a fraction of Red Sonja's budget.
Thankfully a new restored HD version ensures the picture quality is excellent, and while Ennio Morricone's score may be a tad generic, the Italian maestro did his best to add a sense of grandeur.
Attempts at humour are few and far between, and gags land like a parachuting elephant, while nearly every scene lasts a second too long.
And oh the characters are so stupid. Kalidor spends an age trying to stab a metal water dragon thing before reaching the conclusion he can't kill it. The wails of its thrashing might be echoed by viewers who sit through the entire scene.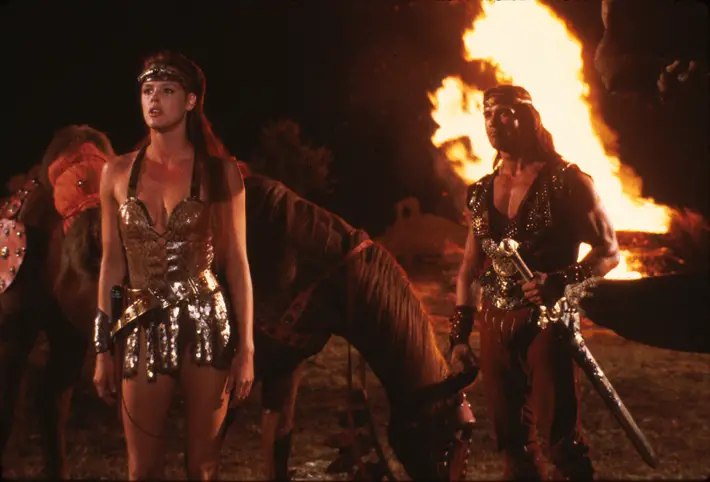 "Mess"
One of the biggest problems with the movie is it doesn't know who its audience is. Teenage lads probably, though good luck any that try and sit through this mess.
Extras include a yawnsome making of-doc, and a feature-length Italian documentary about artist Renato Casaro, who worked on the poster.
After a proposed remake with Rose McGowan stalled a few years ago, Yorkshire's own Hannah John-Kamen was supposed to take on the role of Red Sonja, but she's also left the project.
Who knows if another RS movie will ever get made, but if you're a fan of the saga, track down Barry Windsor Smith's comics from decades ago and give the movie a wide berth.
SPECIAL FEATURES:
● Feature-length Documentary about Renato Casaro: The Last Movie Painter
● Documentary Feature: "Arnold Schwarzenegger - The Man Who Raised Hollywood"
● Interview with Assistant Director Michel Ferry: "Red Sonja vs. Kalidor - The Making of a Misunderstanding"
● Renato Casaro: Photo Gallery
● Original Theatrical Trailer
Red Sonja is released on 4K & Blu-ray by Studiocanal