48 Hours in London – Travel Review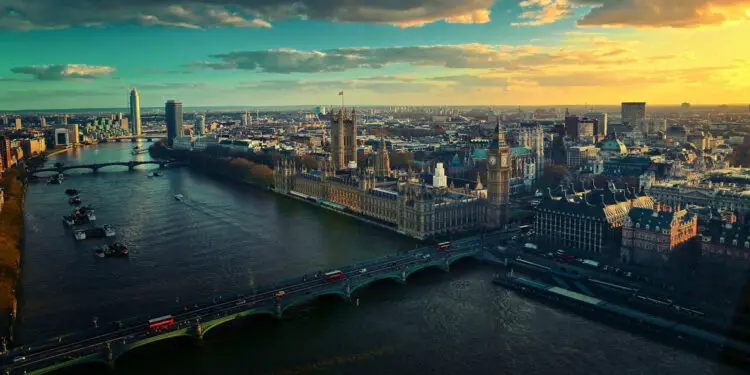 By @Roger Crow
So, you have a couple of days in London and want to make the most of it. What do you do, where do you go and where are the best places to eat?
Well, first things first. Where to stay?
The Churchill, Hyatt Regency, Portman Square has everything you need for a great couple of days, but if you want to go to dinner somewhere a bit quirky, then…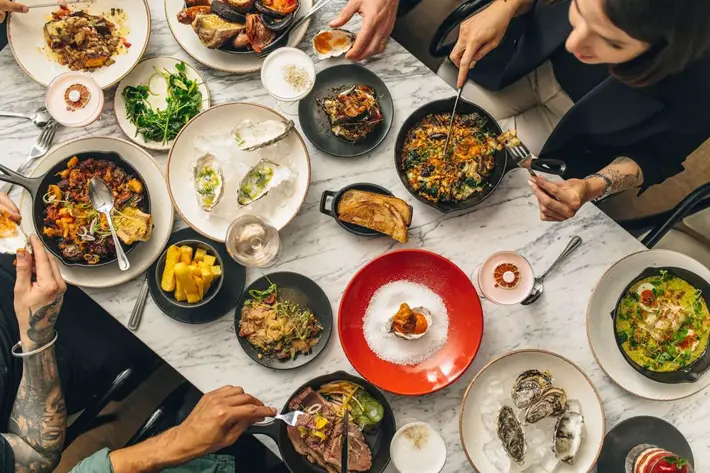 Sixes in Fitzrovia
It's about a mile from The Churchill, so either get a taxi or walk it. It's well worth the effort.
You can just grab a bite to eat, and have a drink either inside or outside. But why just do that when you can revel in the place's USP?
I can't say I'm a huge cricket fan, and it's probably 35 years since I held a bat, but this is instantly one of the most enjoyable dining experiences I've had in ages.
If you're with a few friends, the thrill of having balls fired at you in a netted cage is hugely appealing. A video screen features the bowler, whose ball (fired from a launcher) soon becomes all too real as you a) try to hit it and b) get a decent score. A panel outside the net keeps the tally, so if you've had a tough week before your mini-break and want to get rid of some of that pent-up frustration, then this is just the ticket.
Oh, and the food is excellent. I had mini beef sliders with a vegan burger main, and all were terrifically tasty. As for the warm cookie dough with ice cream dessert, It's a sweet treat to savour. And on a hot summer's night, a cold beer is all the more welcome.
After a great night's sleep at The Churchill, I was keen to do something cultural where I'd get my steps in and go places I'd never been in the capital.
So I head off to…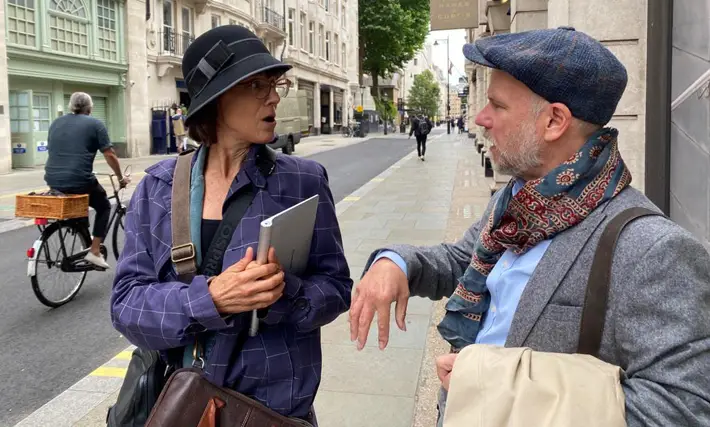 Literary and Fashion Tour
Cindy Lawford and Mike Carter do a fabulous job enacting scenes from beloved novels inbetween a guided tour of famous literary haunts. Naturally me being a James Bond fan, I'm fascinated by how Ian Fleming's life and work is put in context by assorted areas in the city. A re-enacted scene from Moonraker outside one of the clubs frequented by Ian Fleming was a highlight for me, though seeing areas where Graham Greene drew inspiration for his works was also compelling stuff.
All that walking in hot weather was a little tiring, but after lunch I had a new lease of life.
Cindy's tour of Jermyn Street, one of THE most fashionable areas of the UK, is phenomenal, and highly recommended. (I'd suggest getting a copy of Jonathan Sothcott's new book The Jermyn Street Shirt, which by coincidence arrived on my doorstep the morning I set off for London).
It's amazing to see one of Winston Churchill's old suits in one of the shops, not to mention the actual tie range used for Heath Ledger's Joker in The Dark Knight. Oh, and 007 fans will love seeing the shop where the likes of Sean Connery were fitted for the most memorable suits in film history.
londonliterarytours.co.uk
cindylawford.co.uk/jermyn-street-tour
As I'm staying at The Churchill, I'm keen to know more about Blighty's greatest leader, so by late afternoon I pay a visit to…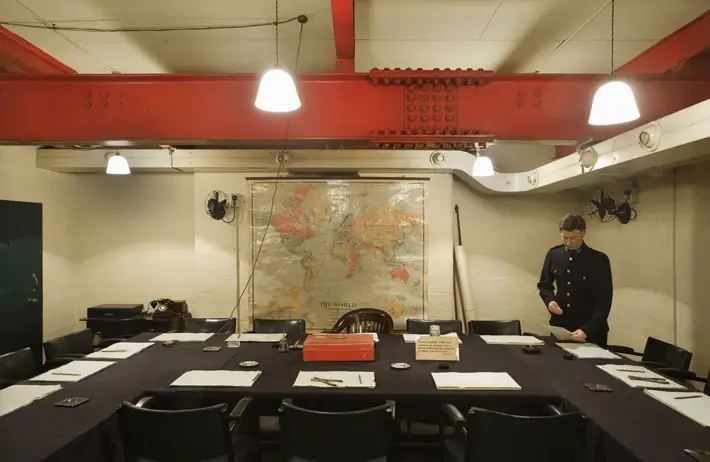 Churchill's War Rooms (Clive Steps, King Charles St, SW1A 2AQ)
Part of the Imperial War Museum, this area provides a fascinating insight into one of Blighty's greatest Prime Ministers. The secret underground HQ where he lived and worked during World War Two is still a hive of activity today as tourists like me soak up the history and sense of place from one of the bleakest times of the past 100 years.
If you want to get the most out of the experience, perhaps best to do it before a five-mile walk around town, and not on one of the hottest days of the year. And even if war history isn't your thing, watch Gary Oldman's stunning turn in Darkest Hour before you go; chances are it will enhance the experience no end.
By the time I'm back at the Hyatt Regency, Churchill is so much more than that illustrious leader and iconic silhouette we know and love.
I was planning on seeing a West End show, but as nothing took my fancy I jumped on a Tube and headed for Embankment. If I had ever taken a trip down the Thames, it was decades ago, so armed with my Oyster card, I boarded one of the Clippers and enjoyed a beer while soaking up the sights of an ever-changing London. It now looks more like something from Star Trek: Into Darkness than ever, with its curved glass buildings gleaming in the sunlight at magic hour.
By Sunday, packed up and ready to go back to Yorkshire, I catch a Tube to Piccadilly Circus to try out the last of the restaurants on my list.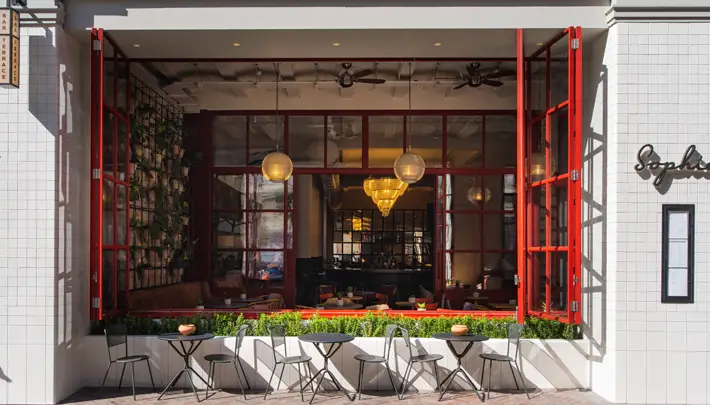 Sophie's of Soho
When I'm invited to try out this steakhouse and cocktail bar in one of the most vibrant parts of London, I know very little about it. And though I turn up an hour before I think it should open, it does give me an excuse to grab a mocha at Picturehouse Central cafe a short walk away. (One of the greatest cinemas in the UK in case you were wondering).
By noon Sophie's doors are open, and I'm invited into the light and airy restaurant. It's beautifully decorated, with its comfy chairs, decor… and the huge framed poster of Mary Millington's Come Play with Me. If this were an old record, the needle would have just jumped off the vinyl. The fact I don't notice it straight away is amazing. It's such a sunny day, and the place is so alluring, that it's strange to see something which seems so out of place. And yet it's also very much of the area. Apparently this used to be an old 'cinema for the more discerning gentleman', so it's nice to see an eatery that hasn't forgotten its roots. However, it does seem at odds with what the place is now, not that my fellow diners seem too shocked by some of the decor. Maybe I've finally reached that age when a saucy film poster has stunned even me.
Far less saucy, but definitely thrilling, was Mission Impossible: Rogue Nation, one of my favourite thrillers of the past six years, and across the road are the phone boxes where Tom Cruise filmed one of the early scenes.
I order a light lunch. The tuna steak with a side of creamed spinach is phenomenal, especially with a cold beer. Very welcome on one of the hottest days of the year. The service, care of Luis, is superb, and I love the music wafting over the speakers.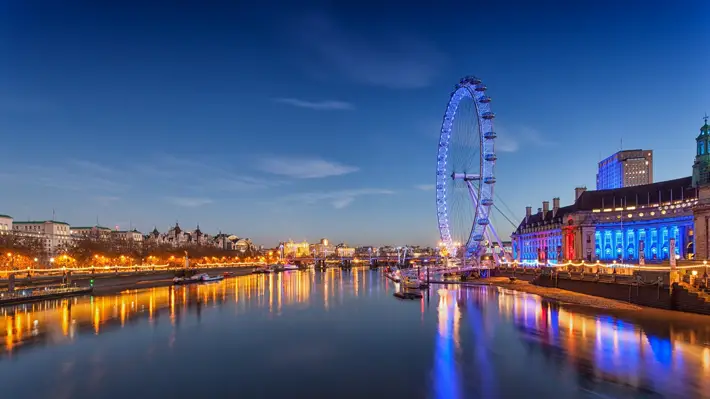 It's the end of an extraordinary couple of days in London, a mini break which has proved how much you can pack into a short stay if you have a decent pair of walking shoes and plenty of good ideas.
After dinner, it's a case of goodbye Piccadilly Circus or farewell Leicester Square, depending on which Tube you take. I'm back at King's Cross in no time and soon heading back up north.
I've had plenty of short stays in London over the years, and the more I explore the more I realise the less I know about the capital. This is one of my favourite trips thanks to a phenomenal hotel, some great eateries, and a tour that definitely opened my eyes to the rich literary and fashion history of the smoke.