The Churchill, Hyatt Regency, Portman Square, London – Hotel Review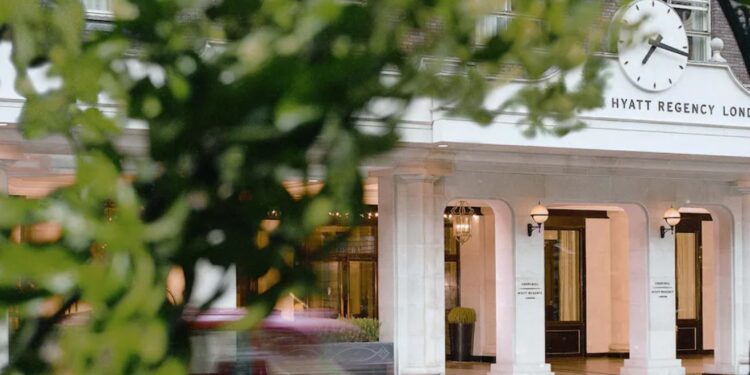 By @Roger Crow
As we know, location is everything when it comes to mini breaks. Why spend ages commuting from your hotel when you can be on the doorstep to one of the world's most famous high streets?
Obviously staying so close to Oxford Street and the West End is not going to be cheap, especially when it's a five-star residence, so do you get what you pay for?
Hyatt Regency are obviously veterans of the business, and The Churchill is one of THE flagship hostelries in the capital, so I was thrilled when offered the chance to check out their premises.
As you might imagine, the decor is stunning, like something from a Stanley Kubrick movie, with all the perfection that entails. If you know the end of 2001: A Space Odyssey, there are echoes of that, but this is far more warm and welcoming.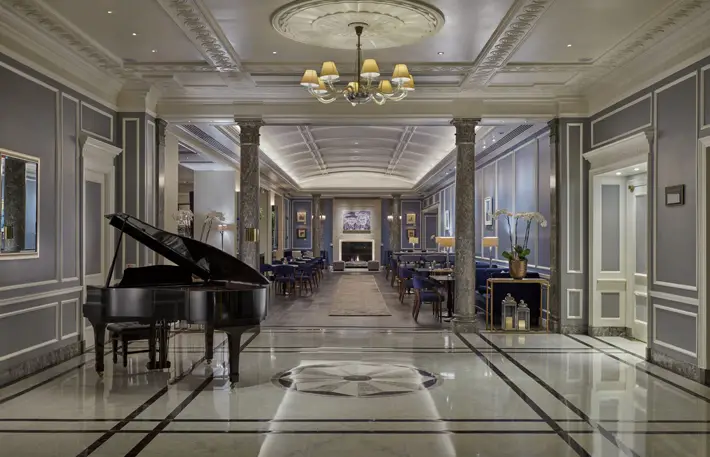 "Sublime"
Check-in is fast and efficient, which is just as well as it's one of the hottest Fridays of the year and I want to freshen up before dinner across town in less than two hours.
There are plenty of card-controlled lifts too, so no hanging around too long.
My room on the fourth floor is sublime. None of that slotting a key card into the wall to get the lights to work. There's a very comfy bed; terrific bathroom with one of those loos straight out of Star Trek – heated seats and all mod cons, which make you wonder how you cope with just a standard loo. There's also an easy-to-understand shower. Not always a given even in some of the best hostelries.
So, of utmost importance: can I get a decent cuppa? Well, thankfully yes, though at first glance the kettle is not obvious. Mine was hiding in an elegant cupboard, along with little cartons of milk – you'll need a couple for one cup, unless you like a builders' strength brew.
There's a fridge too, should you want to buy milk or cold drinks, snacks etc for your stay. And in the scorching summer of 2021, that's obviously a very valuable asset.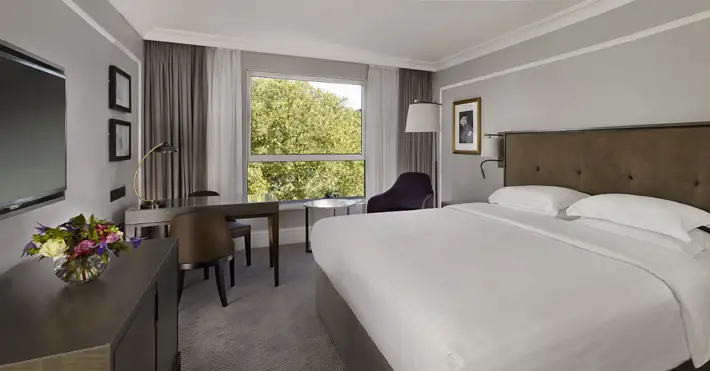 "Time to recharge"
But what of those everyday basics you can't live without? I thought I'd forgotten my toothpaste; asked at reception if they had any, and within a few minutes a dental kit was delivered to my door. Naturally I found my actual toothpaste soon after, but good to know in an emergency that Hyatt Regency has you covered.
"No one should waste a day," remarked Churchill in 1948, and that's definitely the case in London.
I was keen to pack as much into my 48 hours in town as possible, partly in case we wound up in another lockdown, and partly because I'm of an age where 'kicking the derrière out of life' is my maxim. My full-on Saturday of shopping, walking, culture and more left me exhausted.
By the time I'm back at the Churchill, time to recharge the phone, and my feet, before dinner. Strangely there were no built-in USB ports, so best to take an adapter.
Obviously there are plenty of shops a few minutes' walk away, so no shortage of places to buy one if you forget. And I'm sure if you ask on front desk one can be provided. It's one of those sorts of hotels where the staff are only too pleased to help, whatever the challenge.
Many hotels rely on two key things: the quality of the room and the dining. While the room definitely passes muster, I was keen to see how good the restaurant was.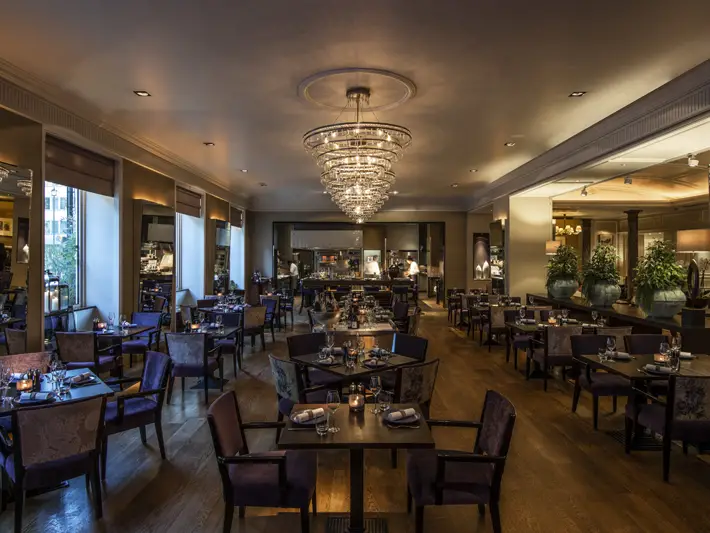 "Impressive"
The breakfasts are especially impressive. On morning one I had terrific scrambled egg with shallots and mushrooms, toast, coffee, jam. You can also get assorted cereals. Nothing was too much trouble for the staff, and as you might imagine the place is immaculate. Even the mirror I sat next to was flawless.
On day two the full English was a work of art. A beautifully crafted omelette, delicious sautéed mushrooms, perfect sausages and expertly cooked hash browns made me wish I could have polished the lot off. But despite the impressive amount of steps I clocked up that weekend, I knew it was better to eat half the amount, as frustrating as it was.
The dinners are also excellent in The Montagu Kitchen. While waiting for my starter on the Saturday evening after my epic tour of the city, I was treated to a bowl of delicious houmous and hexagonal black crackers, which reminded me of something from Star Trek. This is what they eat in the future, and tasty they are.
I loved my smoked salmon starter, and Winston burger main, which was cooked to perfection. I didn't have room for dessert, but the cappuccino was a rich, foamy dream.
An evening on the town, enjoying a trip down the Thames, offered a much needed rest, but getting to and from the Embankment left me desperate to plunge into that super comfy bed.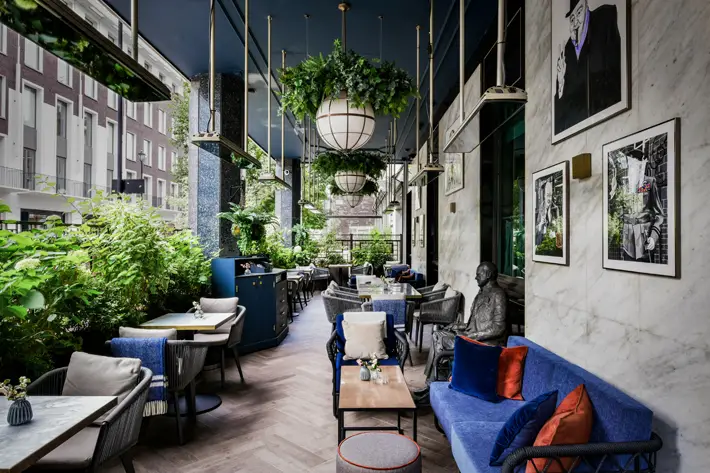 "So comfortable"
Now a word of warning. If you have trouble getting up in a morning, the beds at Hyatt Regency are not going to help. They're so comfortable you could lie there all day, or at least until room service turns up.
Night one was very warm, because I was too tired to sort the air con, but once I did I slept like Rip Van Winkle. Night two was an absolute dream.
I had a terrific couple of days at the Churchill. It's hard to fault any element of the residence, and wouldn't need much persuading to return. Arnaud, one of the grand fromages at Hyatt, is a descendant of Antoine de Saint-Exupéry, the author of The Little Prince. It reminded me of one of my favourite quotes from any book.
"It is only with the heart that one can see rightly; what is essential is invisible to the eye."
And as visually stunning as the Hyatt Regency is, it's those feelgood memories you carry in your heart which really matter. The comfy bed; the beautifully simple shower; the excellent staff, and the views overlooking Portman Square in another of those strange summers when London feels like it's coming back to life after 18 months on hold.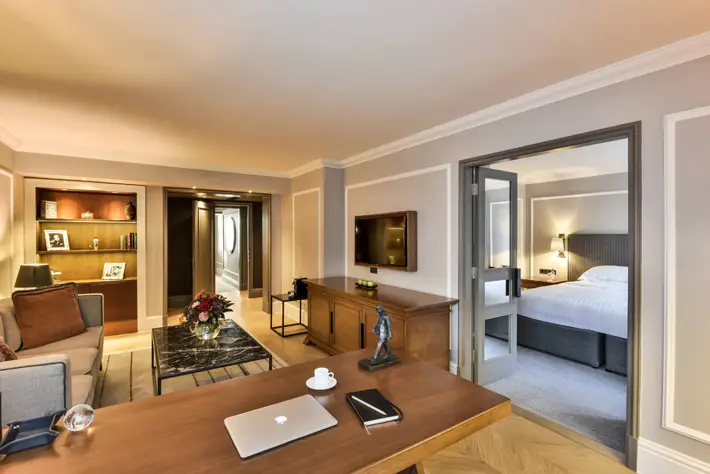 "Ultimate luxuries"
There's everything you need for a great stay, from the fitness centre and laundry service to room service and a rather nice little shop.
Whether you take your little princes and princesses, or like me are travelling solo, Churchill is one of those ultimate luxuries that's well worth experiencing.
Thanks Hyatt Regency. You have done us proud.
Nightly rates start from £218, room only. For more information, visit hyattregencylondon.com