The Jermyn Street Shirt by Jonathan Sothcott – Review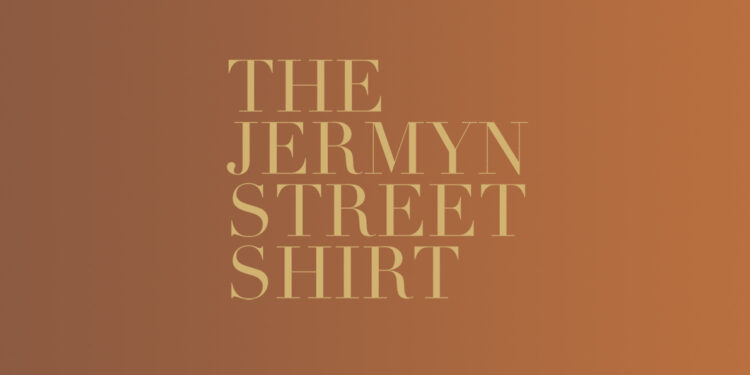 By @Roger Crow
A few years ago, Ian Ogilvy was promoting his new film, We Still Steal the Old Way, and I was keen to have another chat.
(Ian is a dream interviewee, not least because we get to discuss one of my favourite shows, Return of the Saint, and our mutual love of video games).
Sir Ogilvy (it's only a matter of time) was a joy, as usual, and producer Jonathan Sothcott got in touch and thanked me for helping to promote the film. I thought that was that. But over the years it's been a pleasure to see how his career has developed. The opening titles for his movies alone are works of art, and while the influence of James Bond epics is obvious, they're still to be applauded.
I knew that one day I would end up interviewing him, but the fact he was often seen at some posh lunch looking immaculate was a little intimidating. How do you interview someone who you think, okay know, will be your intellectual superior? And obviously sartorially, he's in a different league. I don't know of any other British film producer who has his remarkable sense of style.
Eventually we did chat, as you'll have seen in the pages of this magazine, and it turned out to be a revelation. As a movie fan, his knowledge of the film industry is phenomenal, which is probably one of the reasons I liked his movie Nemesis so much. It was a morally ambiguous gangster thriller which took me by surprise, and remains my favourite film from Jonathan's catalogue. But while he's a man who's always ready for a photo opportunity, as many folks in the media should be, I had no idea how vast his knowledge of shirts, suits and ties was. And when he said he was working on a book about "German Street", I had no idea what he was on about.
"Instant classic"
But of course he had said Jermyn Street, and by a remarkable coincidence, the day after his new book arrived, I was to witness this extraordinary part of London for the first time.
A friend runs a tour of the area, and I'd arranged to attend said tour weeks in advance. It turned out to be extraordinary. Though very late to the party, I can understand why this region of the capital has become a haven for sartorial samurais. And like ancient warriors of old, those that slice cloth to enhance our often lumpy, strangely designed bodies are masters of their craft.
Every girl may not be crazy about a chunky bloke, but pop him in a bespoke suit and chances are he will get a second and third look.
Which is probably one of the reasons I'm so interested in the medium. That and the fact I witnessed the area where the assorted actors were fitted for THOSE suits. The James Bond threads that wowed millions the world over, and remain the stuff of movie magic. Even seeing the shop which provided the tie for Heath Ledger's Joker in The Dark Knight left me slack of jaw. I'm no fashion guru, but as a movie lover, Jermyn Street is a must see. And Jonathan's book reads like a dream because there's none of that pretentious nonsense that could have alienated the reader. It's an often compelling one-man odyssey, and that passion for medium is infectious. James Bond is a rich, unbreakable thread that binds many 007 fans together, and like any cult subject, the more you learn the more you realise the less you know.
During that tour, I don't buy any shirts or ties, but the lure of Floris No 39, Ian Fleming's choice of scent, is too great to resist.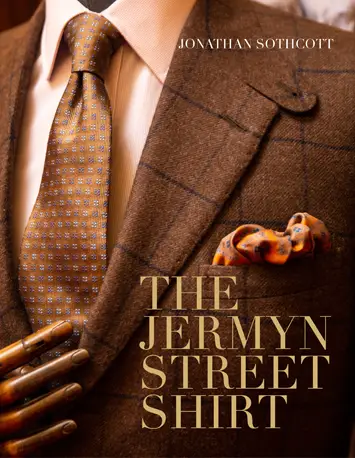 Design-wise, The Jermyn Street Shirt is an instant classic. Its weight and size is perfect. Not so heavy that it cuts off the blood supply to your legs if rested on the lap, and not so large that it's unwieldy to read.
"Attention to detail"
Photographer Rikesh Chauhan does a splendid job with many of the lovely shots, and it's strange seeing the stills of Turnbull & Asser for example a day after experiencing the shop for the first time. It's like getting the 'Making of the movie' book a day after seeing the film.
In short, for anyone who loves great fashion, but has always felt it a bit of a closed shop, The Jermyn Street Shirt is the key to opening the front doors.
Another valuable asset of the book is the pages, specifically the photos. I hate that thing where the grease from even a clean pair of hands can leave a print. Okay, it is a bit OCD, but good books are like paintings. And you wouldn't want greasy fingers all over the Mona Lisa would you?
Through the course of the book I discover a 'placket' is that strip down the front of the shirt. I'm almost 53 and never knew it even had a name, let alone all the other forensic attention to detail.
Some books you devour in one sitting and others you savour. This is definitely one to savour. I'm even impressed with the weight of the paper, probably because that's another one of those things that was considered by experts to make the reading experience as fabulous as possible.
Whether you're a dedicated follower of fashion, or just love a well researched book penned by an expert, this is a must-read. And unlike a shirt with diamonds down the front, it won't cost a placket. Sorry/not sorry.
'The Jermyn Street Shirt' by Jonathan Sothcott is published by The History Press