Introducing: Sunflower Thieves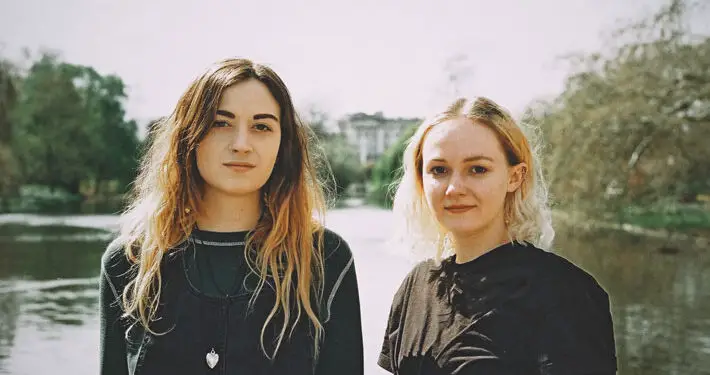 Sparkling synth-folk duo from sunny Leeds…
YOUR NAME: Amy and Lily.
BAND NAME: Sunflower Thieves.
WHAT DO YOU DO/PLAY? We both sing, play keys/synth and guitar.
HOW LONG HAVE YOU BEEN TOGETHER AS A BAND/PLAYING MUSIC? We've been performing together for a long time, but Sunflower Thieves began around 5 years ago.
GIVE US 3 REASONS WHY WE SHOULD TRACK DOWN, LISTEN AND DISCOVER YOUR MUSIC?
1. We write, produce and self-promote all of our own music – completely DIY. We've worked so hard to achieve the sound we want for Sunflower Thieves, and the best outcome for that is for as many people to hear and enjoy the music as possible.
2. As women in music, we want to best represent female-identifying artists in such a gender imbalanced industry. We promote and collaborate with as many female, independent and ethical organisations, collectives and individuals as possible through the project, and we're so proud of what we have achieved ourselves.
3. Our most recent release, 'Hide and Seek' is our best music yet. Produced and released during lockdown, we've put our all into this song, and we're really proud of it. This weird time we're all experiencing is the perfect moment to take a few minutes out of your day and support musicians and creatives, and let yourself escape for a few moments with Sunflower Thieves.
WHERE DO YOU SOUND BEST – FESTIVAL, CLUB, BEDROOM – OR SOMEWHERE ELSE?
Live, we love performing in intimate spaces – living room gigs, folk clubs, etc. If you're looking for some chilled music to relax to, put your headphones on, lie down and listen to Sunflower Thieves.
WHAT WAS YOUR FIRST…
RECORD? The first vinyl record I remember being so excited to own and play is Carole King's Tapestry album. One of my absolute favourites, and it was passed on to me from my parents.
CD? Definitely not the first CD I bought, but Taylor Swift's Fearless album will always have a special place in my car CD player – such an inspiration for getting into songwriting.
DOWNLOAD? Probably something awful which I don't want to think about!
SO, WHEN IT ALL GOES RIGHT AND YOU'VE GOT A MANSION AND A SUPERMODEL GIRL/BOYFRIEND, WHAT WILL BE YOUR BIGGEST MUSICAL INDULGENCE?
I'd be heading straight to buy a grand piano. There's nothing like playing a beautifully tuned piano.
SO, WHEN IT ALL GOES WRONG AND YOU'VE ACRIMONIOUSLY BROKEN UP CITING HUGE MUSICAL DIFFERENCES, WHAT DO YOU FALL BACK ON?
From a young age I always talked about owning a cafe/bookshop, and I definitely still like that idea. So, vegan cooking and books? Sounds a pretty cosy existence to me.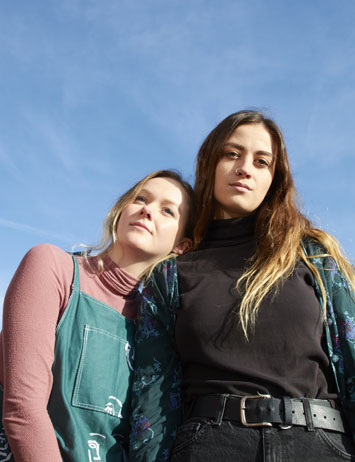 CITE SOME INTER-BAND MUSICAL DIFFERENCES…
I love country music – I was brought up with it as my dad's a big fan, but Lily has never been quite sure about that I don't think. Recently our tastes have tended to merge a bit more, and with artists like Phoebe Bridgers (and Better Oblivion Community Center) and Jade Bird, there is more and more country/folk inspired music on both of our everyday playlists.
WHO ARE YORKSHIRE'S FINEST IN CULTURE, SPORT AND MUSIC?
Shoutout to my favourite Leeds illustrator, Cait McEniff! Definitely worth following her Instagram. And Yorkshire Sculpture Park is one of my favourite escapes. Some beautiful musicians – Sfven, Kitty VR, Mehalah Ray, Laura Kindelan, Green Gardens, Hannah Willwood… I could go on for a very long time with musicians! We are so spoiled for music. Sports-wise I'm afraid I have absolutely no idea.
NAME YOUR SUPERGROUP – WHO'S PLAYING WHAT, WHO'S ON VOCALS AND WHO'S YOUR BEZ?
In an alternate reality where we make big synth pop music, we'd definitely both LOVE to perform with MUNA, so maybe that could be arranged for a supergroup. Saves The World was definitely our favourite album of 2019, and their energy on stage, and the way they use their voices and platform for the good of everyone, is like no other.
GO SEE THIS FILM: Moulin Rouge.
GO READ THIS BOOK: One Day.
GREAT LOST BAND/ARTIST: Amy Winehouse, the absolute best.
WOULDN'T BE CAUGHT DEAD SUPPORTING: Ryan Adams.
LONDON, L.A OR LEEDS?: I'd LOVE to visit LA, but Leeds will always have my heart, and be a home to us.
AND FINALLY… AS YOU LEAVE THE STAGE, WHAT ARE YOUR PARTING WORDS?
Come say hi!!
The new single from Sunflower Thieves, 'Hide and Seek' is out now
For more info visit facebook.com/sunflowerthieves