Crawl (2019) – Film Review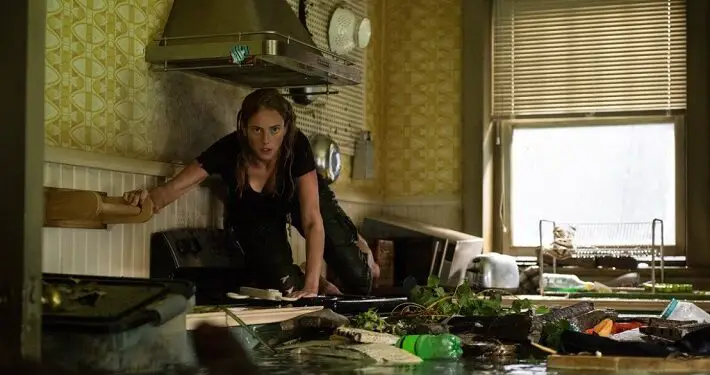 Director: Alexandre Aja
Cast: Kaya Scodelario, Barry Pepper, Morfydd Clark
Certificate: 15
by Roger Crow / @RogerCrow
My first of many holidays to Florida involved a trip to Gainesville in 2002. Maybe I was lucky, but even in February the weather was pretty good, and as far as I know, 'gators didn't swim through people's homes trying to eat them.
Crawl, a rather good B-movie thriller which looks like a hybrid of Jaws, Alligator and Hard Rain, relies on the old standby of 'less is more', until the third act when everything is turned up to 11.
It centres on Haley, a swimmer who goes to see her dad when storms lash their Gainesville home.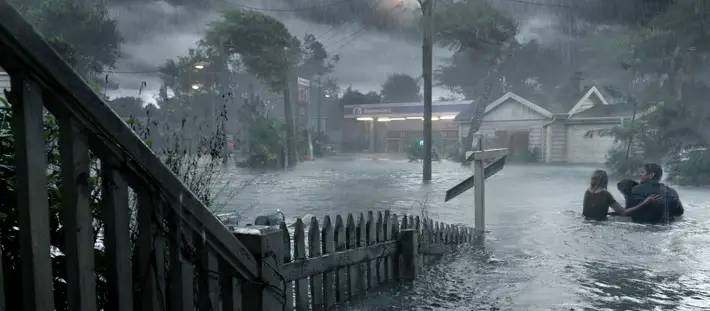 "Mostly very effective"
He's nowhere to be found, but their adorable dog is. As she starts to explore the cellar, it turns out dad Dave is alive but unconscious, and alligators are on the loose. With the aid of her wind-up torch, our heroine proceeds to try and save dad while the flood waters rise.
Director Alexandre Aja is a master of crafting tense scenes, and for the most part this is nail-biting stuff. But while there are plenty of gripping moments, after a while you tire of the quiet, quiet BANG moments, and just pray for something dull.
The leaden CG skies, and final shot feel like a video game cut scene, but this is mostly very effective.
Skins and Maze Runner veteran Kaya Scodelario is terrific as the brave heroine, and Barry Pepper, who was so annoying in Battlefield Earth, is a lot more likeable here as dad.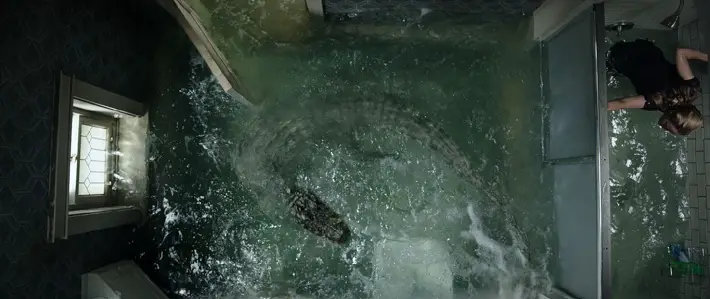 "Lurking"
Of course it's the 'gators that steal the show, lurking in the shadows, and striking at every opportunity.
Nobody was crying out for a killer alligator movie, but Crawl is a great diversion from the horrors of the news, and clocking in well under the 90-minute mark, it's just the right length.
Given his sense of humour, I'm guessing at some point producer Sam Raimi cracked the gag: "Quick, make me a film about killer 'gators, and make it snappy".
Sadly, there's not many jokes here. However, like An American Werewolf in London, it also features THE perfect closing track, which tells you how seriously the filmmakers were taking the whole thing.
Crawl is showing currently on Sky Cinema