Moana (2016) – Film Review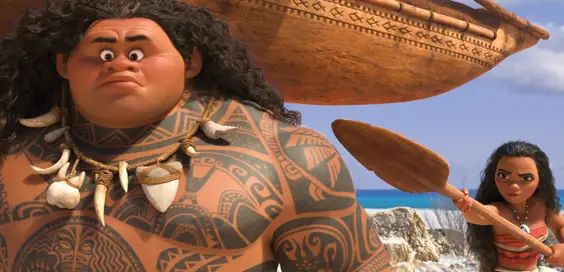 Directors: Ron Clements, John Musker
Voices: Auli'i Cravalho, Dwayne Johnson, Rachel House
Certificate: PG

by Anel Blazevic
Disney's big Frozen-style, girl power-leaning pitch this Christmas, Moana sees a Chieftain's princess daughter (voice of Auli'I Cravalho) from the Pacific Islands yearning to sail open waters. But her strict father-leader forbids anyone to go beyond the reefs circling their island paradise. Defying him, and on a secret mission to save her people, Moana embarks on a journey to find Maui (voice of Dwayne Johnson), a sea-bound demigod who eventually becomes her guide.
Maui empowers Moana rather than simply leaving the critical task of saving everyone to himself. So far so good – and fairly standard Disney-fayre. Except this time there's no handsome prince saviour in sight for the little princess.
In a year brimming over with animated wonder (Kubo and the Two Strings, The BFG, The Jungle Book) it will be interesting to see where Moana eventually lands, so over-familiar and linear is the story arc. That's not to say the film is without its moments of originality or charm.
"A wide-eyed love of nature"
The double act at the centre of the film works very well, travelling from reluctant companions to eager adventurers in a seamless manner. The songs are good, if perhaps lacking a 'Let it Go' earworm. And the colours are exuberant, even if the animation doesn't quite dazzle like a Zootopia or The Secret Life of Pets.
Oh – and there's a spectacularly stupid chicken called HeiHei, which just might be the funniest animated character for a long time.
Ultimately, Moana is about independence and friendship, with a wide-eyed love of nature entwined. And, for once, Disney carry it off without too much schmaltz or goo. A good family Christmas film.
7/10