Jungle Trap (2016) – Film Review
Director: James Bryan
Cast: Renee Harmon, Frank Neuhaus, Heidi Ahn
Certificate: 15
By Roger Crow
I'm a big fan of cheap film making if there's a good story, promising script and actors who have that certain something.
As we all know, big budgets are no substitute for smart ideas, but just because a cast and crew make a glorified home movie, that doesn't mean it should actually be seen by anyone beyond their immediate friends and family.
Made at a time when films shot on VHS enabled indie films makers to craft mini masterpieces, Jungle Trap (originally filmed decades ago) feels like Indiana Jones made for $100.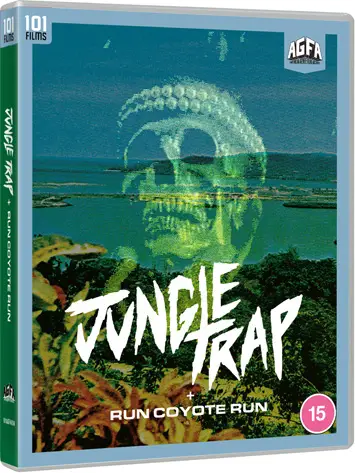 Sadly this is the sort of thing you'd find at the bottom of the Blockbuster bargain bin back in the day. Weak script, dreadful score, poor acting and awful picture quality.
"Micro budget"
The bonus features include a thankfully short interview with some of the surviving cast and crew who reflect on making the film. It doesn't really deserve it. A bit like watching someone's badly made home movie followed by them reflecting on what a good time they had making it.
If that leaves you hungry for more (I doubt it), an additional bonus is the 1987 film Run Coyote Run, another micro budget thriller, this time featuring a car chase and a yawnsome plot. It's the sort of thing Russ Meyer used to do far better in the 1960s.
On the plus side, there is some funky music in places, but that's about it.
Admittedly the longer you watch these micro budget efforts, the more you become intrigued, a little like cinematic Stockholm syndrome. However, like other recent release Ghostriders, Jungle Trap and Run Coyote Run deserved to stay lost.
Special Features:
• JUNGLE TRAP transferred from the original 3/4" master tapes
• JUNGLE TRAP Commentary track with director James Bryan, star Heidi Ahn, and the Bleeding Skull! team
• It Wasn't My Fault: The Making Of JUNGLE TRAP
• JUNGLE TRAP outtakes
• HORROR CON (1989): surviving footage from James Bryan's unfinished horror movie, scanned in 2K from the 35mm camera negative
• Bonus movie: RUN COYOTE RUN (1987), transferred from the original 3/4" master tapes
Jungle Trap is released on Blu-ray by 101 Films, £15