Chuck Steel: Night of the Trampires (2018) – Film Review
Director: Mike Mort
Voice Cast: Mike Mort, Jennifer Saunders, Paul Whitehouse
Certificate: 15
By @Roger Crow
Remember 1986, an era when big, stupid, epic action adventures made millions at the box office? Okay, even if it's before your time, the mid-eighties were an age of excess. Big screen heroes were in widescreen, physically, and hairdos had more volume than Spinal Tap's amp.
It was a time ripe for lampooning because it was almost a parody of itself, but oh how many of us loved it. The Stallone/Schwarzenegger era was a glorious time, and the thrill of renting VHS tapes generated a frisson of excitement that kids today could not comprehend.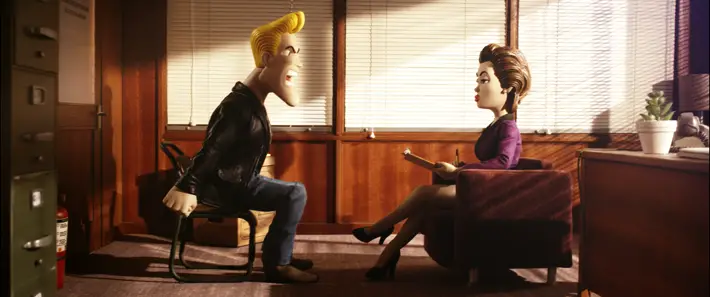 "Loose-cannon"
We felt the need for speed, and it didn't matter that many of the epic movie scripts were stupid.
Tapping into that glorious time is this animated adventure which has more energy than a battery-driven bunny supercharged by a nuclear reactor.
Chuck Steel is a maverick, renegade, loose-cannon, lone wolf, supercop on the edge who doesn't play by the rules. He has his work cut out when he discovers an evil is about to descend on Los Angeles: the scourge of mutant hybrids of vampire and tramp.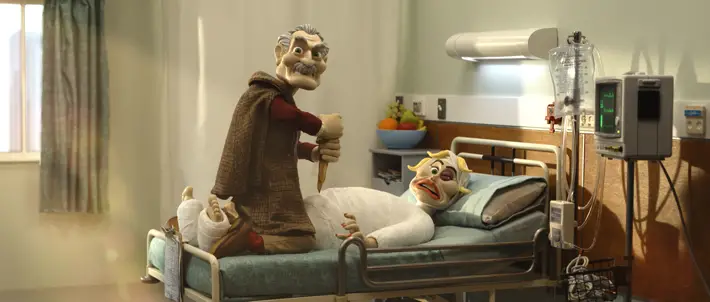 "Great escapism"
Yes, it sounds as daft as a brush, and it is, but the animation is surprisingly good, as is the score. Okay, some of the characters are a tad Dick Spanner (it's an eighties reference for 'a bit rubbish'), and that script needed as much work as the animation and model work. But writer, director, vocal artist Mike Mort deserves full marks for effort. The ever reliable Jennifer Saunders and Paul Whitehouse also lend their dulcet tones to the proceedings.
Sophisticated it isn't, but if you're in the mood for a relatively short animated slice of nonsense, then this is great escapism.
Don't expect too much from the script and Chuck Steel: Night of the Trampires works wonders.
Chuck Steel: Night of the Trampires is in cinemas now