A Kid for Two Farthings (1955) – Film Review
Director: Carol Reed
Cast: Celia Johnson, Diana Dors, David Kossoff
Certificate: U
by Sarah Morgan
Any film from Carol Reed is worth a look. He is, after all, the director who brought us such classics as The Third Man and Oliver! But even the greats have the odd anomaly on their CVs, and A Kid For Two Farthings is Reed's.
However, let's not get off on the wrong foot here. This gentle offering from 1955 isn't a bad movie – in fact, if you caught it on, say, Talking Pictures TV one afternoon, you'd probably find it rather charming, it's just that it doesn't live up to Reed's other works and features some odd casting choices.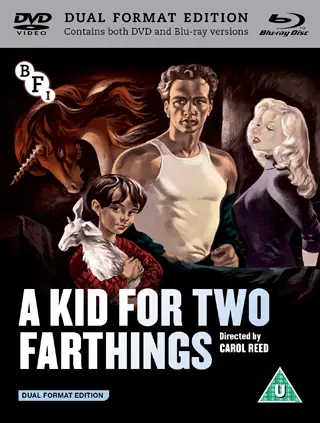 For instance, would you have chosen Celia Johnson – she of the cut-glass British accent so memorably deployed in Brief Encounter – to play an East End working-class mother who hangs around outside a tailor's premises plucking chickens all day with Irene Handl? No, thought not.
"Supporting characters galore"
The youngster cast as her son, Jonathan Ashmore (who's now a leading biophysicist, by the way), is also an odd choice – like Johnson, he appears far too clean and tidy for the role of a street urchin.
Ashmore plays Joe, who hangs around Fashion Street (really Portobello Road). After hearing the legend of the unicorn from kindly tailor Mr Kandinsky, he becomes obsessed with the idea of finding a member of the species, convinced the animal will bring good luck to everyone he knows. Eventually he buys a one-horned goat from a vagrant, believing it to be the creature he's been looking for.
Unfortunately, little works out as planned, not that viewers will probably care that much because Joe's story is by no means the most interesting featured in the movie. Instead, there are sub-plots and supporting characters galore who really deserve centre stage.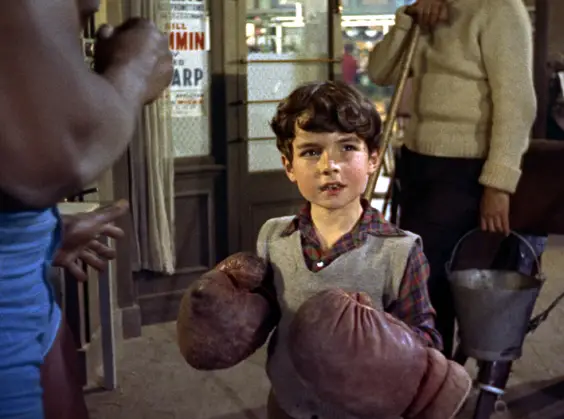 "Wonderful special features"
The main one involves a local bodybuilder who becomes a wrestler to earn the money he needs to wed his fiancée. Real-life wrestler and stuntman Joe Robinson plays him, while former world heavyweight champion boxer Primo Carnera is surprisingly good as his opposition in the ring; Diana Dors portrays Joe's girlfriend Sonia.
A host of other great character actors turn up too, from Sid James and David Kossoff to Danny Green and Sydney Tafler.
A Kid For Two Farthings is so close to being wonderful, but feels like a missed opportunity. At least there's a myriad of wonderful special features on the disc, including an interview with actress Vera Day, who plays Dors' love rival, and a selection of archive films featuring the London of yesteryear.
6/10
'A Kid for Two Farthings' is released on dual format Blu-ray & DVD by BFI, £19.99