Follow Me (1972) – Film Review
Director: Carol Reed
Cast: Mia Farrow, Topol, Michael Jayston
Certificate: 12
by Sarah Morgan
If a play has been a hit on stage with a cast led by Maggie Smith and Kenneth Williams, who would you imagine would be cast in the film version? Two names probably not at the top of your list would be Mia Farrow and Topol. However, when it was decided that acclaimed playwright Peter Shaffer's early hit The Public Eye was ripe for filming, they snapped up the roles.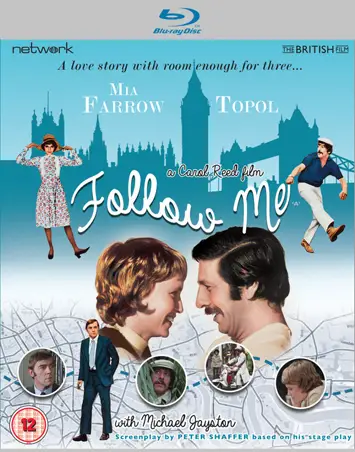 Farrow – then living in London while married to conductor Andre Previn – was chosen ahead of Smith, perhaps to give the movie (now renamed Follow Me) a foothold in her native US. She was certainly a huge star at the time following the success of Rosemary's Baby, while Topol was hot too, having received an Oscar nomination for Fiddler on the Roof.
"Close bond"
He does, however, make an unusual private detective here. The company he works for has been hired by accountant Charles (Michael Jayston) to spy on his young American wife Belinda (Farrow), who has become increasingly distant since their wedding.
Topol, as Julian Cristoforou, then follows her across London, taking notes, constantly eating and joining her clandestinely for horror movie double-bills at a flea-pit cinema off Oxford Street – until she realises what he's up to.
The pair then embark on an unusual relationship. They never speak, and yet form a close bond as they see the sights together, or at least with one of them two steps behind the other. Eventually the truth of the situation comes out, leaving Belinda and Charles to (hopefully) find a way to save their marriage.
"Nostalgic value"
Follow Me is a bizarre movie; you can't imagine anybody making it today – it's very much of its time. The leading actors are probably a little bit old for their roles too, but all three throw themselves into their performances with gusto, particularly Topol. His part, however, could have done with losing a few lines – he's too verbose in places, somewhat overpowering scenes as a result.
It was the final film for the great British director Carol Reed, and not really a fitting end for a career that included The Third Man and Oliver!, despite the fact that a heavyweight like Shaffer adapted the play for the screen himself. It's all too light and silly.
Having said that, Follow Me does have a nostalgic value and is rather charming in a low-key way. For some reason the word 'groovy' keeps coming to mind, and if nothing else, John Barry's score is an absolute delight.
Presented in its original Panavision widescreen aspect ratio from High Definition materials supplied by Universal
Includes limited edition booklet by John Barry experts Geoff Leonard & Pete Walker and Professor Laura Mayne and – in a world first – John Barry's original score as an isolated music track. Previously only available commercially as a re-recording – and edited down in the film itself
'Follow Me' is released on Blu-ray by Network, £11.50