7 Garden Shelter Design Ideas
Having an effective garden shelter on your property is an essential part of enjoying the great outdoors, especially given the variable climate in this country. Whether it's pouring with rain or the sun is streaming down, having a shelter to protect yourself from the elements will ensure that you make the most of your garden or back yard. Also, your outdoor plans for social occasions such as parties and barbecues can still go ahead, even if the weather throws a curve ball, threatening to disrupt your plans.
So, here are 7 ideas for appealing garden shelters to provide space and a chic feature in your outdoor area.
1. Install a gazebo
Don't let the rain or hot sun stop you from enjoying your garden or yard. Install a gazebo to protect you from the elements. These structures can be made of different materials, such as wood or even metal and feature panels on the back and the sides, offering shelter from the wind, rain or sun.
Gazebos can be installed on a variety or surfaces, including grass, concrete, composite decking or other decking board types. Also, you can add certain features like a wood burner or barbecue for cooking food and providing heat on chilly days and evenings.
Gazebos can be custom made or delivered off-the-shelf. All you need to do is decide on the size and design you prefer. This will include choosing the material of construction, colour and whether you'd like panel sides or balustrades and your roof covering. Offering flexibility and choice, gazebos can provide you with your own bespoke garden shelter.
2. Gazebos with removable doors and windows
Another great choice is a gazebo that features removable doors and windows as opposed to the open-sided models mentioned above. The option of an enclosed gazebo means you're set for all weathers. If it's raining or stormy outside, you can batten down the hatches and stay snug and dry inside, doing whatever you've planned to do.
However, when the sun is shining, you can remove the door and windows and store them somewhere safe at the side of the structure. Inside the gazebo, select your seating and upholstery options for a touch of style and luxury. You can also choose from different materials of construction and a variety of roof finishes to bring your gazebo to life.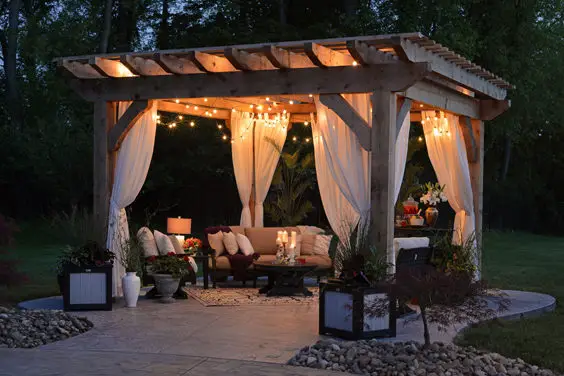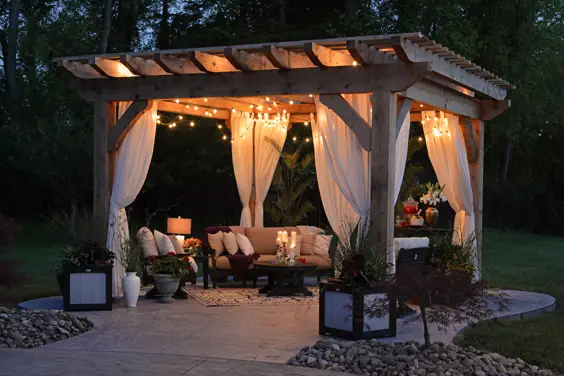 3. Garden shelters with flat roofs and storage
A popular garden shelter is the type that provides garden storage along with seating and shelter. This structure can be open or closed and features a contemporary outdoor space for relaxing and entertaining as well as storage space. For planning reasons, these structures ideally have flat roofs of under 2.5m in height.
If you choose a custom design, you're free to specify the size, style of doors and windows and storage options, e.g. racks, shelves or bench seats that open to reveal storage underneath. This type of shelter is ideal on composite decking or concrete.
4. Be original with a non-standard shelter design
Why not choose a gazebo design with a novel shape, e.g. octagonal? Such shapes can be designed in a size, colour or material to suit your preferences and offer the ideal protection from wind, rain and sunshine. Typically, the diameter would be around 3 metres, which allows you to plan for your base surface such as composite decking, concrete, paving etc.
As with all gazebos, these can come with or without panels to maximise the outlook over your garden. Choose a really stylish colonial design, for example, and contrast the vivid colours in your garden with white garden furniture. You can also add planters and wood burners to any of your garden shelter designs to liven up the space and provide extra functionality for entertaining, time to relax and family living.
5. Go wild with a tree house
Go a little wild and get a tree house as a garden shelter! Obviously, this will depend on many prerequisites such as a suitable tree, a custom design, accessibility to the shelter itself and built-in safety features. This type of shelter is ideal for children or adults who fancy something really different and want to keep in touch with their younger side and with nature.
You could commission a carpenter to design your tree house from wood, adding a roof and painting it to add colour. Alternatively, if you're a DIY enthusiast, you could even try to construct your own tree house to provide a garden shelter. A good tip would be to make this a secondary shelter and have another type that's firmly anchored on the ground, in case you're unable to use your tree house due to windy weather conditions.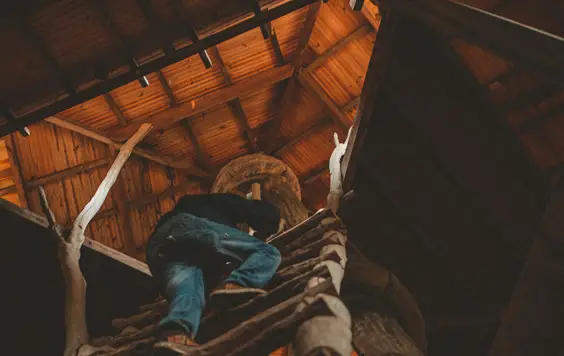 6. Pop-up garden shelters
Order a free-standing pop-up garden shelter as an inexpensive and temporary way to provide protection from the elements and a little privacy in your garden. The latest designs are very easy to put up and in a matter of seconds, you can erect your pop-up shelter and be sitting inside sipping your favourite beverage. Because of the great convenience and easy installation, the pop up gazebo has gained much popularity in recent years.
Unlike tents, pop-up shelters aren't totally enclosed, allowing a view of your garden and air circulation while having a canopy over your head. However, they do require some basic securing to the ground with pegs so it's best to set them up on grass.
7. The traditional garden parasol
The parasol is the friend to every garden-lover and common features in nearly every garden. As these come in different sizes, they offer a flexible means of enjoying the outdoors while being sheltered from the elements. Choose a parasol with a sturdy base and strong construction so you can use it on moderately windy days. The advantage of these is that you can locate them on virtually any even surface such as composite decking, concrete, paving slabs or grass. Also, they fold down when not in use and are fairly easy to move around and store.
With many ideas to choose from when it comes to garden shelter designs, planning ahead is a great way to enjoy your garden all year round. Take into account the surface for your shelter and make sure your composite decking or other base is up to standard and in good condition before going ahead with your plans. If necessary, get your surface renewed to ensure the longevity of your garden shelter.