Tips To Go With Custom Outdoor Rugs For Your Floors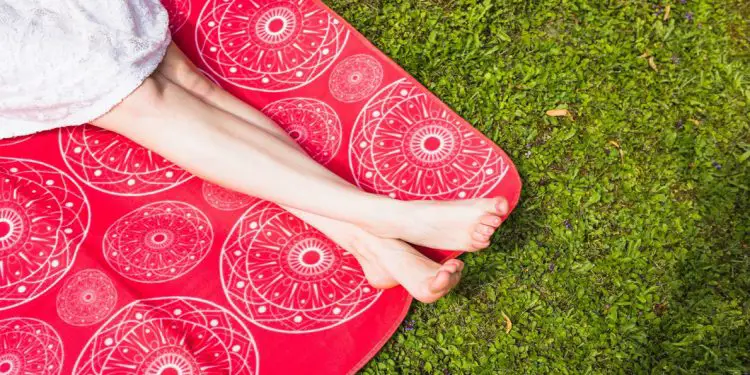 Are you looking to spruce up your outdoor living space? Custom outdoor rugs could be the perfect solution! Not only do they add a pop of colour and style to any patio or deck, but they also provide a comfortable surface for bare feet. With so many options available, it can be overwhelming to choose the right one for your home.
In this blog post, we'll share some tips on how to select the perfect custom outdoor rug that fits both your personal taste and practical needs. Get ready to transform your outdoor oasis with oversized rugs and stylish outdoor designs!
Why You Should Consider Custom Outdoor Rugs
Custom outdoor rugs are a great way to add colour, texture, and personality to your outdoor living space. Not only do they provide an added layer of comfort and style, but they also serve as a practical solution for protecting your floors from wear and tear caused by foot traffic or weather conditions.
One of the main benefits of custom outdoor rugs is that you have complete control over the design, size, shape and material used. You can choose colours that complement the existing décor or go bold with contrasting hues that make a statement. Additionally, you can create unique patterns or designs that reflect your personal taste.
Another advantage of custom outdoor rugs is their versatility. Whether you have a large patio area or small balcony space, there's always an option for every need. By opting for customizable dimensions,youcan ensurethe rug fits perfectly on any surface without looking out of place.
Custom outdoor rugs offer durable options too,in materials such as polypropyleneand bamboo silk which won't fade in sunlight exposure,and will withstand high moisture levels without breaking down easily.
The Various Types of Custom Outdoor Rugs
When it comes to choosing custom outdoor rugs for your home, there are a variety of types available to suit different styles and needs. One type is the flatweave rug, which is perfect for high traffic areas as it is durable and easy to clean.
Another popular option is the hand-tufted rug, which adds texture and depth to your outdoor space. These rugs come in a range of patterns and colours that can complement any design scheme.
If you're looking for something with more visual interest, consider a patterned outdoor rug. From geometric shapes to floral designs, these custom rugs add personality and style to any patio or deck.
For those who prioritize sustainability, eco-friendly options like recycled plastic outdoor rugs are becoming increasingly popular. They not only look great but also help reduce waste by repurposing materials.
Oversized outdoor rugs have been gaining popularity due their ability to anchor larger spaces while still creating an inviting environment. Whatever type of custom outdoor rug you choose- be sure it fits both your aesthetic preferences and functional needs perfectly!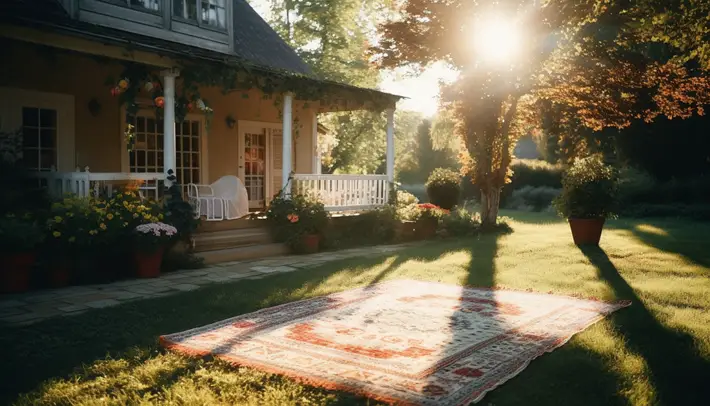 How To Choose The Perfect Custom Outdoor Rug For Your Home
When it comes to choosing the perfect oversize outdoor rug for your home, there are a few things you should consider. First and foremost, think about the size of the area you want to cover with your rug. Oversized rugs can be great for larger spaces, while smaller rugs may work better in more compact areas.
Next, think about the material of your rug. Outdoor rugs come in a variety of materials such as synthetic fibers like polypropylene or natural fibers like jute or bamboo. Consider which material will suit your needs best based on durability and maintenance.
Another factor to consider is colour and design. Do you want a rug that blends seamlessly with its surroundings or do you want something that adds a pop of colour? Think about what kind of vibe you're trying to create with your outdoor space when making this decision.
Don't forget about practicality! If you plan on using your outdoor space frequently or have children or pets running around, look for a rug that's easy to clean and maintain. Water-resistant materials might also be worth considering if rain is common in your area.
By taking these factors into consideration when choosing a custom outdoor rug for your home, you'll end up with an option perfectly suited to both style and function.
Conclusion
To sum it up, custom outdoor rugs are a great addition to any home. They provide an added layer of comfort and style to your outdoor space. When choosing the perfect rug for your home, consider the material, size, and design that best suits your needs. Remember to measure the space before making a purchase and choose a rug that's easy to clean.
Investing in custom outdoor rugs not only adds value but also enhances the overall appeal of your property. With proper care and maintenance, these rugs can last for years while providing endless beauty to enjoy with friends and family alike. So go ahead! Choose one today without hesitation!