Bless This House (1973) – Film Review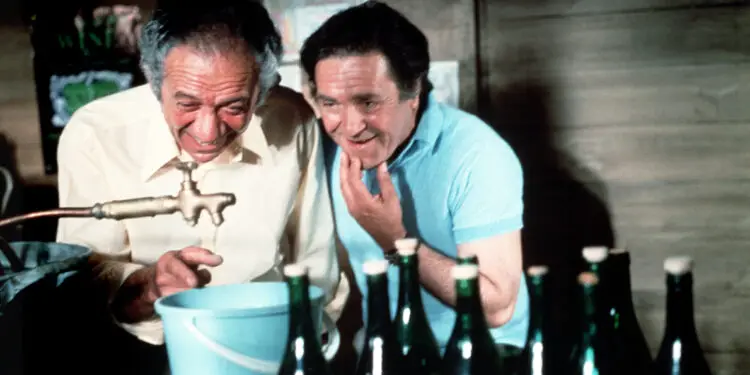 Director: Gerald Thomas
Cast: Sid James, Diana Coupland, Robin Askwith
Certificate: U
By @Roger Crow
It was inevitable that the brains behind the Carry On movies would turn their hands to sitcoms at some point.
After all, years of crafting 90-minute comic gems with the likes of Sid James was ideal training for for TV. And when the much-imitated actor's comedy Bless This House found favour with the masses on TV, a big screen version was inevitable.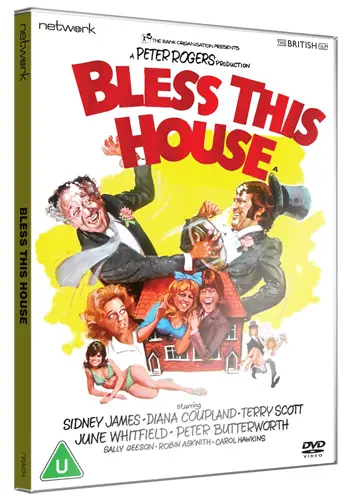 And unlike many a feature-length spin-off from a sitcom, BTH The Movie doesn't involve the long suffering Sid and his family going on holiday. Instead there's plenty of scope for comic chaos merely by him trying to paper over the cracks in a wall left after a hefty chunk of furniture is removed, or pottering around in the garden.
Co-starring Diana Coupland (who dubbed Ursula Andress in Dr No); Sally Geeson and Confessions star Robin Askwith, Bless This House is produced and directed by Peter Rogers and Gerald Thomas.
"Works remarkably well"
The latest version looks splendid. It's a High Definition remaster from original film elements and shown in its original theatrical aspect ratio. So yes, those colours really pop, especially on Askwith's psychedelic car, which coughs out plumes of black smoke, but doesn't have a comedy clown horn.
The plot is simple: Sid's idyllic dream of long lie-ins and fraternal wine-making with his pal Trevor (the sublime Peter Butterworth) is shattered when Ronald Baines (Terry Scott) and his family move in next door.
Things go from bad to worse due to some accidental property destruction on Sid's part – and daughter Sally's over-enthusiastic attempt to put out a bonfire.
The latter is on an eco mission to save the planet, because she keeps warning that in 50 years the Earth will be uninhabitable. Which is any day now.
There's slapstick aplenty, and Sid's trademark laugh is a perfect way to ease any autumnal blues. His comic timing was remarkable. In fact just about every element of the movie works remarkably well, and there's no cringe-inducing moments from that dodgy time for British comedy.
If you're a fan of Are You Being Served?, look out for appearances by Wendy Richard and Frank Thornton just as their department store sitcom was about to go into comedy orbit.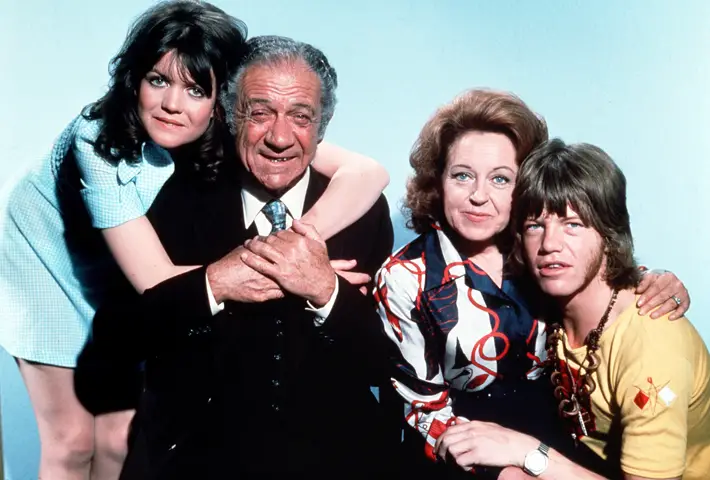 "Comic chaos"
There's also an appearance from the much-missed Bill Maynard, whose work on Selwyn Froggitt and Heartbeat generated a wealth of feelgood memories for different generations.
Eighties comedy staple Janet Brown (who was married to co-star Peter Butterworth, and later played Thatcher in For Your Eyes Only) lends a hand with the laughs.
And it's fascinating to see Terry Scott and June Whitfield in an early incarnation of their cosy sitcom Happy Ever After, and revamped Terry and June.
A special nod also to Eric Rogers, one of the best composers in the business, especially for comedies. His work here is splendid. Bouncy, jolly and it really lifts the comic chaos to another level. (Eric also did fine work on those darker offerings Revenge and Assault a few years before this).
I was surprised how entertaining this was, not having seen it for several decades, and the restoration of a comic gem was well worthwhile.
Bless This House is released on Blu-ray by Network, £17.99