Gonks Go Beat (1964) – Film Review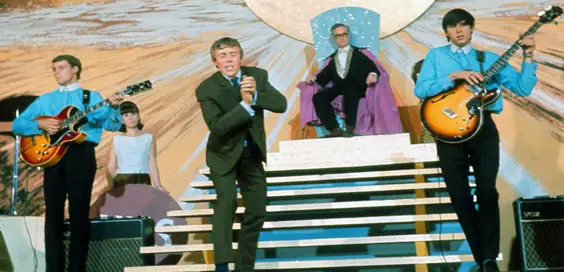 Director: Robert Hartford-Davis
Cast: Kenneth Connor, Frank Thornton, Terry Scot
Certificate: U
by Sarah Morgan
It's rumoured that director Robert Hartford-Davis ordered that all prints of his movies should be destroyed following his death. It seems that nobody took any notice of him.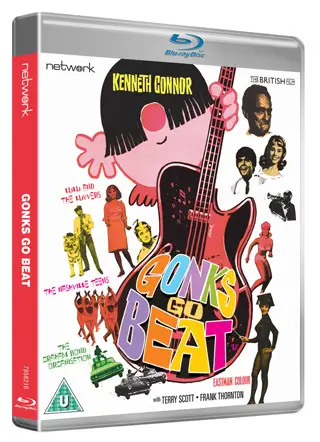 Hartford-Davis passed away in 1977 following a heart attack, but several of his films live on and have cult followings – The Black Torment, The Yellow Teddy Bears, The Sandwich Man, The Smashing Bird I Used to Know and, my particular favourite of his, Corruption, are among them.
Gonks Go Beat could be added to that list, it certainly has an extraordinary cast that crosses several different generations – Kenneth Connor is the nominal lead, with support from Frank Thornton. Terry Scott, Reginald Beckwith and Arthur Mullard, but of most interest are the musicians involved.
"Made to tie in with the boom in British pop music"
Lulu turns up with her Luvvers, as do Ginger Baker and Jack Bruce – future members of supergroup Cream – future Pan's People member Babs Lord, and a very young Derek Thompson, aka Charlie from Casualty, who sings perhaps the most bland folk song ever alongside his twin sister Elaine.
The film was clearly made to tie in with the boom in British pop music at the time as well as the popularity of the novelty Gonk toys, which started as a joke but became hugely popular after being backed by the likes of Ringo Starr and Peter Sellers.
Connor plays an alien sent on a special mission to Earth to create harmony (pun intended) between the residents of Beatland – where the cool cats live – and the more gentle Balladisle.
"Wafer-thin"
It seems he's doomed to fail until he comes up with a plan to bring them together via a Romeo and Juliet-style plot involving a boy and a girl from both sides of the argument. It's not really giving anything away to say it works out rather well – there are few surprises here.
Sadly, there's very little Gonk action; why they feature at all is something of a mystery, unless it's merely as a marketing ploy. They certainly add nothing to what is a wafer-thin plot.
There are few special features to enjoy. In fact, the only reason to watch is if you're a fan of mid-1960s pop music, because from that point of view, it's a real curiosity piece.
5/10
'Gonks Go Beat' is released on DVD by Network, £9