The History of Castle Hill, Castle Hill Side, Huddersfield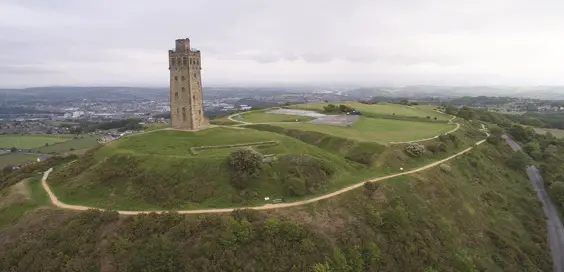 By Christopher Marsden & Andrew Caveney
In 1873 members of the British Archaeological Society visited Castle Hill and 'everyone was charmed by the extent and grandeur of the surrounding scenery and the fine view of Huddersfield'.
It is generally accepted that this very prominent steep-sided 900-foot hill has been a place of settlement for thousands of years. Neolithic remains have been found, but more evident are the earthworks that formed the defensive ring of an Iron Age fort along the crest of the hill. These were modified several times, and there is evidence of burnt palisades.
These defences were remodelled for a medieval castle perhaps as early as the late eleventh century, which, as a hunting lodge, was abandoned in the fourteenth century.
"Observatory"
In 1848 a project was announced to build a 70-foot tower observatory on the hill. By the following March it was named Victoria Tower and shares were sold to raise 1,500 guineas.
Architect William Wallen displayed a model of the proposal in the George Inn. The project failed when the landowning Ramsden estate would not support it. It was another fifty years before a tower was realised, which was to be in commemoration of Queen Victoria's Diamond Jubilee.
With the support of the Ramsden estate and Corporation, the tower's cornerstone was laid on 25 June 1898. The 106-foot Victoria Tower was officially opened on 24 June 1899. It was designed by London architect Isaac Jones with construction supervised by architects Abbey and Hanson and building by Ben Graham & Sons using Crosland Hill stone with a £2,500 contract.
"Beacon"
During the post-Second World War austerity years the tower was in disrepair and demolition was mooted. However, the tower was repaired and the finial turret removed in 1959, taking the overall hill height to less than 1,000 feet.
For Queen Elizabeth's 1977 Silver Jubilee, Huddersfield Civic Society raised funds to erect a mast with a beacon, restoring the 'mountain' height. At the time of writing there is a third planning application by the Thandi Partnership, demolisher of the Castle Hill public house, which stood in the bailey. It's seeking consent for a hilltop café/restaurant with bedrooms designed by O1.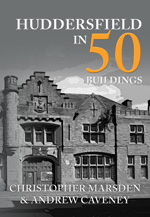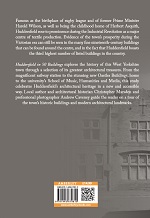 Article taken from 'Huddersfield in 50 Buildings' by Christopher Marsden & Andrew Caveney, published by Amberley Publishing, £14.99 paperback, ISBN: 9781445679815