Cannon and Ball – Live Review – Hull City Hall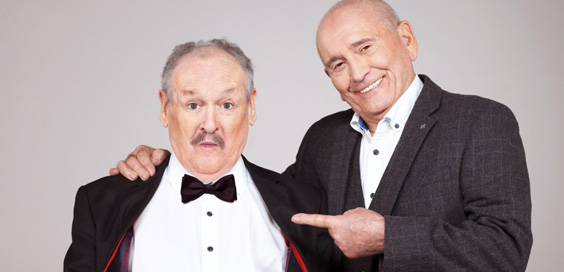 By @Roger Crow, May 2019
Forty years ago, Cannon and Ball were one of the hottest properties on the box. The former welders from Lancashire had honed their craft at working men's clubs all over the UK, so by the time they were given their chance on ITV, with a series of sketches for short lived series Bruce's Big Night Out, the foundations had been laid for an impressive career ahead. Except an industrial strike meant those sketches went unseen, but ITV bosses knew a good thing when they saw it. Tommy and Bobby were given their own show, and armed with braces, catchphrases and a killer theme tune, two stars were born.
I'm guessing they've played Hull countless times during their career, and they work the crowd like maestros this Friday night at the City Hall. An insult here, a wink there. Treading the fine line that Bruce Forsyth used to so well. Nothing gets a crowd going more than a sense of rib-tickling attrition.
Wisely they steer clear of pitfalls like religion, though a little bit of politics does creep in. Instead they prefer gags like an invisible table tennis match, and Bobby doing the old routine of almost going home in a huff. I benefit a lot from where I'm sat as most of the petulant man child routine is carried out a few feet from me.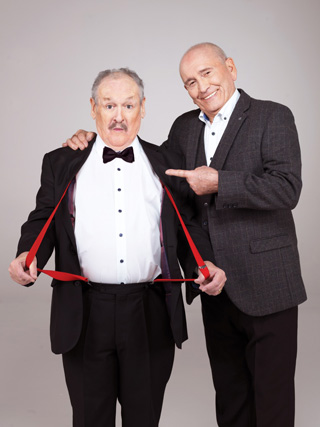 It's a relatively short show. A couple of hours with a 20-minute break, which is spot on for any comedy film. And talking of which, when offered the chance to ask a question in the second half, I'm keen to ask about their memories of 1983 comedy The Boys in Blue (the last film shown at my beloved Odeon back in the Midlands).
"Doing what they do best"
Bobby recalls that when he created the theme tune, he filled in the words with a load of humming, and it went down a storm because it was reminiscent of a police siren. I'd loved to have asked more, like sitcom spin off Plaza Patrol and Not Going Out, but this after all is a comedy show and not a Q and A.
The rest of the questions range from simply requests ("Can you sign this?") to drunken half questions. A shame because the whole thing could had been orchestrated better in advance on Twitter like a Jimmy Carr gig. And yes, he also got a sozzled heckler when he played the same venue. Like Tommy and Bobby, they give them short shrift.
It's not a perfect show, but it is an awful lot of fun. And in an age when so many comedy double acts have either left us or split up, it's rewarding to see a duo still going strong after more than half a century in the business.
Leaving the City Hall, a couple of smartly dressed gents walk past. I barely recognise them as the same duo who entertained the masses just a few minutes earlier.
If you get the chance, I highly recommend seeing them live. There's no pyrotechnics or smoke machines. No support act. Just a couple of highly professional comedians doing what they do best.
Would they win Britain's Got Talent? Probably not, but great double acts are forged with years of hard graft, and occasionally the spring board of talent show.
Bobby and Tommy – long may you rock on.