Assault (1971) – Film Review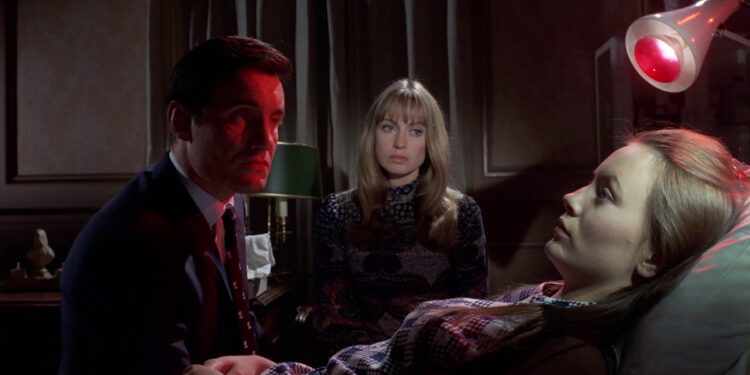 Director: Sidney Hayers
Cast: Frank Finlay, Suzy Kendall, Freddie Jones
Certificate: 18
by @Roger Crow
In this hard-hitting psychological thriller, Frank Finlay stars as a career policeman willing to employ unorthodox methods to catch a sleazy murderer. Suzy Kendall is terrific as a plucky teacher (with cool shades) willing to put her life in jeopardy to help him do so.
Look out too for Freddie Jones as a sleazy, determined reporter who will do anything to get a scoop. And James Cosmo, one of the hardest working men in showbusiness, also pops up in an early role.
Director Sidney Hayers does a brilliant job of keeping this dark British drama ticking over, from the first few minutes when a schoolgirl (Lesley-Anne Down) is attacked and becomes fixated with an electricity pylon, to the final few minutes when things go full circle.
"Fascinating diversion"
And throughout the movie anyone could be the attacker, except an adorable golden Labrador.
There are times this goes to some very dark places, such as a confession of sorts, which is quite shocking. But while cast and crew are excellent, the standout is Eric Rogers' energetic score. He was always the master of bouncy Carry On themes, and he injects the same amount of energy into this 'lost' classic. It's so good I'm trying to track down a copy.
Producer Peter Rogers may have been the king of comedy, thanks to hits such as Please Turn Over and the Carry on saga, but this was a fascinating diversion into much more disturbing territory.
Full marks to Network for screening this as a double bill with (1971's) Revenge. Even the intermission trailers, one featuring Sid James in full on double entendre Carry On mode, are terrific.
Assault is currently showing as a double bill with Revenge on Network on Air