Wellbourne Brasserie, White City, London – Restaurant Review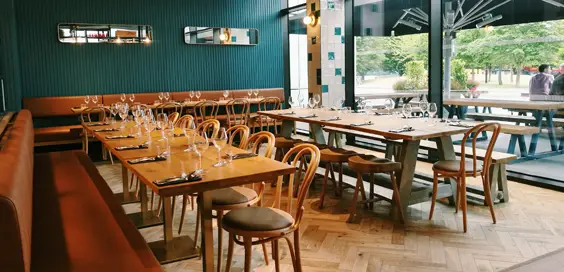 Wellbourne Brasserie, White City, London
Restaurant Review
by Roger Crow
They don't serve memories in restaurants. At least not instantly. That comes from being in a location as treasured as your own home, which is rarer than common sense at 1600 Pennsylvania Avenue these days.
Given the location of Wellbourne Brasserie, an elegant eatery in London's White City, my partner and I can enjoy a huge helping of nostalgia before dinner; Rachel because of her work experience at Crimewatch 15 years ago, and me because I spent a chunk of my life soaking up those iconic scenes from BBC TV centre. I can almost hear the tap dancing Roy Castle and an entourage of dancers hoofing around the BBC fountain from 40-plus years ago on Record Breakers, or those countless lobby shots of stars arriving for one show or another.
But enough TV memories for now. We have a lunchtime appointment, and arrive early to explore the neighbourhood. The enormous Westfield Shopping Centre is so big it's a wonder we don't change time zones half way.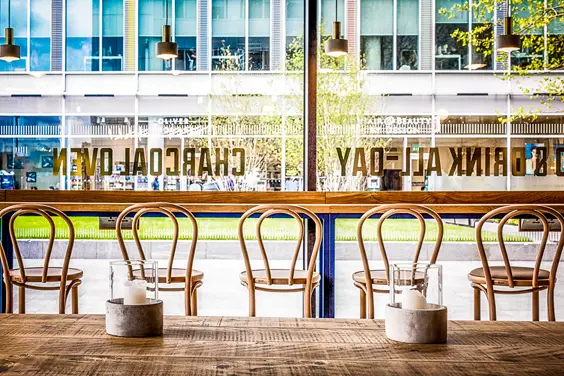 "Puts us at ease"
Before dinner we soak up a few rays in the communal deck chairs as busy media types discuss work. The local atmosphere is fun, exciting and creative. When we rock up at Wellbourne Brasserie, many diners are sat outside enjoying the sunshine.
The place is described as a 'Relaxed, all-day brasserie with unfussy modern British dishes and south-facing al fresco terrace.' Does it live up to the publicity blurb? Absolutely.
Inside we meet General Manager Becky, who instantly puts us at our ease, and proves to be an outstanding host. I have a mental cool wall of excellent staff, and Becky is in the liquid nitrogen realm: hard working, well informed and hugely engaging.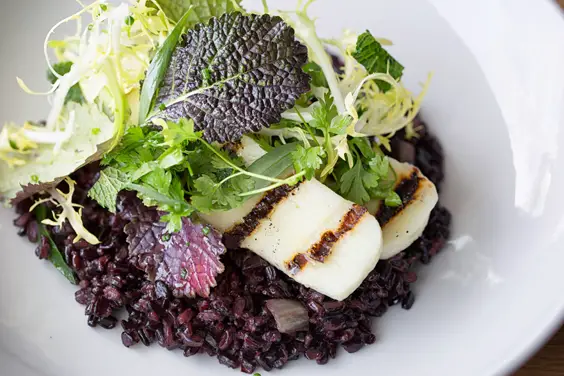 "Attention to detail"
'But what of the decor?' you may wonder. Well, the colour scheme is simple yet elegant. The gorgeous wood tables and stylish banquettes complement one another beautifully. It's a touch of class, but without feeling so informal you can't relax.
There's a cool jazz soundtrack, and though I'm sat with my back to the open kitchen, Rachel is fascinated by the attention to detail of culinary wizards Ross Gibbens and Michael Kennedy, who do a terrific job of making our dinner.
We enjoy a slate of six vol au vents, which are a delicious starter. Three cost £6, and are worth every penny. I devour the English pea, ewe's cheese and mint; salt cod brandade, and pulled lamb's shoulder with violet mustard. All of them are delicious.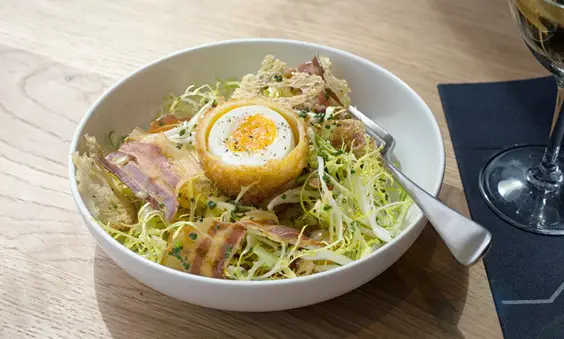 "Very affordable"
My main is Iberico Presa at £15. For those scratching their heads, it's pork shoulder; beautifully tender and has just the right level of smokiness. It's a little too tender for me, but I still devour the bulk of it. The side of new potatoes (£4) and spinach (£4.50) are expertly cooked and enhance the dish brilliantly.
After a glass of fizz, I enjoy a Rioja reserva (the wine du jour) and click into smug mode when I guess the percentage (13.5). However, Rachel's Pinot Noir, which seems to have less volume, is a percentage higher. (Just as well I got that wrong as I'd have been unbearable).
The place seats 120, so no shortage of room if you're turning up with a few friends for an impromptu party. And the prices are very affordable. The plat du jour is £12, while a burger with chips will also set you back £12.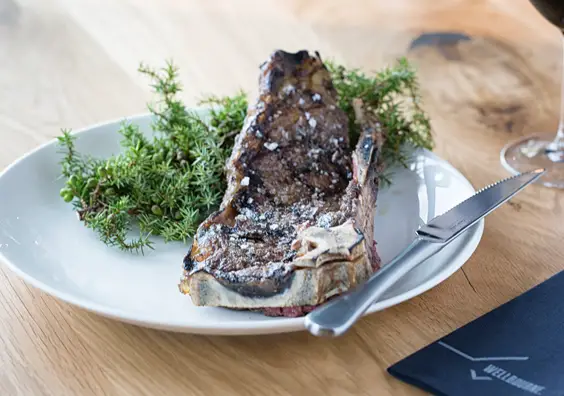 "Cool atmosphere"
We leave just enough room for dessert (both at £4). Rachel has millionaire's shortbread with gold leaf, while I go for chocolate brownie ice cream and sorbet.
The BBC-related poignancy is hammered home with our cappuccinos at the end of the meal. Wogan Coffee, set up by Terry's brother Brian, is a company that sources and imports artisan and speciality coffees from sustainable and ethical farms worldwide. It's also one way of ensuring we get to raise a cuppa to the Beeb's greatest, much-missed broadcaster.
As we head off for our hotel, it's good to look back at this glorious creative hub, with its cool atmosphere and great eatery.
The four 'legs' that hold up any great culinary table are fine food, terrific service, wonderful atmosphere and a fair price. Wellbourne Brasserie has all that and more. It's so good it makes me want to tap dance around the old BBC fountain. And there's no higher praise than that.
Wellbourne Brasserie, Westworks Building, 195 Wood Lane, London, W12 7FQ
Opening times:
Monday – Friday 11:30am-10pm
Saturday – 11:30am-9pm
Sunday – Closed
0203 4174865
wellbourne.restaurant/whitecity