An Interview with Alain Roux
Good Things Come in Threes
Last year marked not one, but three monumental celebrations for Chef Alain Roux. Here, he chats to Victoria Gibson about working with the family, retaining Michelin stars and being at the helm of one of Britain's most prestigious restaurants…
Perched on the River Thames you will find The Waterside Inn. A restaurant with a relaxed atmosphere, fantastic service and amazing food. Put it this way… it is, apparently, one of the Queen's favourite places to dine and celebrity fans include Sir Terry Wogan, Sir Cliff Richard, Sir Roger Moore, Sir Matthew Pinsent – you can probably see a theme running here.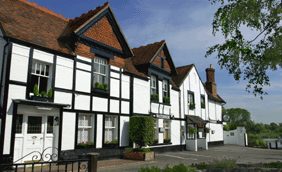 It's safe to say the place has a reputation – a reputation that Chef Alain Roux, son of Michel, has maintained for just over a decade as Chef Patron. A title that also includes overseeing 140 covers of culinary perfection every day from Wednesday to Sunday. And there are more reasons to smile – the restaurant is celebrating forty years since the famous Roux brothers, Albert and Michel, bought the premises, and they have also just retained their 3-Michelin Star status.
But right now, Chef Alain is staring out the window… pondering. "My cousin and I are quite easy going," he says, pausing, "and we'd be pleased if Dad or Uncle cooked the barbecue," he stops again for a longer pause. "But it's Uncle and Dad together. I don't know if it's the age but in 10 to 15 minutes they're fighting and arguing and one of us needs to pull them apart because they are old farts and they start swearing. They're brothers but more like kids, they're not nice to each other. They thump and kick each other. My uncle hits my dad with his stick, they actually hurt themselves."
Family barbecues aside, the most famous family in cookery still work together on a regular basis, most recently filming The Roux Legacy, a documentary that features family, friends, chefs and their favourite dishes. "When we filmed The Roux Legacy it was spread throughout the year because we all have such busy lives, I guess. Uncle travels a lot and dad is based abroad, so for them to be able to get together and cook, which they haven't done for twenty years, is a big thing."
"A little spark"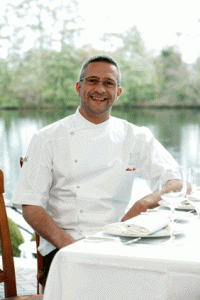 In person Alain is cheeky, handsome and has a very natural ease about him. He's the perfect gentleman, asking if I have a drink or need anything, before continuing. "I think the crew will remember that for the rest of their lives, because they had to give my uncle and dad a break. Lucky it was a programme they can edit because otherwise it wouldn't have happened. For promoting the series we were called to do a morning show which is peak time, high viewing 8 or 9am in the morning and for the four of us to be asked to go and be given a slot of eight minutes to talk about the Roux Scholarship was brilliant.
"But my cousin and I were so nervous because we were thinking something's going to happen with them two. Give them a couple of minutes more – there was a little spark where we thought that's it, one of them is going to get up and slap the other. They're unbelievable, even on live television they can't behave," he says putting his heads in his hands and laughing.
"People like to treat themselves"
Forty years ago Michel Roux Senior, along with his brother and co-founder of Le Gavroche, Albert, (the first restaurant in the UK to achieve three Michelin stars) acquired a traditional English pub that was transformed into The Waterside Inn.
"I love it here in Bray. I see myself as a countryside boy. Cities are good for when I've got time off or when I want to do something special, such as an outing maybe to the theatre or for visiting a museum. Here reminds me of my childhood, even if I was born and raised in London until I was 10. After school I used to come to the countryside to visit Dad, who lived in a small flat in the village," explains Alain. "Part of their dream was to have a place away from the city, after they had one or two other restaurants they moved to get this one."
There are changing rooms for staff, a cottage and eight bedrooms which are very popular, "People who are foodies and like their wine enjoy the rooms, people like to treat themselves and even if you're local-ish, coming here and having a meal enjoying the wine and the ambience it's good to be able to just fall upstairs, it's a bit more special. I've done similar things in the past and it's true you don't need to go far and it's a bit like going on holiday. Different settings and surroundings. No wonder people like it and I love it, I'm very lucky."
"Blend, mix and twist"
Alain has held on to his father's signature dishes, such as the medallion of lobster with julienne ginger (on the menu for 35 years) and grilled rabbit served with celeriac fondant, but has also enhanced classic dishes to his own taste. "I don't invent anything like Heston," – Blumenthal, owns The Fat Duck, located just down the road – "I just use what's been done and maybe do it my own personal way. You can blend, mix and twist so many things, sometimes for sure it might not work, often it will work for others.
"I try to have all my customers happy all the time, that's the challenge. Dad taught me you never cook for yourself as a chef. At home is a different matter, for family or friends, for sure you've got the whole liberty of cooking what you like. You don't need to worry too much about your family, they're not paying. But customers who choose to come in the restaurant they make you live, they have the bill at the end of the day so they better leave happy. So building your dishes and making sure that it's more or else looking for the 100% of everybody's palette is crucial."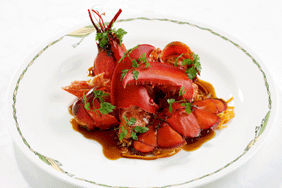 Alain is currently assisting the charity Chefs Adopt a School where he will visit a school three times throughout the year to help educate students on the importance and enjoyment that comes from good food and cooking. As a boy Alain would visit his father and was often allowed to stay in the kitchen and venture into the restaurant, a place that "instantly felt like a second home".
"Discipline"
"I love my food. At an early stage I realised that I was not made for school, it was not made for me. I couldn't think of doing anything else, I just loved the atmosphere in a restaurant and the buzz in the kitchen. As a young kid I was a good eater and it became a passion."
It's a passion that runs in the family. Roux's mother was also a good cook and his grandma had a potager where she grew all her own vegetables and had animals such as chickens and rabbits. She fully expected the family to chip in with tasks.
"You had to part take in certain tasks in the garden or with the animals and spend time in the kitchen because that was where she used to spend most of her time. If not the family, friends used to come quite regularly for dinner. So that's how it all became evident that I was going into the business."
After heading to Paris and gaining an apprenticeship in pastry Alain worked in top kitchens across France including Restaurant Pic in Valence and La Côte Saint-Jacques at Joigny spending nine years crafting his trade and passing various necessary exams. He recalls, "That was a big challenge, I had to do one after six months in a particular kitchen, I was quite pleased because I passed. I can't say it was easy but it helped to have a background in pastry. Pastry is a different school but it's got similarities and it's beneficial when you move into cooking, as it might be more difficult the other way. It requires such discipline and precision."
"Brightest chef's whites"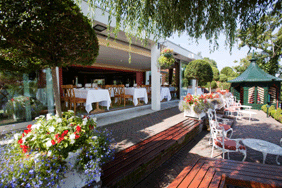 Although Alain does have a constant French twang, it slips into a slight Cockney accent every now and again, but when he's pronouncing the French locations I must say it's enough to make a girl swoon. Cliché I know. While I was researching Alain I got the impression that he is very shy and withdrawn and that he's quite happy to remain less inconspicuous than other Roux members – and while the latter may be true he's also funny and charming. Having previously interviewed another member of the Roux family I do wonder if they have undergone media training because they're so easy to talk to, like catching up with an old friend.
However, if you watch Michel Snr and Albert Roux cook together it is clear to see that their offspring have simply been brought up with "old school" rules and most importantly to be polite. Don't get me wrong; our introduction had already proved that this was going to be a different interview. Before arriving today I'd been allocated 30 minutes with Alain and was fully expecting his assistant to be present. I was early with two family members who were joining me for lunch, so we ordered a coffee and in walks Chef Alain. Alone. Wearing the brightest chef's whites I have ever seen and very politely introduced himself to everyone and even suggested that they stayed during the interview. My mother is still raving about it.
"Upset"
Alain spent almost a year at each French restaurant including Provence, Chateux de Montreux and Burgundy, so when he arrived at The Waterside Inn at the bottom of the ladder he knew he had to prove himself. It was an issue that reared its ugly head a few years later. "In France I used to normally have promotions and more responsibility in my work, in some places I used to be floating – where I could watch over different sections in the kitchen – often over very qualified chefs.
However on the money side I was under-paid. I didn't know that at the time my dad used to call my boss and tell him that I was not there for a holiday and had to work harder than anyone else, and was certainly not to be paid more than anyone else. So they used to knock my pay down. When I found out about those stories I was kind of upset, but glad too. I brought it up with him and he didn't know what to say. I think he felt embarrassed and guilty.
"We laugh about it now. He's very old school on certain things, maybe it worked for me and at the end of the day the more money you have the more you spend. I had enough to live," Alain pauses to laugh, "when you work in the profession you haven't got time to spend your money! It's where you're happy and do long hours, where work is your life, the little time free I used to enjoy time with colleagues and friends, I certainly spent all the money I had anyway!" he says still laughing.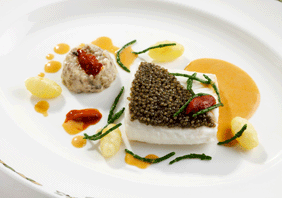 "So arriving at The Waterside was a bit of a shock but I was lucky to have spent most of my experiences in France in family businesses, where the family were in the kitchens together, normally the wife was front of house, so I had a glimpse of the father and son working together, or husband and wife, and I knew what to expect which I have to say is not easy."
This would be the first time that father and son would officially work in a kitchen together. "We didn't really know each other or about the father/son relationship so we had to catch up on that. And we had to learn how to work together. Every chef is different and I know Dad is unique. He's not only a perfectionist but he's got his own ways. Good ways, otherwise he wouldn't be where he is and he's achieved so much in his life and professional career. I try to copy certain things about him and other things I prefer to stay the way I am because I'm human. It took time but he seemed to understand and accept that it can work, even in a different way."
"Feedback is important"
Michel Snr is now an official resident of Switzerland, a country that he loves because it reminds him of France 40 or 50 years ago, plus he gets to play lots of golf, spending a couple of months a year in England, a time when he and Alain can reconnect. "Dad keeps an eye on me and I regard him as my best teacher. When he's here I like to share things that I can't on the phone, giving him dishes to taste, whether it's classical or new recipes. Feedback is always important from him – the difference may be that I don't always listen. I don't know if he knows that actually. He thinks I still do what he tells me to do. He'll either have a good laugh at this or if he's in a bad mood, tough!"
Things have come a long way. Last year they celebrated a decade since Michel Snr officially handed over the reins as Chef Patron to his son.
"We did things very smooth and gradually. That's the way dad felt was best for him and for me. I was happy with that. Now, I don't know if we could work like ten years ago. I don't know if I could or if he would," he says with a shrug of the shoulders.
Alain is quick to point out that sometimes it's like his father never left anyway. "When he's here he walks through the kitchen. I know him, he's always been like that. He can't walk by without stopping to see me. He'll tell me about ten things that aren't right. However, it's good for me, the team, the place and most importantly the customers."
Having experienced the highs and lows was Michel worried that his son wanted to become a chef? "In one part yes," says Alain. "Because he knew that to the level and the way he sees and does things are very much natural and a passion. He knows that you have to compromise on many things. Working when most of the people have their weekends: Saturday, Sunday, bank holidays or Christmas and New Year.
"That's normally the way it is in this business. Not everybody wants that kind of life. It's a lot of commitment. Your personal life is second. So I think he was maybe a bit scared of himself, where he was and where he was standing in the profession. He didn't want people saying 'his son is in the business or he's started a year, two years and he's failed'. Or he's not doing gourmet cooking because he was on show he was a bit scared of failure. So he was happy but also knew that he had to wait and see the way I was progressing."
"Honoured"
It all worked out for the best. The Waterside Inn is the only restaurant in the UK to have retained three Michelin stars for over 25 years. It gained its first in 1974.
"Is it a pressure? Yes and no. Some restaurants in France have been holding three longer than that. Some have done far less and have lost the third star or maybe one star. So things can change. The challenge is to keep the quality of what we do. The food, star or no star, I will try and do what I believe in and what I believe my customers are looking for.
"So there is a challenge but a Michelin starred place is not down to the chef. Chefs say 'I'm aiming to get my second, or third star' that's rubbish. What's important is to have a place that's busy to make the right turnover and having customers return. That's how I see it. People who only go to a restaurant once in their life – they might have enjoyed it or not so much, I think that's not right. A restaurant is where you go back. Where you can enjoy it as much as the first or second visit. Challenges are there, but I certainly don't live by the Michelin guide. I'm very honoured because the team work comes from all my chefs, my front of house and good food."
Alain pauses looking out the bay window. "You can try to be the best chef. But if you haven't got the best waiters it won't look or taste the same."
He couldn't be more right. The staff and waiters are polite and, possibly not a word to associate with a restaurant of this calibre, fun. Diego Masciaga Omri, director and general manager, has been with the Roux family for over 29 years. He hasn't lost one bit of his enthusiasm. Living up to his reputation as the "master of all ceremonies" and the staff are very welcoming, willing to smile and engage in conversation. It is this interaction that other Michelin establishments can lack.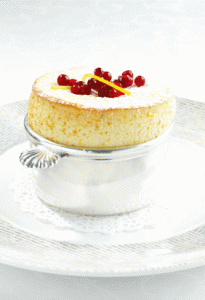 The restaurant shuts annually from the end of December to the end of January. So after a busy period how does the man of the hour relax?
"I like to see the family. I've got two sisters, three nieces and two nephews who are starting to move away because they're older. My wife's family are great; I have no grandparents so we see her's. The family is lovely so it's catching up with aunties and uncles on my side and her side. Skiing is not really my wife's thing, but it's a shame because January is a good time for that!" Alain says, laughing again.
"Enjoy life"
"We try to change every year but with our little boy it makes things more difficult. It's more for him and after that we see what we can do together."
Ah yes, Paul, Alain's two-year old son with his wife Laura, who he married in 2010. So what would Alain say if his son wanted to become a chef?
"I'd ask him to try and do something else!" he says laughing. "I would maybe say enjoy life as much as he can. Because he will have to know the score if he starts here at the restaurant. He will have to be washing up first and sweeping the floor, and after that he might hold a knife."
After an hour I am the one who begrudgingly reminds Alain that service started 10 minutes ago. And he still wants to chat more. Even heading behind the reception desk to personally organise a media pack and then talking me through each of the photographs adorning the walls. And of course, I can't wait for lunch. One that I'm sure will make me one of those particular customers that Alain talks about, coming back again and again.
The Waterside Inn, Ferry Road, Bray, SL6 2AT
01628 620691
reservations@waterside-inn.co.uk
waterside-inn.co.uk
images: Myburgh du Plessis‏