Prashad – Restaurant Review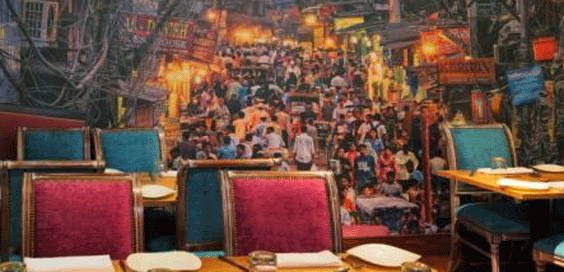 By Matt Callard
They describe it rather humbly as streetfood or a roadside snack, but then, as if to make up for those low key adjectives, they prefix it with 'special'. Yes, Prashad know that their Chaat really is something to shout about and, for once, that distinguished prefix is apt. Special Chaat is everything it's dressed up to be – and a whole lot more.
There's a top layer of fresh, cool, gently spiced yoghurt scattered with coriander, tamarind chutney and chickpea vermicelli. Dig a little deeper and you'll discover soft potato cubes, diced onion and chickpeas – all just giving to the bite. Scoop to the bottom and you'll find fried puri pieces and chunks of crisp and spicy vegetable samosas.
Yes, individually the pieces might pass as roadside food, but marry them together like Prashad have – or rather, like long time chef Kaushy Patel has – and you have an altogether more refined culinary standard. Texturally it's wonderful – crunch, cream and bite – with the yoghurt gently soothing the spiciness of the samosas, but the sweet-sour-savoury interplay should become a blueprint for anyone interested in the complex harmonies of flavour. It's a masterpiece, frankly, and it makes it easy to see why Gordon Ramsay, no less, fell in love with the restaurant during his Best Restaurant series in 2010.
"A whole new eating experience"
So it is worth paying the new look Prashad a visit for the Special Chaat alone – but there are scores more foodie delights on offer – and we can safely say the recent move from their original home on the back streets of Bradford to a much larger, more modern building in Drighlington hasn't dampened their flair or authenticity either. Heck, there's even a car park now!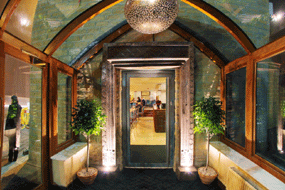 Some meat lovers might snub vegetarian restaurants when deprived of their beloved flesh (this particular meat lover has done it himself in the past, much to his shame), but they might just be depriving themselves of a whole new eating experience if they snubbed Prashad for the same reason. Whatever your preferences are it's unlikely you'll have eaten a Mixed Starter quite like Prashad's before.
Stuffed colocasia leaf rolls, garlic and coconut potato balls, shredded vegetable spring rolls so light and flavoursome you'll wonder how those greasy excuses for starters that you push around your plate at the local Chinese restaurant ever make the pass. There's more: Samosa parcels beamed straight from Mumbai, a crunchy fritter, a banana bhaji – all with sublime dipping sauces. The flavours – and the flavour combinations – simply explode in your mouth.
Chances are you'll order three courses – starters, street snacks and a main. They'll come well timed and the service is excellent and unobtrusive. The new restaurant space is modern Anglo-Indian. It is much bigger, lighter and airier than the original tiny eating space in BD7. You'll no longer have to kill for a seat, but you're still advised to book in advance.
"Famed Asian balance of sweet, spicy and fresh"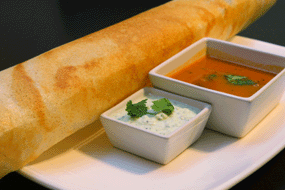 The Chaat followed the starters, to much oohing-and-aahing, but there is no need to worry about the mains then being an anticlimax. Our Pea and Cauliflower Curry was brightly coloured and full-flavoured, every ingredient perfectly cooked and the dish every inch the simple Indian classic that it should have been. Lovely light naans accompanied it, along with some divine, fluffy rice. Better still was the Mattar Panneer, a traditional Punjabi dish possessing that famed Asian balance of sweet, spicy and fresh. The cubes of panneer cheese were crisp on the outside, smooth on the inside and they could easily have just given me a bowl of the sauce and a flat bread and I would have been a more than satisfied diner.
It's true that Prashad already have an army of devotees. But there was always something of a 'hidden gem' aspect about the old location. With this new bolder venture it seems the restaurant is truly ready to open its arms to the good people of West Yorkshire and beyond. And if you're already a devotee of the restaurant, fear not. Everything really is as good as it's always been.
A meal for two with soft drinks cost approximately £45
Prashad, 137 Whitehall Road, Drighlington, BD11 1AT
0113 285 2037