Punk-infused rock quintet, from Leeds…
YOUR NAME: Jamie.
BAND NAME: Mince.
WHAT DO YOU DO/PLAY? I'm rhythm guitar and co-singer.
HOW LONG HAVE YOU BEEN TOGETHER AS A BAND/PLAYING MUSIC?
Mince has existed as an idea for about 5 to 6 years but our Twitter will say since September 2021. We just now have all the members to play and record.
GIVE US 3 REASONS WHY WE SHOULD TRACK DOWN, LISTEN AND DISCOVER YOUR MUSIC?
Wow, this feels like a job interview. Because we are really friendly, we work well in a team and we are super original, like everyone else.
WHERE DO YOU SOUND BEST?
Remains to be seen, our gig on March the 5th will be our first. We're a bit loud for a small room, but I reckon we would be perfect for a small club.
WHAT WAS YOUR FIRST RECORD & CD…
First record I bought was the Submarine soundtrack. It's the reason I got a record player, that soundtrack was meant to be heard on vinyl. But the first bit of music I bought was Iron Maiden somewhere in time on CD. To eight year old me, Eddie was the coolest thing I could pick up from HMV.
SO, WHEN IT ALL GOES RIGHT AND YOU'VE GOT A HUGE QUEUE OF HANGERS-ON AND A RIDICULOUS MANSION, WHAT WILL BE YOUR BIGGEST INDULGENCE, MUSICAL OR OTHERWISE?
Fame won't change me, but copious amounts of Coca Cola might.
SO, WHEN IT ALL GOES WRONG AND YOU'VE ACRIMONIOUSLY BROKEN UP CITING HUGE MUSICAL DIFFERENCES, WHAT DO YOU FALL BACK ON?
Hopefully on a big bag of money given in advance for our reunion gig! Failing that, I've started up my own merch business called 'Trade in Stereo', so I'd just crack on with that.
CITE SOME INTER-BAND MUSICAL DIFFERENCES…
George loves MK and we just think he's 'Alright'.
WHO ARE YORKSHIRE'S FINEST IN CULTURE, SPORT AND MUSIC?
Kalvin Phillips – Footballer for Leeds United and England. All round good guy.
Bob Mortimer – One of the best comedians ever.
And Joseph Bramah – The inventor of the hydraulic press.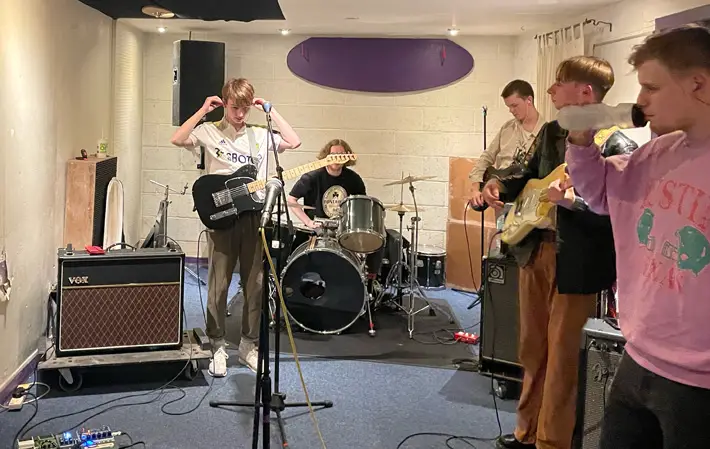 NAME YOUR SUPERGROUP – WHO'S PLAYING WHAT, WHO'S ON VOCALS AND WHO'S YOUR BEZ?
Drums – Peter Prescott from Mission of Burma.
Bass – Sean Yeaton from Parquet Courts.
Guitar – Jason Pierce from Spiritualized and Spacemen 3.
Vocals – Kanye West saying the first things that come to mind.
Bez – Bez from Happy Mondays. You can't get a better Bez than Bez.
Tell me you wouldn't go see that!
GO SEE THIS FILM: Napoleon Dynamite.
GO READ THIS BOOK: Come and Have a Go if you Think You're Rich Enough by Haydn Middleton.
GREAT LOST BAND/ARTIST: Paradise Lost.
WOULDN'T BE CAUGHT DEAD SUPPORTING: Man U.
LONDON, L.A OR LEEDS?: Leeds, all the way.
AND FINALLY… AS YOU LEAVE THE STAGE, WHAT ARE YOUR PARTING WORDS?
See you later alligator.
For more info visit: instagram.com/mince.band