Skinny Tiger and Fatty Dragon (1990) – Film Review
Director: Chia-Yung Liu
Cast: Sammo Hung, Karl Maka, Carrie Ng Ka-Lai
Certificate: 15
By Roger Crow
"Nutty Kickbox Cops", to give this action comedy it's alternate title, is another of those curios from the age when many would rent tapes, and sit through extraordinary sights from overseas.
I didn't see many Sammo Hung films in that era, but I've made up for it in recent months with a wealth of his unusual offerings. This is easily the most contentious.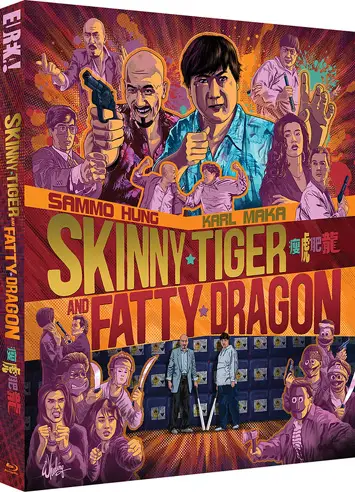 The plot sees a luck-starved, crime fighting duo forced to fight a running battle against a crime syndicate of triad gangsters.
"Stunts are jaw-droppingly good"
Even in 1990, the opening shot of hoodlums entering a convenience store and causing havoc was old hat. In terms of setting the tone for a cops and robbers comedy, it does its job, but fans of martial arts adventures looking for something different will be disappointed.
On the plus side, many of the stunts are jaw-droppingly good. Which is just as well because the script is often woeful. It also features some hugely disturbing scenes which make it difficult to warm to the heroes. And not just the moment when the good guys key a villain's Mercedes' to wind him up.
The excellent accompanying booklet sums up the moment that had me questioning the protagonists and the director.
The scene: Carrie Ng Ka-Lai's character is on the receiving end of an assault from the allegedly heroic Baldy (Karl Maka).
"There's no more horrible moment in the film than when he kicks Ng in the stomach – and it's played for laughs."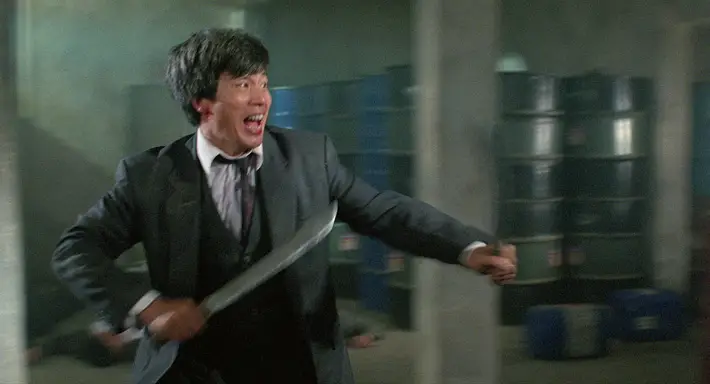 "Uneasy watch"
Throughout we're supposed to warm to the so-called heroes, but they're predatory, sexist and the approach to LGBTQ+ issues is grim.
Maka, who looks like a beta test for Ben Kingsley's iconic villain Don Logan in Sexy Beast, is one of the least engaging co-stars of any Sammo Hung movie. In a film where you're more likely to back the villains, you know there are problems. (Though there's little danger of warming to the dog-killing bad guys either).
The film also goes on far too long; 'Skinny Tiger Fatty Drag On' might be a better title. And while the action scenes are often terrific, and the reds really pop in this HD version, it's an uneasy watch.
If you put the worst Benny Hill sketches in a cinematic blender with the Rush Hour movies, that gives you an idea of what to expect.
In a word? Toxic.
LIMITED EDITION TWO-DISC BLU-RAY SET DISC ONE:
1080p presentation on Blu-ray from a 2K restoration
Original Cantonese mono audio
Optional English dubbed audio
Optional English Subtitles, newly translated for this release
Brand new feature length audio commentary by Asian film expert Frank Djeng (NY Asian Film Festival) and martial artist / actor Robert "Bobby" Samuels
Brand new feature length audio commentary by action cinema experts Mike Leeder & Arne Venema
Brand new interview with stuntman and martial artist Mark Houghton
Archival interview with director Lau Kar-wing
Archival interview with actor, stuntman, and action choreographer Ridley Tsui
Deleted Scene
Trailers
BONUS DISC: I AM THE WHITE TIGER:
Documentary on the career of stuntman, martial artist, and action director Mark Houghton
Skinny Tiger and Fatty Dragon is released on Blu-ray by Eureka, £27.99