My Lucky Stars (1985) – Film Review
Cast: Sammo Hung, Jackie Chan, Sibelle Hu
Director: Sammo Hung
Certificate: 15
by @Roger Crow
Martial arts and comedy can be uneasy bedfellows. But Sammo Hung deserves full marks for delivering one of the most bonkers films you'll ever see.
My Lucky Stars is the middle part of an action comedy trilogy. The hit-and-miss Winners and Sinners (1983), in which five ex prisoners form a cleaning company and endeavour to keep clear of crime, but find themselves in the middle of a counterfeit money scheme.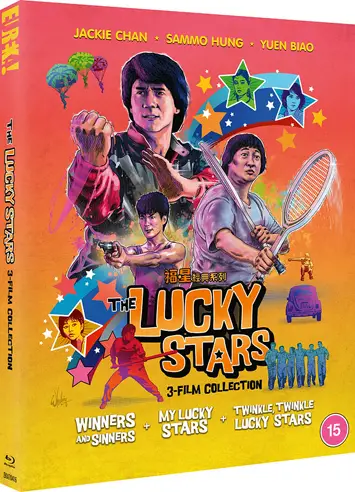 My Lucky Stars (1985) sees the eponymous friends sent to Japan to help the police apprehend a gang of dangerous criminals and a corrupt cop. Of course, nothing goes to plan. That's followed by Twinkle, Twinkle, Lucky Stars (1985), in which the team try to bust a crime syndicate, and wreak havoc in a holiday region.
"Astonishing action"
This one opens with a jaw-dropping car chase with the sort of stunts that will leave many slack of jaw. The James Bond crew wishes they could have pulled off some of the scenes in this film, especially one in which the hero car bumps a transporter, which lowers a ramp, and our crime busters use it to launch themselves after the villains.
Alas, despite a terrific opener, there's also a lot of filler, with a series of sketches woven into the plot involving gangsters, the madcap good guys, and the beautiful heroine Empress Flower (Sibelle Hu). One involves a convoluted scene when the gang of mates take it in turns to fake a robbery dressed as masked ninjas, or something, just so they can each get tied up with her. Another involves the friends having to explain what they want for dinner to a Japanese waiter by miming the ingredients.
While a lot of the gags fall flat, I'll reiterate the obvious: The action scenes are phenomenal.
Jackie Chan (sadly only in it for a few minutes, but stealing every scene he's in) has long been one of the world's best movie martial artists, but to see some of things he and his colleagues pull off without landing on crash mats is incredible.
The restored Blu-ray version also looks terrific (the blues really pop, especially on an HD TV), so even if many of the gags outstay their welcome, stick with it for those astonishing action moments.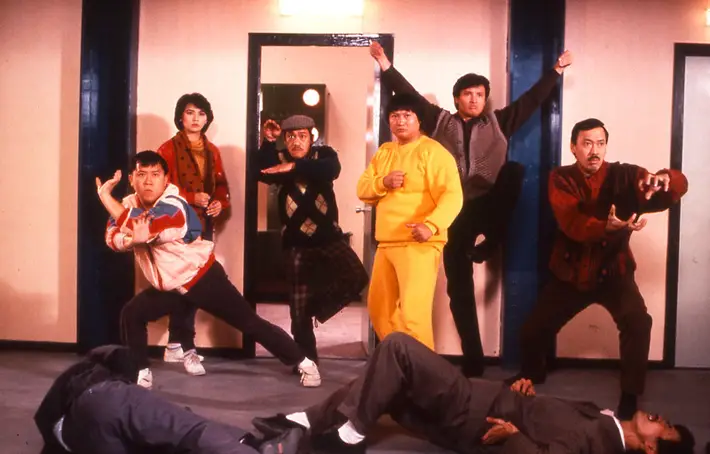 "Absolutely barking"
There's also some outrageous product placement and a catchy musical version of rock, paper, scissors.
Absolutely barking, at times comedically dubious (though the gags may lose a little in translation), and quite extraordinary.
Extras include an interview with director and star Sammo, who explains how he put the movie together and some of its influences. He also discusses the scene where one poor stunt guy flies out of a window and lands on his back… on a concrete wall. Seven stitches later and I'm guessing he was back at work.
If the gags were as brilliant as the stunts, this would be phenomenal. However, it's still a fascinating, and at times very surreal watch, like a mash-up of The Three Stooges, Benny Hill and Enter the Dragon, where supporting actors Sammo and Jackie first wowed many viewers in the west back in 1973.
Not for all tastes, but if madcap comedy and clever stunts are your cuppa, then settle back and enjoy.
SPECIAL FEATURES:
All three films presented in 1080p on Blu-ray from brand new 4K restorations, including the alternate extended Taiwanese version of Twinkle, Twinkle, Lucky Stars also fully restored in 4K
Cantonese audio tracks (original mono presentations)
Optional English dubbed audio tracks for all films
Newly translated English subtitles
Brand new feature length audio commentaries on all three films by Asian film expert Frank Djeng (NY Asian Film Festival)
Winners and Sinners – Archival interview with director and star Sammo Hung (6 mins)
Winners and Sinners – Archival interview with director and star Sammo Hung (13 mins)
Winners and Sinners – Sammo Hung retrospective featuring interviews with friends of the legendary director, actor, and action choreographer (20 mins)
My Lucky Stars – Archival interview with Michiko Nishiwaki (20 mins)
My Lucky Stars – Archival interview with Sammo Hung (18 mins)
Twinkle, Twinkle, Lucky Stars – Archival interview with Richard Norton (33 mins)
Twinkle, Twinkle, Lucky Stars – Archival interview with Richard Ng (21 mins)
Behind-the-scenes featurettes on all three films originally produced for their Japanese releases
Outtakes, NG ("No Good!") shots for all three films
Trailers for all three films
The Lucky Stars 3-Film Collection is released on Blu-ray by Eureka, £27.99