Introducing: The Raintree County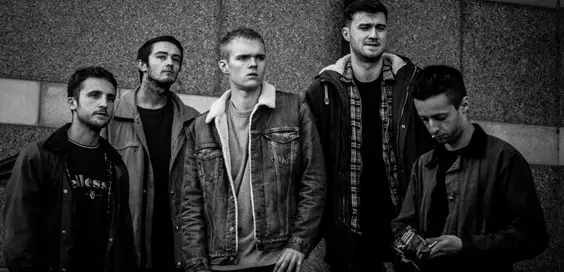 Yorkshire grit, raw melodies, future anthems…
BAND NAME: The Raintree County.
YOUR NAMES & WHAT YOU PLAY: Jimmy Sweeney – Vox/Tambourine, Ben Arnold – Lead guitar, Owain Flanders – Rhythm Guitar, Alex Hobson – Drums, Martin Pearson – Bass.
HOW LONG HAVE YOU BEEN TOGETHER AS A BAND/PLAYING MUSIC? Since August 2018! Ben and I (Jim) wrote a few tunes together then we recruited the rest of the members.
GIVE US 3 REASONS WHY WE SHOULD TRACK DOWN, LISTEN AND DISCOVER YOUR MUSIC?
Ballsy, riff driven, melodic bangers.
WHERE DO YOU SOUND BEST – FESTIVAL, CLUB, BEDROOM –OR SOMEWHERE ELSE?
Gigs, the practice room, the louder the better.
WHAT WAS YOUR FIRST ALBUM, CD & DOWNLOAD?
J: First CD was a Madness compilation album, got it from the market with my mum. Can't remember first download, probably something by Oasis.
O: First album was INXS's greatest hits. No Idea why looking back, my dad used to play them in the car. First download pretty sure was 'The Great Beyond' by R.E.M, although it was already on the computer when we first got one so not sure if that counts…
B: First CD Eminiem Show, first download was Maccabees, 'X-Ray'.
M: First record: 'Prince Charming' by Adam and the Ants. First CD: Parachutes, Coldplay. First download I reckon was Slayer, Reign in Blood.
A: First CD was Kaiser Cheifs, Empoyment, first download was Eminem I think, the one where he's stood on stage with the curtains behind him. Encore.
SO, WHEN IT ALL GOES RIGHT AND YOU'VE GOT A MANSION AND A SUPERMODEL GIRL/BOYFRIEND, WHAT WILL BE YOUR BIGGEST MUSICAL INDULGENCE?
Probably set up a studio in the mansion and have an endless selection of guitars and other equipment.
SO, WHEN IT ALL GOES WRONG AND YOU'VE ACRIMONIOUSLY BROKEN UP CITING HUGE MUSICAL DIFFERENCES, WHAT DO YOU FALL BACK ON?
A memory foam mattress.
PLEASE CITE SOME INTER-BAND MUSICAL DIFFERENCES…
Don't really have any, although judging by our first downloads/CDs they're soon to be apparent.
WHO ARE YORKSHIRE'S FINEST IN CULTURE, SPORT AND MUSIC?
Culture – Charles Edward Taylor.
Sport – probably Kyle Walker, Harry Maguire and John Stones.
Music – Arctic Monkeys, Pulp.
NAME YOUR SUPERGROUP – WHO'S PLAYING WHAT AND WHO'S ON VOCALS?
Frontman/vocals – Bowie, Guitar – Hendrix, Guitar – Johnny Marr, Bass – Peter Hook, Drums – Keith Moon.
GO SEE THIS FILM: The Tenant.
GO READ THIS BOOK: Great Expectations.
GREAT LOST BAND/ARTIST: Jackie Lomax
WOULDN'T BE CAUGHT DEAD SUPPORTING: The 1975.
LONDON, L.A OR LEEDS?: All of them.
AND FINALLY… AS YOU LEAVE THE STAGE, WHAT ARE YOUR PARTING WORDS.
Mines a Timmy Taylors, cheers.
For more info: theraintreecounty.com