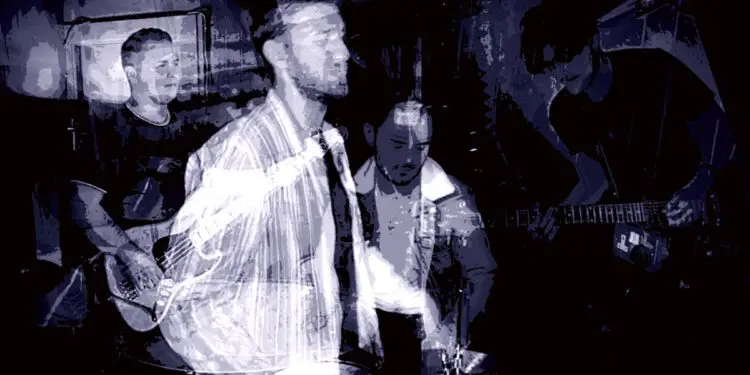 Promising dance-rock crossover from brand new
Leeds outfit…
YOUR NAME: Jimmy Sweeney, Robin Green, Jake Clayton, Jimmy Ingham.
BAND NAME: Cliché Cult.
WHAT DO YOU DO/PLAY?
Jimmy Sweeney – Vocals/Rhythm Guitar.
Robin Green – Drums.
Jake Clayton – Lead Guitar.
Jimmy Ingham – Bass.
HOW LONG HAVE YOU BEEN TOGETHER AS A BAND/PLAYING MUSIC? We formed in June 2020, so around 6 months.
GIVE US 3 REASONS WHY WE SHOULD TRACK DOWN, LISTEN AND DISCOVER YOUR MUSIC?
– Catchy riffs.
– Funky beats.
– We'll get your foot tapping and head nodding.
WHERE DO YOU SOUND BEST – FESTIVAL, CLUB, BEDROOM – OR SOMEWHERE ELSE?
We haven't played any live shows as of yet, but we sound our best live (currently locked away in a rehearsal studio).
WHAT WAS YOUR FIRST…
RECORD? Beach Boys – Pet Sounds // Def Leppard – Hysteria // Oasis – Definitely Maybe.
CD? Madness – Greatest Hits // Arctic Monkeys – Whatever People Say I Am That's What I'm Not // Aerosmith – The Young Lust Anthology // Green Day – International Superhits.
SO, WHEN IT ALL GOES RIGHT AND YOU'VE GOT A MANSION AND A SUPERMODEL GIRL/BOYFRIEND, WHAT WILL BE YOUR BIGGEST MUSICAL INDULGENCE?
Build our own studio!
SO, WHEN IT ALL GOES WRONG AND YOU'VE ACRIMONIOUSLY BROKEN UP CITING HUGE MUSICAL DIFFERENCES, WHAT DO YOU FALL BACK ON?
Shit solo careers we can imagine!
CITE SOME INTER-BAND MUSICAL DIFFERENCES.
Probably our own songs, the lead singer has written many songs then asked for them to be scrapped.
WHO ARE YORKSHIRE'S FINEST IN CULTURE, SPORT AND MUSIC?
Jarvis Cocker, every single Arctic Monkey, Sean Bean, Marcelo Bielsa and Josh Warrington.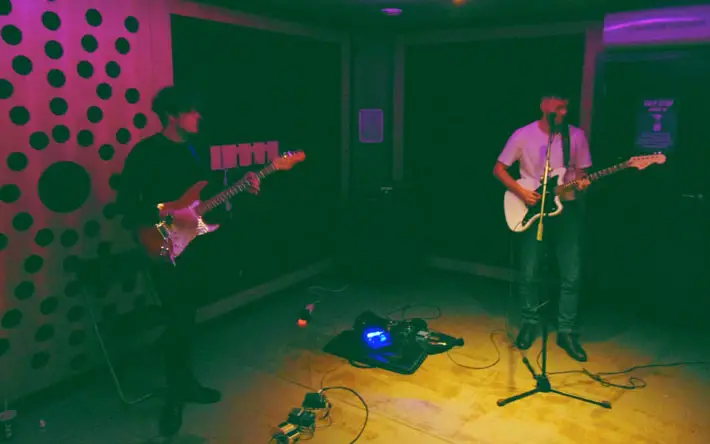 NAME YOUR SUPERGROUP – WHO'S PLAYING WHAT, WHO'S ON VOCALS AND WHO'S YOUR BEZ?
Vocals – David Bowie.
Drums – Ben Thatcher.
Guitar – Phil Collen.
Bass – Mani.
Bez – Alan Patridge.
GO SEE THIS FILM: Memento // The Tennant // Starship Troopers // Quadrophenia.
GO READ THIS BOOK: I am Not a Gansta by Bobby Cummings // Childhood's End by Arthur C Clarke // A Brief History of Humankind by Yuval Hurari.
GREAT LOST BAND/ARTIST: Television // Heaven's Basement // The Maccabees.
WOULDN'T BE CAUGHT DEAD SUPPORTING: Steps.
LONDON, L.A OR LEEDS?: LEEDS.
AND FINALLY… AS YOU LEAVE THE STAGE, WHAT ARE YOUR PARTING WORDS?
'SUPERMAGIC'.
For more info visit: facebook.com/clichecultband