Introducing: Being a Tiger
Attention grabbing post-hardcore wall of noise…
YOUR NAME: Mark & Sean.
BAND NAME: Being A Tiger.
WHAT DO YOU DO/PLAY? Mark – Guitar & vocals, Sean – Drums. We have bass player called Jack but he's not here.
HOW LONG HAVE YOU BEEN TOGETHER AS A BAND/PLAYING MUSIC? S: In one line up or another me and Mark have been playing as Being a Tiger since about 2010.
GIVE US  THREE REASONS WHY WE SHOULD TRACK DOWN, LISTEN AND DISCOVER YOUR MUSIC?
1. We try to play pretty dynamic sets with as much energy as we have every night.
2. We're dedicated to the DIY approach and everything we put out we've done by ourselves as much as is possible.
3. Support the scene! Go track down, listen and discover everyone. Do yourselves a favour.
WHERE DO YOU SOUND BEST – FESTIVAL, CLUB, BEDROOM – OR SOMEWHERE ELSE?
S: Bar venues or just regular venues like The Lending Room, anywhere with decent sound really. We can get pretty loud and quiet fairly quickly so it definitely doesn't hurt.
WHAT WAS YOUR FIRST…
RECORD?
M: It was either Dark Side of the Moon or Dire Straits' Brothers in Arms. I wanted Dark Side of the Moon first because I wanted an album that just embodied the experience of playing a record… but it may have seen Brothers in Arms in a bargain bin and I'd been unable to pass it by. I've lost the Brothers in Arms record now though… so let's say Dark Side of the Moon.
CD?
M: That I bought, would be Metallica's Master of Puppets but the first CD I owned would be Korn's self titled. Owning Korn's self titled at like 10 years old is heavy.
S: The Stranglers – No More Heroes.
DOWNLOAD?
Both: 'Killing in the Name' – Rage Against the Machine, back in the '09 Christmas #1 push.
SO, WHEN IT ALL GOES RIGHT AND YOU'VE GOT A MANSION AND A SUPERMODEL GIRL/BOYFRIEND, WHAT WILL BE YOUR BIGGEST MUSICAL INDULGENCE?
S: I would pay whatever it took for Dave Grohl to follow me around for a day.
M: I'd invest in Shoveitupyourcult Records and buy offices around the world.
SO, WHEN IT ALL GOES WRONG AND YOU'VE ACRIMONIOUSLY BROKEN UP CITING HUGE MUSICAL DIFFERENCES, WHAT DO YOU FALL BACK ON?
S: I'd hide out in a dark room with copious amounts of Pringles until we acrimoniously reunite for an anniversary tour.
M: Is this post-'all going right?' If so… I'd run the Shoveitupyourcult Record offices. If not, I'd start a new band probably with Johny Gibson.
CITE SOME INTER-BAND MUSICAL DIFFERENCES…
S: We found out recently we differ fairly strongly on Drake.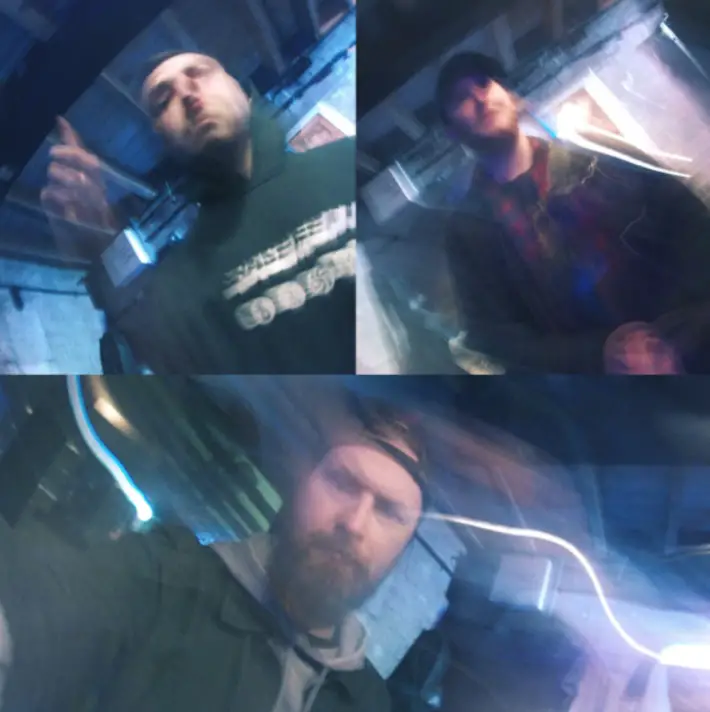 WHO ARE YORKSHIRE'S FINEST IN CULTURE, SPORT AND MUSIC?
M: Culture… David Hockney. Sport… over to Sean, otherwise we will argue.
S: Leeds United Football Club. Music… We're lucky enough to get to play with some ace bands from the area pretty regularly, so shout out to Adore//repel and Skull who we're sharing a stage with at 360RAW2 at The Library in Leeds on April 13.
NAME YOUR SUPERGROUP – WHO'S PLAYING WHAT AND WHO'S ON VOCALS?
S: John Bonham on drums, Bowie and Prince doing whatever they wanted for everything else.
M: Abe Cunningham on drums, Franz Lyons on bass, Ian MacKaye on guitar and backing vox, Jeremy Bolm or Tyler, the Creator on Vox. I think that band would be rad.
GO SEE THIS FILM: M: How to Lose a Guy in 10 Days.
GO READ THIS BOOK: S: The Humans by Matt Haig.
GREAT LOST BAND/ARTIST: M: As in bands that just don't get talked about much anymore? Fugazi.
WOULDN'T BE CAUGHT DEAD SUPPORTING: M: My Chemical Romance.
LONDON, L.A OR LEEDS?: S: London for the bars.
M: LA for the weather.
S: Leeds for the Yorkshire Puds and Gravy.
AND FINALLY… AS YOU LEAVE THE STAGE, WHAT ARE YOUR PARTING WORDS.
M: Thanks to the sound guy – those guys never get enough love.
For more info visit: facebook.com/beingatiger