Port Cities – Live Review – Hull Kardomah 94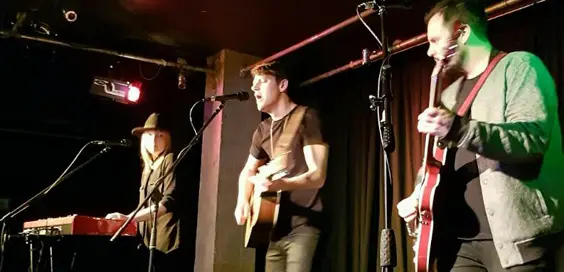 By David Schuster, March 2018
By 8:15 my wife and I are comfortably lounging on a leather couch just to the left of Kardomah's low stage. The first thing I notice is that, whilst there is the usual array of guitars and amps on stage, there's no drum kit. Hmmm. Ominous. I privately worry that an evening of watery folk songs may lie ahead.
This is the first time I've been in the venue and the leather coach on which we sit summarises the comfortable, friendly and intimate atmosphere inside.
Bang on 8:30 three support acts take to the stage, simultaneously. There's a comic moment where the sole roadie (and father of one of the performers), rushes around putting four seats on stage so that those not playing can sit. Despite this, the format works quite well; each of the three acts takes turns to perform a single song in rotation, which provides variety.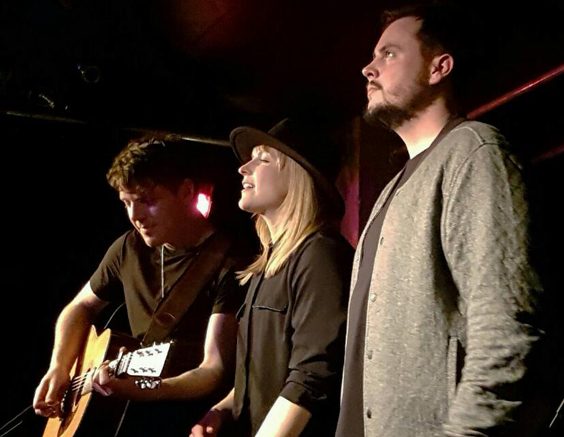 "No drum kit"
First up is Jack Parker. He's a guitarist/singer from Bridlington. 'If loving Was Easy' is the best of his three tracks this evening. Next on are a duo from York; Dan Webster and Emily Lawler. Dan on guitar and lead vocals, Emily on fiddle. Their lively rendition of Dan's song 'Playing Cards' gives good scope to the fiddle/guitar combination and has the crowd tapping their feet. Finally, there's Eleri Pollard. She is also a singer/songwriter, back performing in her home town. Her self-portrait in the lyrics of 'February Hail' showcases her surprisingly strong emotional voice.
So far so good; the support has been met with polite applause. With a sense of anticipation, we take a short comfort break and buy another drink. The stage is quickly set up for Port Cities. I note that there's still no drum kit.
"Accomplished"
The band spring onto stage with an ease and familiarity of long practice. Whilst the Canadian trio of Breagh MacKinnon, Carleton Stone and Dylan Guthro only got together as Port Cities in 2015, they were all fairly successful solo singer/songwriters, and had played together in various informal combinations, prior to this.
MacKinnon (Keyboards/Vocals) launches into 'Where Have You Been', an emotional, yet rocking track about adultery. This is angry hurt, not weepy hurt. Stone (Acoustic guitar/Vocals) and Guthro (Electric guitar/Vocals) come in with Fleetwood Mac-style harmonies and the set really takes off. They quickly follow this with 'On The Nights You Stay Home' and 'Half The Way'.
These and the majority of the evening's numbers, are taken from Port Cities' impressive self-titled debut album, launched last year. Stone takes lead vocals on the second song, and Guthro on the third. This is not an affectation, all three are accomplished singers, and it allows the different tracks to have a wider spectrum of tones than a single vocalist. This is demonstrated well in 'How To Lose You' where Guthro hits some surprisingly high notes.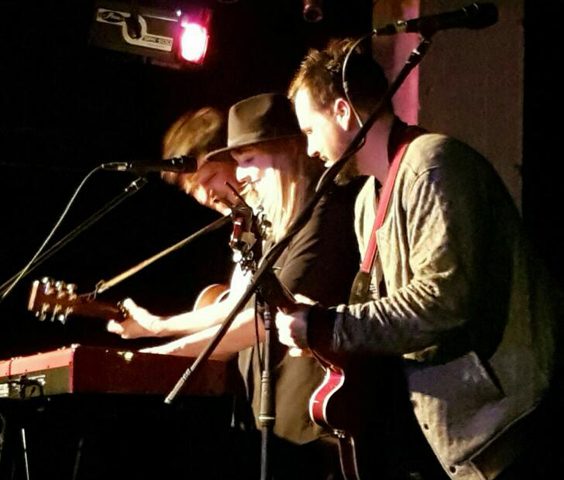 "Enthusiastic"
Highlights of the performance are 'The Out', which epitomises their ability to deliver biting lyrics over a happy beat, 'Astronaut', about the loss of childhood dreams and ambitions, and 'Back To The Bottom', which ironically took them to the top of the Canadian charts. The crowd are enthusiastic, and we all sing along to the final song.
Then they almost lose it. As an encore they play 'Only An Island', which is a slow number, and weaker than the rest of the set. Fortunately, they have the stage experience to sense this and realise their mistake. After a brief band-chat they round of the evening with 'How To Break A Heart', and all is well: Port Cities at their best, emotional lyrics delivered with sass.
It's been a great show. No drum kit required.