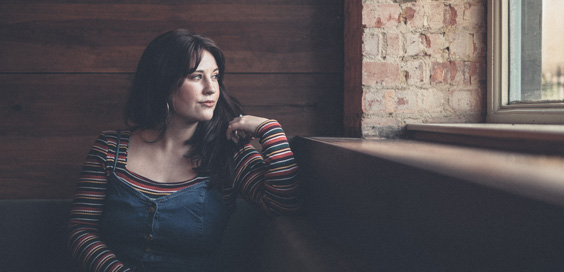 Soul-bearing, stripped-back ballad introduces singer-songwriting talent from Leeds…
YOUR NAME: Annie Drury
HOW LONG HAVE YOU BEEN PLAYING MUSIC? I've been writing from a young age and started performing my own music around 12 years old
ANY PAST BANDS OR COLLABORATIONS WE SHOULD KNOW ABOUT? Above and Beyond acoustic 1.
GIVE US 3 REASONS WHY WE SHOULD TRACK DOWN, LISTEN AND DISCOVER YOUR MUSIC?
1.) I've worked really hard over these last few years creating this album of work. It is something I've spent a lot of time on and it's something I've put my heart and soul into.
2.) All of the seven tracks are real stories that people can hopefully enjoy and relate to in their own personal way.
3.) If you enjoy female singer songwriters, hopefully it will be your thing.
WHERE DO YOU SOUND BEST – FESTIVAL, CLUB, BEDROOM – OR SOMEWHERE ELSE?
I prefer to play cosy, intimate venues where I can really connect with the audience.
WHAT WAS YOUR FIRST RECORD?
The first record I ever asked for was the Blondie album No Exit. My dad bought me it for my birthday when I was around 7 years old. I remember listening to the track 'Maria' on repeat.
SO, WHEN IT ALL GOES RIGHT AND YOU'VE GOT A BOTTOMLESS PIT OF MONEY AND LONG QUEUE OF HANGERS-ON, WHAT WILL BE YOUR BIGGEST MUSICAL INDULGENCE?
Take a few months off, go travel the world and write a new album in some exotic beach house with a piano.
SO, WHEN IT ALL GOES WRONG AND YOU'RE LEFT BITTER AND TWISTED AND CURSING THE MUSIC INDUSTRY, WHAT DO YOU FALL BACK ON?
It's easy to feel this way about the music industry but honestly, it just makes me work harder and never give up. Another plan would be to get some land and open a dog sanctuary… living the dream.
WHAT ARE YOUR MUSICAL GUILTY PLEASURES?
Abba
NAME YOUR SUPERGROUP – WHO'S PLAYING WHAT, WHO'S ON VOCALS AND WHO'S YOUR BEZ?
Al Green, Stevie Nicks and Bon Iver… some of my faves all in one supergroup!
GO SEE THIS FILM: Lion.
GO READ THIS BOOK: The Power Of Now by Eckhart Tolle.
GREAT LOST BAND/ARTIST: Whitney Houston.
WOULDN'T BE CAUGHT DEAD SUPPORTING: Donald Trump. Apparently he sings?
LONDON, L.A OR LEEDS?: I've been very lucky to have played all three but it would have to be my hometown… Leeds!
AND FINALLY… AS YOU LEAVE THE STAGE, WHAT ARE YOUR PARTING WORDS?
You are all the best, thank you for listening.
Annie Drury's debut album 'Luna' is out now