Electronica to 50s rock 'n' roll, John Carpenter to Kavinsky – disparate influences of nomadic Sheffield-born singer-songwriter…
YOUR NAME: Drew Davies
WHAT DO YOU DO/PLAY? I'm the lead singer and writer in my band. I play guitar and use synthesizers also.
HOW LONG HAVE YOU BEEN TOGETHER AS A BAND/PLAYING MUSIC? The record was put together musically by myself and a team of musicians I worked with in London.
GIVE US 3 REASONS WHY WE SHOULD TRACK DOWN, LISTEN AND DISCOVER YOUR MUSIC?
The songs are heartfelt and honest and are to some degree like postcards to moments, thoughts and feelings I've had in recent times.
I'm a singer songwriter but have retained an alternative rock sound.
I've tried to fuse together my influences, from 50s style guitar music, all the way through to modern EDM.
WHERE DO YOU SOUND BEST – FESTIVAL, CLUB, BEDROOM – OR SOMEWHERE ELSE?
Right now I'd say in a club. I haven't played any festivals yet!
WHAT WAS YOUR FIRST…
RECORD? I believe it was Fleetwood Mac's Tango in the Night.
CD? Nirvana – Bleach.
DOWNLOAD? I got into downloading very late; I've always bought physical records. I think it was the download of Future Islands – Singles from the vinyl.
SO, WHEN IT ALL GOES RIGHT AND YOU'VE GOT A MANSION AND A SUPERMODEL GIRL/ BOYFRIEND, WHAT WILL BE YOUR BIGGEST MUSICAL INDULGENCE?
I can't say I'd thought much about that, nor expect it. But I'd probably buy a nice Gibson 330 or vintage Epiphone Casino, and some vintage synths, maybe a Synclavier II.
SO, WHEN IT ALL GOES WRONG AND YOU'VE ACRIMONIOUSLY BROKEN UP CITING HUGE MUSICAL DIFFERENCES, WHAT DO YOU FALL BACK ON?
I don't think anyone's really making a fortune these days from music, so I'll probably just get my head down and keep working.
PLEASE CITE SOME INTER-BAND MUSICAL DIFFERENCES…
It's me writing so it's mainly me wrestling with myself about what to write. Sometimes it's very classic and West Coast sounding, sometimes I'll try something totally different. But I'll often have a degree of uncertainty about directions at certain points. Some songs come in five minutes, some take a lot longer!
WHO ARE YORKSHIRE'S FINEST IN CULTURE, SPORT AND MUSIC?
Well I'm a fan of Sheffield United so I have to say them…! Musically Yorkshire is really coming through right now. Allofusinlove just released a great debut and I heard a great pop song by an artist called Litany the other day called 'My Dude' – definitely worth checking them both out. Pulp to me was a huge influence growing up as well. Yorkshire culture… Sean Bean's got to be a bit of a legend now surely!
NAME YOUR SUPERGROUP – WHO'S PLAYING WHAT, WHO'S ON VOCALS AND WHO'S YOUR BEZ?
I'm no good at this…but I'll try! Drums – Sheila E. Bass – Gail Ann Dorsey. Keys – Brian Eno. Rhythm Guitar – John Lennon. Lead Guitar – Prince. Vocals – Scott Walker.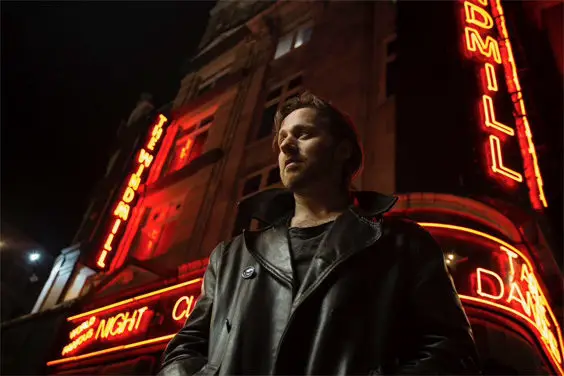 GO SEE THIS FILM: I love science fiction so I'd say Interstellar or 2001: A Space Odyssey.
GO READ THIS BOOK: The Crow Road, Iain Banks.
GREAT LOST BAND/ARTIST: We live in a time where anyone can release music or find old records that went under the radar, so I'm struggling with lost. The recent passing of Scott Walker, I think, was a huge artistic loss. He was a big influence on me when I was making my record. So, let's say Scott Walker.
WOULDN'T BE CAUGHT DEAD SUPPORTING: I wouldn't want to say that of anyone.
LONDON, L.A OR LEEDS?: I do enjoy London (don't hate me!).
AND FINALLY… AS YOU LEAVE THE STAGE, WHAT ARE YOUR PARTING WORDS?
Thank you and have a great night…
'Living the Dream' the second single from Drew Davies is out now
For more info visit: drewdaviesmusic.com