Epic alt-rock from New Zealand, with Sheffield-born frontman…
YOUR NAME: Rory McDonald.
BAND NAME: Voodoo Bloo.
WHAT DO YOU DO/PLAY? I sing (pretty well), play guitar (pretty alright), bass (probably better than guitar), banjo (pretty much just the same as guitar), piano (still teaching myself) and theremin (I barely count this one).
HOW LONG HAVE YOU BEEN TOGETHER AS A BAND/PLAYING MUSIC? This band has been around for just a bit more than 2 years.
GIVE US 3 REASONS WHY WE SHOULD TRACK DOWN, LISTEN AND DISCOVER YOUR MUSIC?
We're a pretty fast-moving band. I can't say I know too many bands who had two records out in two years, there's quantity, but the quality is always there.
We never want to make the same album twice, so you can be assured that we won't turn into AC/DC.
We'll give you a brownie if you listen to our tracks.
WHERE DO YOU SOUND BEST – FESTIVAL, CLUB, BEDROOM – OR SOMEWHERE ELSE?
I've always wanted to be on the club circuit more than anything, and I honestly do think it's where we're most comfortable as a band, there's something so personal about it that I'd love to just do that forever.
WHAT WAS YOUR FIRST…
RECORD? Favourite Worst Nightmare – Arctic Monkeys.
CD? Sailing the Seas of Cheese – Primus.
DOWNLOAD? Three Cheers for Sweet Revenge – My Chemical Romance.
SO, WHEN IT ALL GOES RIGHT AND YOU'VE GOT A HUGE QUEUE OF HANGERS-ON AND A RIDICULOUS MANSION, WHAT WILL BE YOUR BIGGEST INDULGENCE, MUSICAL OR OTHERWISE?
Synths man, I bloody love synths so much. They're all incredibly expensive though, so you can be sure that I will have a whole room dedicated to synth modules and racks, hell, I could even perform the longest piece of recorded music, just leave it playing in there for years on end. Hope no one steals this idea actually…..
SO, WHEN IT ALL GOES WRONG AND YOU'VE ACRIMONIOUSLY BROKEN UP CITING HUGE MUSICAL DIFFERENCES, WHAT DO YOU FALL BACK ON?
Synths, man.
CITE SOME INTER-BAND MUSICAL DIFFERENCES…
Well, I think I'm probably the only one of us who loves Panic! At the Disco, probably even a little too much. Daniel is very much into his Boards of Canada, which I think I may have described as "Hell's elevator music". Ollie is our resident John Mayer guy, and Jackson, even though everybody on Earth loves him, is one of the biggest Bowie fans I know.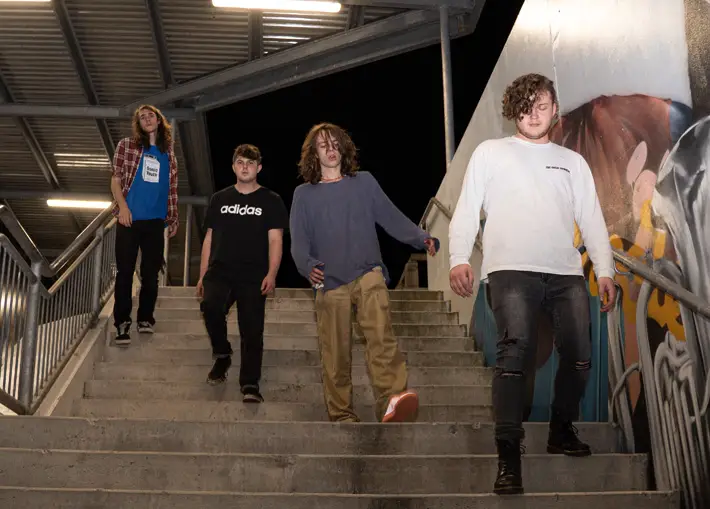 WHO ARE YORKSHIRE'S FINEST IN CULTURE, SPORT AND MUSIC?
Jarvis Cocker. Do I really need to explain myself?
NAME YOUR SUPERGROUP – WHO'S PLAYING WHAT, WHO'S ON VOCALS AND WHO'S YOUR BEZ?
Gerard Way – Vocals.
Trevor Dunn – Bass.
Zach Hill. – Drums.
Omar Rodríguez-López – Guitar.
GO SEE THIS FILM: Videodrome.
GO READ THIS BOOK: Fear and Loathing in Las Vegas.
GREAT LOST BAND/ARTIST: Space, more specifically the album Spiders.
WOULDN'T BE CAUGHT DEAD SUPPORTING: Lorde.
LONDON, L.A OR LEEDS?: Leeds.
AND FINALLY… AS YOU LEAVE THE STAGE, WHAT ARE YOUR PARTING WORDS?
Well usually when we leave the stage, I leave with the words "We're Voodoo Bloo, and we'll f**k off now", so I'll leave you with that.
For more info visit: facebook.com/voodoobloo