Tom Hingley & The Kar-Pets – Live Review – Belgrave Music Hall, Leeds
By Victoria Holdsworth, August 2018
You may have been forgiven for thinking that the clock had been turned back around to the nineties tonight, with one of the most famous voices of that time frame belting out some cracking hits at The Belgrave Music Hall in Leeds.
I do have to give the support acts a quick mention, as they were superb tonight. False Advertising, and incidentally Tom's niece's band, are a force to be reckoned with and definitely one to watch, and the second support act tonight was one of Yorkshire's finest up and coming bands, Adore//Repel who played a stadium-worthy set, and both of them are destined for huge acclaim.
It was a small intimate gathering tonight for one of the greatest indie legends of our times, and a thoroughly good bloke. Crowd size aside, these guys always put on a show like they are playing to thousands.
The set is essentially the track list from Revenge Of The Goldfish, which was the third studio album from the Inspiral Carpets, released back in 1992, and a few extra tracks thrown in for good measure.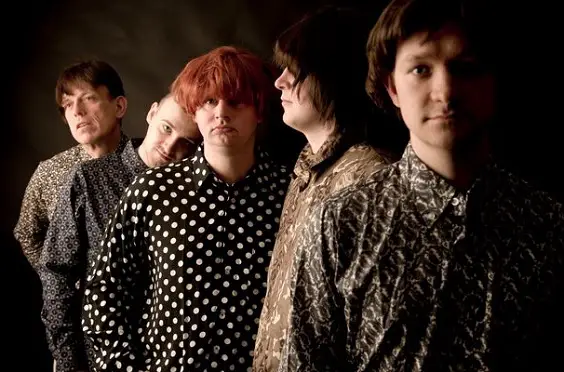 "Unmistakable"
Kicking things off with 'Generations', 'Joe' and 'Find out Why', a killer combination of tracks with no sparks being lost and, to be perfectly honest, if you didn't know what the rest of the band looked like, you would hardly know the difference between a Carpet and a Kar-Pet.
The Kar-Pets have now got everyone in the room in the indie groove, and without much encouragement everyone is down at the front of the stage storming into 'Directing Traffic', 'Bitches Brew' (a personal favourite), and the unmistakable 'She Comes In The Fall', with its progressive drum beats and swirling keys filling every inch of the air in the venue. The sound is still an unbeatable blend of dance and indie that makes standing still impossible.
The Kar-Pets prove just why they are the best Inspiral Carpets cover band around. Each performance is faultless, and they just seem to give that little bit of an extra dynamic to Tom's lyrics and vocals, that the 'real thing' can no longer provide. This lot are definitely a lot punchier, with grittier guitar sounds and an exciting fresh vibe about them.
"Epic set"
The 2003 comeback single, 'Come Back Tomorrow', was flawlessly thrown in for good measure and a tribute to Mr. Mark E. Smith through an absolutely blinding rendition of 'I Want You' saw all of those old enough to remember in the room show the kids how proper indie dancing was done. The electricity on the floor was palpable.
When 'Two Worlds Collide' levels out the previous excitement and gives everyone a breather, Tom's lyrics seem to resonate more than ever with current social and economic climates: 'I steal to feed, I fight to breathe, through hunger not greed, I find these days it's the only way I can survive. What have I done with my life? Is this the end, when two worlds collide?'
Crowd pleaser and iconic masterpiece 'Saturn 5' sounds meatier than ever, and the guys really played with gusto, before a blistering and unique cover  of 'Tainted Love', which was unexpected and nothing short of spell binding.
'Don't Look Down' ended the epic set, before an encore of 'Dragging Me Down', however, the crowd tonight did not want them to stop and we were treated to one more song, 'This Is How It Feels', before the plug got finally pulled from their equipment.
What anyone would have learnt from tonight is that The Inspiral Carpets may have felt that they no longer needed Tom as their front man anymore; however it is glaringly obvious he didn't need them either.