An Interview with Adore//Repel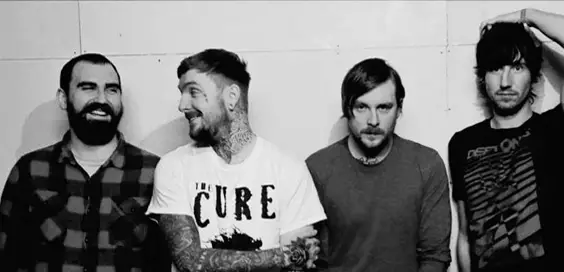 By Victoria Holdsworth
Adore//Repel are one of the hottest things in Leeds right now, and are proudly flying the Yorkshire flag as part of the BBC Music Introducing's top ten bands. With appearances at Leeds and Reading festivals, and a newly announced American tour, the four-piece have exploded in 2018 with an almighty bang and their highly acclaimed debut album, Empty Orchestra, is a must for any download list.
I sat down with twin brothers Danny and James Brown, bassist Bob, and Harry, their drummer, before the band supported Tom Hingley at Belgrave Music Hall, Leeds…
Yorkshire band, Yorkshire bred. How did you celebrate Yorkshire day yesterday?
DB: We made loads of Yorkshire tea!
JB: We own a record shop, so we were giving away free cups of Yorkshire tea, all day!
When you first started writing, did you intend your work to be so instrumental or was it something you consciously developed?
DB: We didn't think about it too much really.
JB: We weren't really singers, so when we just started playing together it went from there really.
DB: It just naturally formed and progressed, and we prefer it that way.
JB: We love dance type riffs and stuff so we wanted to start using those parts in our music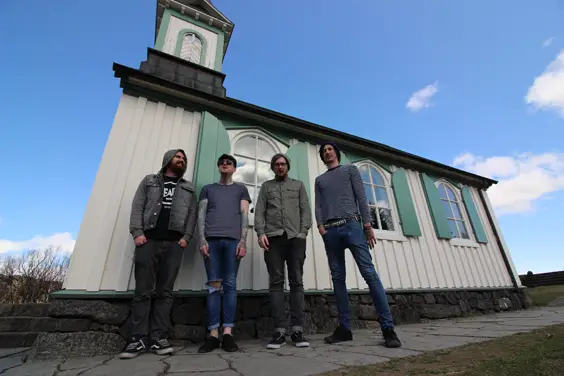 "Pretty outstanding"
Shoveitupyourcult Records, your own record label, shows your dedication to music and to helping others. Any acts that you would like to share with us?
DB: Being a Tiger, who are bringing a 7 inch single out shortly.
JB: Skull are pretty outstanding and a great Leeds band.
DB: There are so many, we could be here all day.
How do you come up with the concepts for your songs?
DB: We draw a lot of influences from films and from everywhere really.
JB: Sometimes it could just be a feeling, or some nostalgia.
DB: I draw from a whole range of emotions too.
What have you been up to this summer so far? Any festivals?
B: It's been busy!
DB: We did Long Division festival which was amazing, and we have been doing BBC Introducing gigs all over the place.
JB: We went to Iceland as well, and did a tour over there. Just quite a few scattered shows really.
DB: This will be our first proper gig in about a month.
"We can draw influences from anywhere"
I saw your show at The Lending Rooms for #360RAW and it was pretty impressive, despite the sound quality in there letting you down.
DB: Yeah that was probably the last proper gig we did in Leeds. Glad you enjoyed it though.
Are there any influences that you have had that you have brought into your own music styles or compositions?
JB: Do you mean musically, or lyrically, or both? There's probably far too many!
B: I think the Stone Roses are probably one of the biggest influences.
DB: Yes, definitely.
JB: Echo and the Bunnymen and Joy Division, to name a few of loads.
H: We do like a lot of alternative stuff.
DB: The Deftones and Incubus are some of my favourite influences.
H: As a drummer, I have drawn some influences from the likes of Biffy Clyro, and bands of that ilk, but like Danny said, we can draw influences from anywhere and make them our own.
Your debut album, Empty Orchestra has received awesome reviews – however what's the worst review you have ever read about yourselves?
JB: The stuff that we have seen has been really positive on the whole.
DB: I think the worse thing I've read, was that someone described us as looking like a bunch of pissed up 30-year-olds. [laughs] We were drunk, but I thought that was a bit harsh. [laughs]
JB: Whoever reviewed it though wasn't having a go at us, they reviewed the whole night, as just having a bad night, so I'm not sure what else was going on with them.
B: I still don't know why he picked on us though. [laughs]
JB: We just ignore any sh*t any way, it doesn't really bother us.
DB: All press is good press!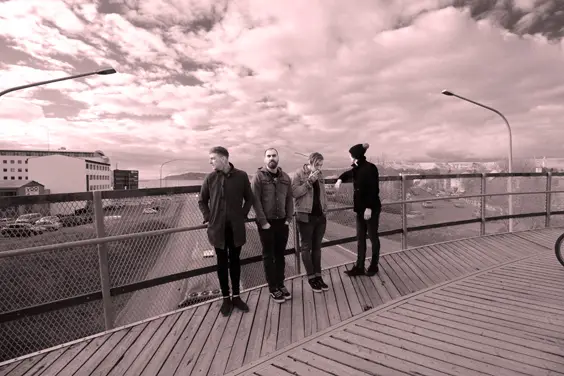 "The passion overtook me"
The local music scene in Yorkshire, despite producing some gems, has been through a tough old time over the past decade, so what would be your message to music lovers and gig goers to help keep the wolves from the stage doors?
DB: Just do the standard things like you used to be before really.
JB: Go out and buy tickets, and just support as many people as you can.
DB: Get yourselves into actual record shops and pick stuff up, it's cheap enough, d'ya know what I mean?
H: You've really got to support your friends too.
DB: Your family and friends are passionate at the end of the day, so it's always good to have that vibe around.
What's your most embarrassing musical memory, either as an artist or a fan?
JB: Oh I've definitely got one. [laughs] He [Danny] was supposed to be doing an interview once and he didn't do it. At which point they all start talking over one another, to disguise the facts of the matter and start laughing. So it will remain a secret, for now.
DB: We have eaten lots of people's food in dressing rooms, and been told off for it by said band on stage before now. But in our defence, we're growing lads, and going on stage can take it out of ya. [laughs]
H: As a fan of Arcane Roots, I once went to see them at The Cockpit, and my favourite song came on, and it was absolutely amazing, but it definitely was not the song that you should stage dive to, but of course, I didn't know that at the time! The passion overtook me and little did I know, I was just going to fall into a crowd of concerned looking faces, and it was just horrible.
DB: What are you on about? I do that all the time! [laughs]
JB: I've been chucked out of Nation of Shopkeepers. They threw me out and I bashed all my head, because I just like jumping off really big speakers. I got back in though [laughs].
What does the rest of the year hold for Adore//Repel?
JB: Oooh it's exciting!
DB: So, we're going to be playing in California in September, and then we will be playing in Portland, Oregon, which I hear is an amazing place. We were invited by a band that played a few weeks ago, called The Prids, who are pretty amazing, so they will be helping us out over there. They seem to think that we'll go down really well over there, so we'll give it a go!
Adore//Repel's debut album 'Empty Orchestra' is out now