#360RAW with Alan Raw: Skull, Adore//Repel, TEEFF, Being a Tiger – Live Review – Leeds Lending Room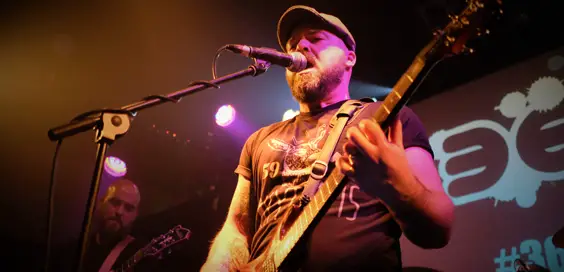 By Victoria Holdsworth, April 2018
Starting with the three piece Huddersfield band, Being A Tiger, the evening kicks off well. The label attached says post-harcore/alt-rock, but they don't fit into either of those categories. The band give a solid performance, but some fine tuning is required to make them truly stand out. However they did display some lovely psychobilly undertones inside a melodic Motörhead sound. The drummer needs to add more meat to the band's bones, but the dirty fuzz guitar licks save them in the end. Promising.
"Ferocity"
Second band tonight, TEEFF, are from Sheffield, and probably one of the best live bands I have heard in a long time. A guitar and drums two-piece that is infectious to watch and addictive to listen to. It really shouldn't work, but it does. These guys do certainly wear their influences on their sleeves, but the diversity is immense. From Sabbath-sounding grit, to some anthemic songs, and the vibrancy and showmanship from both of them is outstanding. The ferocity with which they play makes them one to watch.
Third on the bill is Adore//Repel. Following the success of their debut album, Empty Orchestra, the guys from Wakefield have certainly hit the ground running. An independent band with their own label, they have created their own musical genre, somewhere between post-hard-core, shoegaze and progressive music.
Whilst mainly instrumental, they follow their own musical format, and to hell with everyone else. The musicianship is second to none, with some wickedly technical guitar work and grinding drum beats, with playful undertones of the long-lost shoegazing scene lingering underneath.
"Intensity"
The vocals that do appear on 'Where The Rich Kids Go To Die' make it one of the standout tracks of the night – distorted and grungy – although I'm not sure if that's just the sound in the venue tonight. I think they might sound incredible in a large venue or festival setting, where the intensity of their sound can be maximised.
This band is an original, and they are solely about the music. The chorus lines in the songs just seem to explode over the entire crowd, whilst in the background, the melodies and sadistic sprawling riffs back it all up with otherworldly, Pink Floyd structures. These guys have certainly breathed new life into a lacklustre scene and are something to be marvelled at.
Headline act tonight is Leeds band Skull, who has the entire crowd on a knife edge as they wait for them to come out on stage. Their debut album, Thoughts Of the Others, I had heard before seeing them live, and the promise that the album made transcends to their live performance.
Skull, are one of the most exciting bands to come out of Leeds in along time. Their talents musically are exciting and ingenious and they are rock solid in every note they play.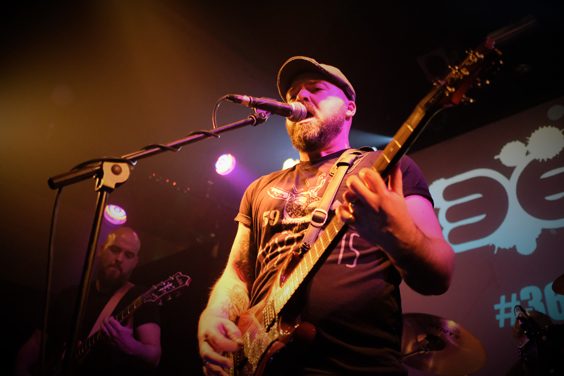 "Powerful and commanding"
The tracks, 'Rumours' and 'Masks' are put together in such a way that it is almost a living piece of abstract art. These lads are the masters of a build-up, however have the ability to strip it back to the brickwork before each instrument is fed back in to complete the picture again, but with the composition changed.
Lead singer Jonny is a terrific front-man, with a powerful and commanding voice and the rawness of some of his lyrics will impress. Skull's set is energetic, measured and weaves you in and out of a very dark journey that will sink into your very bones.
The band's effective use of atmospheric narration throughout certain songs is eerily reminiscent of bands like NIN or Perfect Circle. You are never quite sure if this is a persona created by the singer, or his own genuine thoughts and feelings. This vocal addition adds a whole new inventive dimension to their music.
'Lightswitch' has to be the best song of the night, with its intense guitars and drum work, all of which add force to the dominant vocal talents of Jonny.
So well-rehearsed and professional are Skull that they seem to have an unspoken understanding; a natural bond which helps them communicate in barely detectable nods and sideways glances.
Their songs demonstrate that they have range, as well as the hard hitting pace, and tonight was an exercise in telling the world which way metal should be going.