The Greatest Showman (2017) – Film Review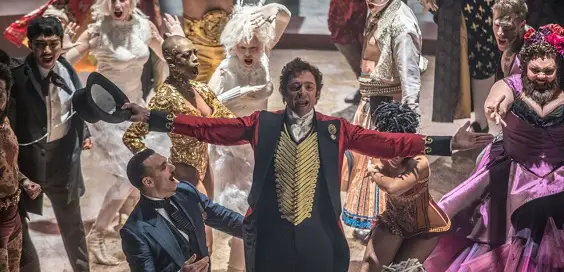 Director: Michael Gracey
Cast: Hugh Jackman, Michelle Williams, Zac Efron
Certificate: PG
by Roger Crow
I'm rather late to Hugh Jackman's latest big screen offering. It's a party that launched at Christmas to lukewarm reviews from some critics, and yet proved that many cinema-goers don't care a jot about what they think. Despite one high profile reviewer claiming there were "no memorable songs", I wonder if he saw the same film.
In mid-March I finally take the plunge, more curious as to why this musical biopic of legendary showman PT Barnum has kept punters coming back for more. Yes, it's slick, formulaic and some of the effects are a little cheesy, but that doesn't stop me from becoming immersed in the story.
A few years earlier I'd sat through the much talked about stage show Barnum, and despite being captivated by Brian Conley's tightrope walk, I was pretty bored with the rest of it. Aside from 'There is a Sucker Born Ev'ry Minute', and 'Come Follow the Band', I'd struggle to think of another memorable tune in the whole show.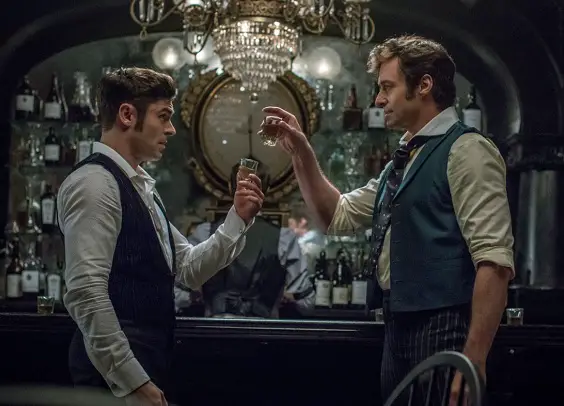 "Bowled over"
No such problems with The Greatest Showman. From that opening track, 'The Greatest Show', to 'Come Alive', the much played 'This Is Me' and delightful 'Rewrite the Stars', I'm bowled over. Hugh Jackman reminds me why he is one of the most talented thespians working in movies today. Yes, he honed his craft in West End hits such as Oklahoma!, but it's still hard to believe this is the same man who wowed me in last year's Logan.
Zac Efron is also on great form, which is reassuring considering his annoying turn in the Baywatch movie. However, when Rebecca Ferguson turns up, I'm like a kid on Christmas morning. I have become a little obsessed with the woman who stole Mission: Impossible – Rogue Nation from under Tom Cruise's nose, and kept me gripped throughout sci-fi chiller Life.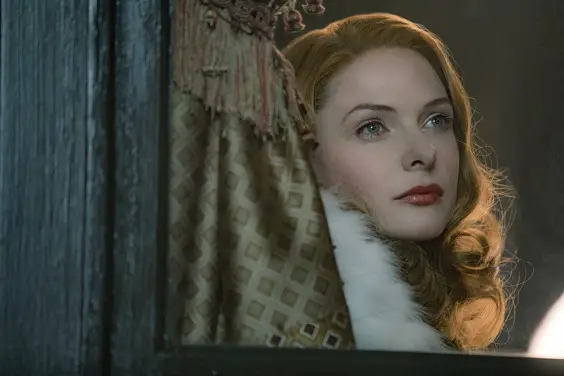 "Photography is terrific"
I don't expect much from her in this, and although she mimes to the phenomenal tune 'Never Enough', my gob is well and truly smacked; it's hard to see the join between her acting and Loren Allred's vocals. When Hugh and company round things off with 'From Now On', I'm ready to see it all again.
The screenplay by Jenny Bicks and Bill Condon ensures the whole thing ticks over like a locomotive at top speed, while Seamus McGarvey's photography is terrific.
Considering this is his first feature, visual effects veteran Michael Gracey does a good job in the director's chair. While he could have done with more cash than his $84million budget allowed, I doubt he'll have too much trouble getting a green light for his next picture.
The Greatest Showman has grossed almost $400million in 87 days, and the fact that the singalong version has kept packing audiences in means Jackman's position as one of the most lucrative actors in the business is secure.
Obviously it won't be for all tastes, and with the DVD and Blu-ray due for release in May, some might want to wait. I'd recommend seeing it on a huge screen before that day as it's the very thing cinema was invented for: a communal, feelgood experience which makes you forget your troubles for 105 minutes.
The greatest show indeed.
8/10