The Sheffield City Battalion – The First and The Last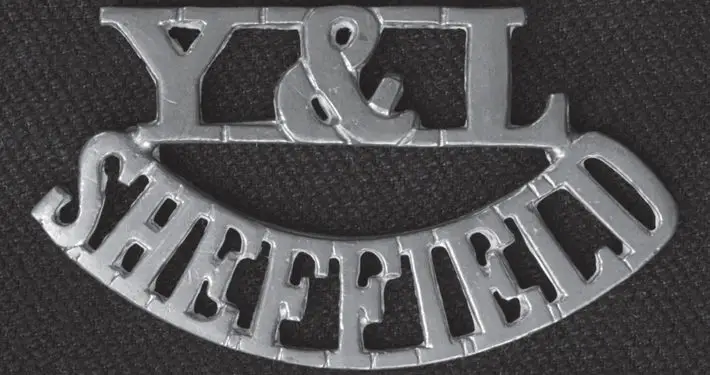 By John Cornwell
The story of two volunteers in Sheffield's own Pals' Battalion, The 12th Battalion The York and Lancaster Regiment…
Vivian Simpson was the first man to volunteer at the Town Hall on 2nd September 1914 for the new Sheffield City Battalion. He was exactly the sort of chap that those raising the City Battalion wanted to attract as they blatantly intended this to be a battalion of middle-class volunteers. He was a solicitor with his family firm based in Fargate, who had grown up in large houses in Broomhill and Nether Edge where the family always had two or three servants, and he was well known in social and professional circles in Sheffield.
But further to that he was well known across the city because he had played 38 times for Sheffield Wednesday between 1902 and 1907 and had once scored a hat trick in a 6-0 defeat of Manchester United. He played as a gentleman amateur, something that was still very common in most competitive sports in England, especially in cricket, and he was good enough to have played on the wing in a North v South trial match, just missing out on a full international cap because he was judged too small and slight.
"Effective and efficient"
At 31 he was a lot older than most of the City Battalion's volunteers and initially must have been disappointed that he was not selected to be one of the Battalion's junior officers. He had left Wesley College (now King Edward VII School) when he was 16, had not gone into the Sixth Form or gone to university, nor had he served in any branch of the Territorial Force, so he was passed over for volunteers who had been to University, or Public Schools and had served in the OTC or had some military experience. At first he said he did not care, but by January 1915 he had been commissioned as a 2nd Lieutenant and proved in the next few months while the Battalion was at Redmires that he was a very effective and efficient officer.
So much so that when the Battalion moved on for advanced training on Cannock Chase, he was kept behind to help train new drafts of Y&L volunteers and when the Battalion left for Egypt just before Christmas 1915 his request to go with them was refused. To his annoyance he had to stay as a training officer in England until July 1916 when he was suddenly recalled to the 12th Battalion in France after 18 officers had become casualties, including 8 killed in action, on the First Day of the Somme, the Ist July 1916.
"Massive bombardment"
Private Reginald Glenn, Reg to all his many friends and acquaintances, was twenty-one years old when he volunteered. He was brought up in Hillsborough, was a clerk in the Education Offices and on the 4th September 1914 at coffee break in the morning he went with a mate to enrol in the City Battalion at the Town Hall. He had been caught up in the hubris of it all and said later that it looked exciting and would get him out of boredom of the office routine. Partly because of his experience of signalling with flags in the Church Lad's Brigade he joined the signals section of the Battalion whose regular practice sessions enabled him to avoid a lot of the more boring drill sessions and route marches, even though signalling with flags was a very primitive form of communication and he would use more modern equipment when he got to France.
Reg's story until the summer of 1917 is the story of the 12th Battalion. Winter training at Redmires in 1914-15, then more advanced training elsewhere in England until they sailed for Egypt. With the Turkish threat to the Suez canal receding they were sent back across the Mediterranean to France arriving in March 1916, after which Reg was always in the line when the Battalion was at the front.
On the 1st July 1916 he was in the front trenches as the Battalion crossed No Man's Land to assault an undistinguished French village called Serre that a German regiment from Baden had turned into an impregnable fortress. Trapped by unbroken wire they were decimated by artillery and by German infantry who had survived the massive bombardment in their deep shelters. The 12th Battalions casualties that day were 576, of whom 248 were killed (with 17 dying later from their wounds), out of a total attacking force of 747, and the only Sheffield soldiers who we are certain reached Serre village were the four men who were captured.
Despite this unmitigated disaster the Battalion was reinforced with men from various county regiments and was back in the line by 24th July, further north at Neuve Chapelle. This is where Vivian Simpson re-joined the Battalion and soon he was commanding a company even though he only had a subaltern's rank, something he often complained about in his letters home. Reg on the other hand was given a stripe in January 1917, initially as an unpaid Lance Corporal.
"Prove himself"
In late June 1917 Vivian now a captain organised a major assault on the German lines at Gavrelle, north east of Arras. He was the first man into the German trenches and thanks to his planning the assault was a total success. He was awarded the Military Cross, the only officer in the 12th Battalion to receive this prestigious new award created in December 1914. In September 1917 he was wounded in the arm patrolling forward of the Vimy Ridge and invalided back to England where he spent Christmas with his wife, May, (they had married in 1915) and his infant son, John, who was born in 1916.
Meanwhile in the summer Reg had put in for a commission and was sent for training as an officer to New College, Oxford in the autumn of 1917. He was part of a new social phenomenon thrown up by the war, that a lad like Reg, formerly just a lowly clerk from Hillsborough, with limited formal education could prove himself in the desperate cauldron of the Great War and become an infantry 2nd Lieutenant. The irony was not lost on Reg, who had left the Central School at 14 that he was now studying for his commission in one of Oxford's most prestigious colleges. He loved his time there and was encouraged to enjoy the delights of Oxford as if he had been a freshman just up from the provinces.
During the war an exceptional number (at least 283) of 12th Bn privates and NCOs were commissioned as junior officers, perhaps not so surprising when one considers they were originally a well-educated, middle class battalion.
"Numbers dwindled"
When Reg was commissioned in January 1918 he chose the North Staffordshire Regiment and eventually joined the 8th Bn North Staffs at Ypres in April when they had been withdrawn from the line after heavy fighting. In May they were then sent to the Champagne region that was considered a quiet zone, but no sooner had they arrived than the Germans launched an attack on the Aisne hoping to invest Paris. Rushed up to the front, Reg had one day of action before being wounded in the arm and hip and he was invalided back to England. He was hospitalised at Oxford, but this time at Somerville College. He recovered but was graded B1 and never went abroad again before the Armistice.
Vivian Simpson spent the early months of 1918 once again training recruits and newly commissioned officers. He was given a "get out of gaol" card when he was asked to stay in England as a training officer but he opted to go back to France in March 1918. However, the 12th Bn had been disbanded in February as numbers dwindled, (the 12th Bn had suffered 439 fatalities since they arrived in France in March 1916.) and many of its former members were now serving in the 13th Bn Y&L Regiment (The 1st Barnsley Pals).
Vivian now joined this battalion as a company commander and was involved in the desperate fighting around Arras in March and April to stop the German offensive, at one stage temporarily commanding the 13th Battalion. In early April the 13th Battalion was hurriedly switched to the Lys front just south of the Belgian border to attempt to block another German offensive and in the early hours of 13th April Vivian Simpson was killed as he organised the defence of a minor crossroads just outside the nondescript village of Vieux Berquin.
His body had to be abandoned by his men as they were hurriedly forced to fall back and it was not discovered until the summer when the British retook the area. He was buried in nearby Outtersteene communal cemetery that later the War Graves Commission would extend, creating a British military section with 2000 graves.
"Very articulate"
Reg on the other hand lived to celebrate the Armistice with a training battalion of the Cameronians in Scotland. Once demobbed he went back to his old job at the Education Department and retired in 1958 as a senior buildings officer. In some ways life started anew for Reg who became involved in several veterans organisations. He was the National Chairman of the Fellowship of the Services, the secretary of the Twelfth Club that was open to surviving volunteers of the City Battalion and also gave talks to schools and other groups on behalf of the Western Front Association. He revisited the battlefields almost annually, the last time being in 1993 when he was 100 years old. In the last decade of his life he became extremely well known in Sheffield and beyond, not just for his service in the Great War, but because he was still very articulate, self-reliant and amusing, and as one journalist put it "he had a smile that simply will not come off."
He died in 1994 at the age of 101 years old, the last surviving volunteer who had signed on at the Town Hall in those heady days of early September 1914.
John Cornwell is the author of 'The First and Last of the Sheffield City Battalion', published by Pen & Sword, £25 hardback
All images: 'The First and Last of the Sheffield City Battalion'