Margate & The Walpole Bay Hotel – Review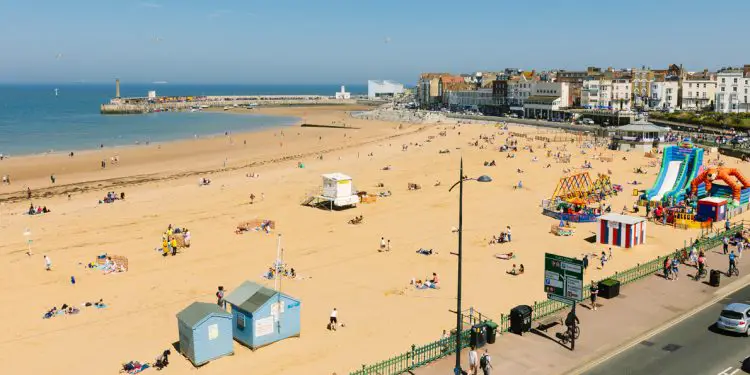 By Clare Jenkins, June 2023
The artist Tracey Emin is passionate about her hometown of Margate. "I just love it here – it's so relaxing," she told KentOnline last year. "I love the people, I love the weather, I love the waves."
J.M.W. Turner agreed, calling its sunsets 'the loveliest in all Europe'. Victorian novelist Marie Corelli, meanwhile, reckoned: "There is something not exactly high-class in the name of Margate. Sixpenny teas are suggested, and a vulgar flavour of shrimps floats unbidden in the air…" And T.S. Eliot famously wrote The Waste Land's 'On Margate Sands/I can connect/Nothing with nothing' there while recovering from a breakdown.
In its time it's been called Dole-on-Sea, Retirement-on-Sea, but also Sunny Margate. Maybe Marmite-sur-Mere covers it?
Paul Theroux wasn't a fan. Forty years ago, the American travel writer and novelist father of Louis, visited the Kent coast as part of a journey around Britain that was to become The Kingdom by the Sea. His train journey from London was made memorable by the sudden threatening presence of half-a-dozen Skinheads:
"The Skinheads had come to the coast at Margate to fight," he wrote. They "gathered across the promenade from the amusement arcade called 'Dreamland', in a little pack, several hundred of them – all those shaven heads." He couldn't get out fast enough.
"Attracts the edgies"
Today, the Skinheads have been replaced by hipsters, the men favouring Biblical beards and tattoos, the women dressing in vintage skirts, bold tops, ankle boots and loose coats. Very Sixties Carnaby Street.
Travel articles about Margate in the national Press refer incomprehensibly to 'skater boys and girls' and 'Carhartt-clad youths' who visit 'taquerias', 'mezcal bars', and an 'izakaya-style venue'. There they eat 'Insta-porn cruffins', 'Balkan bites' and 'panko-smoked tofu' from 'ramen bowls or bento boxes', and a pizzeria that 'serves a mean pickleback'. Ever feel you live in an alternative universe?
Despite the influx of 'millennial creatives and digital nomads' (The Guardian), the town is still rough around the edges. Chi-chi houses rub shoulders with multi-occupancies, torn nylon curtains inside, rubbish piled up outside.
It's a place that attracts the edgies – not just Emin, but Banksy (he doesn't live there but created some Valentine's Day artwork for the town, depicting domestic abuse), and Pete Doherty and Carl Barât of The Libertines, who own the Albion Rooms hotel.
"A bit eccentric"
However, we were staying at the 41-bedroom Walpole Bay Hotel. We'd arrived by train from St Pancras, courtesy of one of Southeastern Railway's regular services through the Medway towns to the Thanet coast. From Margate's neoclassical station (towered over by the Brutalist 1960s Arlington House tower block), it was a short taxi ride to the Walpole Bay Hotel in Cliftonville. Back in 1903, the area was described as 'the most exclusive and aristocratic part of Margate'. More recently, Time Out voted it 'the UK's coolest neighbourhood'. According to Tatler magazine, it bubbles with 'BoBos' – 'the bohemian bourgeoisie'.
We'd already been told that the hotel, dating back to 1914, was "a bit Agatha Christie". Wetherby-born Pete Hall used to be restaurant manager there before moving to The Yarrow in Broadstairs. "It's a bit eccentric," he said, "a bit Poirot, if you know what I mean. A lot of older people go there because they remember it from childhood. The owner collects things."
Well, indeed. Outside, the four-storey hotel is all red brick and white paint, with a flower-strewn wrought-iron canopy sheltering a verandah where people take afternoon tea. Inside, it's like The Old Curiosity Shop (Dickens knew the town well, spending 22 years visiting next door Broadstairs).
"Cupboards and cubby-holes"
The reception area sets the scene: glass-fronted cabinets full of blown-glass fish, Lladro figurines, pot cottages and tea caddies. Family photos cover the piano, while photos of famous visitors line the staircase down to the basement (including actors David Hemmings and Ray Winstone, comedian Vic Reeves and musicians from Russ Conway to Brian Eno).
Upstairs, after cranking open the iron doors of the 1920s trellis-gated lift, there's more – much more – of the same: narrow corridors, walls lined with painted napkins donated by artistic guests, cabinets of seaside souvenirs, jars packed with marbles, glass panels encasing all manner of odds and sods.
On the second floor, a crowd of ancient dolls, teddies and dogs-on-wheels stare glassy-eyed from behind their wooden playpen. Cupboards and cubby-holes are stuffed with ancient vacuum cleaners, typewriters and sewing machines. A room marked Bathroom contains old lace wedding and cocktail dresses. There's a real crocodile handbag complete with claws. No wonder another journalist likened it to 'a setting for a séance'.
It's "a museum of serendipity," according to owner Jane Bishop, adding, "One man's trash is another's treasure…"
She and her husband Peter rescued the hotel from being turned into holiday apartments back in the 1990s, and still live there. We were to meet her later, but the sun was shining and Margate was calling.
"Vibrant"
A 20-minute clifftop walk took us to the Turner Contemporary, the art gallery designed 12 years ago by David Chipperfield, the architect behind the Hepworth Wakefield. Every few yards, it seemed, there was a blue plaque to someone who'd lived or stayed in Margate: John Keats, Nelson and Lady Hamilton, artist Walter Sickert – even Karl Marx woz here (separately).
Inside the gallery, Sonia Boyce's award-winning Feeling Her Way installation celebrated black female musicians in a cacophony of sound and video. Outside, a cast-iron figure of a man – one of Antony Gormley's Another Time statues (top image) – stared silently and timelessly out to sea. Later, he would be completely submerged by the waves.
Across from the gallery café, Manning's seafood stall was selling cockles, whelks, jellied eels and prawns, oysters and crab – an installation in its own right. The Old Kent Market, meanwhile, offered an artisan bakery selling vegan slices, a South Indian takeaway, juice bars and a 'soul café' selling jerk chicken – plus a 'tooth gem specialist' called Tooth and Dare.
The Old Town's Market Place felt a little like Montmartre with its vibrant outdoor cafes and with plenty of charity, arty and vintage shops nearby – plus the odd holistic therapy salon.
"Renovated"
In the Margate Bookshop, a book on 365 Ways to Save the Planet sat alongside ones called In Defence of Witches ('why women are still on trial') and A Short History of Queer Women. A poster advertised a festival entitled In Your Vagina ('lies the key to your happiness').
There was also the novel Dreamland, by Rosa Rankin-Gee – and Dreamland is where we headed next. The 'seaside entertainment sensation', with its iconic Art Deco-ish neon-lit signs, has become a star in its own right, thanks to Lily Allen's six-part TV comedy drama of the same name.
Much of the filming was done in Margate, centring on the theme park's pinball machines, rides, ghost trains, carousels and big wheel, not to mention its 100-year-old Grade II listed Scenic railway rollercoaster – and a sweet bee-shaped one.
Expensively renovated in 2017, the multi-purpose complex dates back to the 1860s when, as the 'Hall by the Sea', it was run by the circus proprietor 'Lord' George Sanger. More recently, its Grade II listed cinema auditorium featured in Sam Mendes' 1980s film Empire of Light.
"It has more of a heritage vibe than, say, Alton Towers," said Dreamland's PR manager Amanda McCabe, pointing out the 1920s Chair-O-Plane, the 1940s Waltzer, 1950s Galloper and 1960s Whirl A Round. "Heritage with a modern twist. It's a bit cheeky, tongue in cheek, quirky, arty. Everyone I speak to has a memory of Dreamland," she continued. "It's woven into Margate, and into Kent really."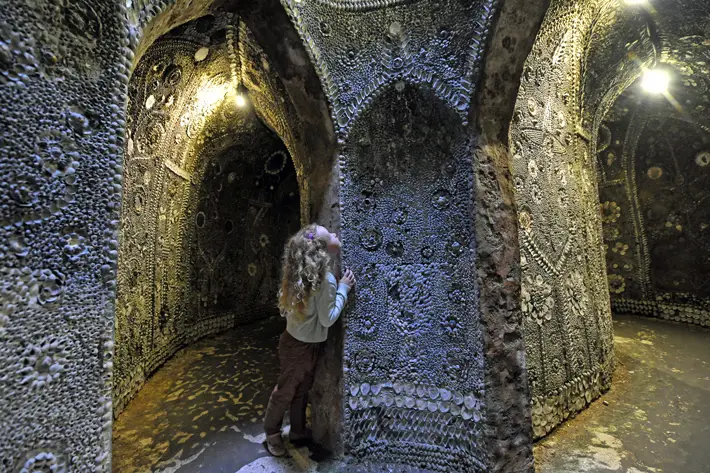 "Subterranean walls"
Two other local attractions – both underground – are Margate Caves and the Shell Grotto. The caves are a former chalk mine filled with hand-painted murals and graffiti, including a drawing of 'Farmer George', King George III. The mine was hidden for 100 years until the owner of the house above it, Charles Francis Forster, discovered it in 1808. He used one cave as a dining-room and fashioned an ice well out of another to store his wine collection in.
During both world wars, the caves were used as an air-raid shelter. Closed between 2004 and 2019, they reopened just before the pandemic. "It's very peaceful and calming down here," said learning and engagement manager Becky Wornast. "It may even have inspired the rabbit hole in Alice in Wonderland – Francis Forster had pet rabbits that kept falling down the holes."
After excellent mushroom soup in the light and airy café, we strolled along to the Shell Grotto. Open to visitors since 1837, its subterranean walls are covered in mosaics made up of 4.6 million shells – mussels, oysters, cockles, whelks, limpets and scallops.
Theories about its origins have included it being a Druid's temple, a Viking tomb or 'A Shrine of Mithras… built by Cretans'. A more sceptical Arthur Mee – he of guidebook fame – reckoned it was 'partly the result of the astounding industry of an English schoolmaster of the first half of the last century, and with no great artistic or scientific significance'.
Three young women who obviously hadn't read his comments teetered past, photographing the designs – a serpent, a tree of life, the elephant god Ganesha, the Roman god Bacchus – on their mobile phones.
"This is crazy!" they giggled. "This is nuts! Wild! My God, whose idea was all this?!"
"Heritage feel"
Back at the Walpole Bay Hotel, we had traditional afternoon tea in the dining-room: Old Country Roses tea service, Sheffield-made silver-plated teapots, white tablecloths, cheese, cucumber and egg sandwiches, and huge, warm homemade scones served with jam and cream.
Our L-shaped, bay-windowed room, meanwhile, was pure 1940s and 50s: lilac lily design wallpaper, wonky wooden chests of drawers, two-poster bed, lilac-coloured chamberpot filled with cloth roses, and a great china washbowl and jug, which we stored for safety in the rather musty-smelling wardrobe.
Breakfast the next morning also had something of a heritage feel – prunes and grapefruit, kippers, Kelloggs and Weetabix, scrambled egg on sliced toast. Before leaving, Jane Bishop ("I like playing the part of the eccentric aunt") gave me a whirlwind tour, including the basement ballroom, period gentleman's urinals complete with marble floor, a host of open fireplaces, maids' sculleries, copper boilers, even a dumb waiter ("a period treasure").
"Our ambition," she said, "is to preserve what is best from an earlier, less frantic age, and retain the quality of service, friendliness and care. We're an attraction in our own right."
The hotel has, indeed, featured in films, fashion shoots and music videos. She showed me books full of press cuttings, including British, Italian and French fashion magazines such as Vogue and Marie Claire. Plus four signed copies of Tracey Emin's memoir Strangeland.
"She used to hold parties here and do book signings," explained Jane. "She loves the Walpole." She paused. "We're like Marmite. You either love us or hate us."
Rooms at the Walpole Bay Hotel range from £125 for a standard double, B&B; Fifth Avenue, Cliftonville, Margate CT9 2JJ. Tel: 01843 221703. walpolebayhotel.co.uk
Margate Caves – margatecaves.co.uk
Shell Grotto – shellgrotto.co.uk
Dreamland – dreamland.co.uk
Turner Contemporary's current exhibition is Beatriz Milhazes: Maresia, see also turnercontemporary.org
Southeastern Railway runs very regular train services to Broadstairs, Margate & Ramsgate from London St Pancras station: southeasternrailway.co.uk
The excellent Visit Thanet website is full of invaluable information and advice about the whole area: visitthanet.co.uk
Top image: Tourism @ Thanet District Council