8 Contemporary Patio Designs for Your Home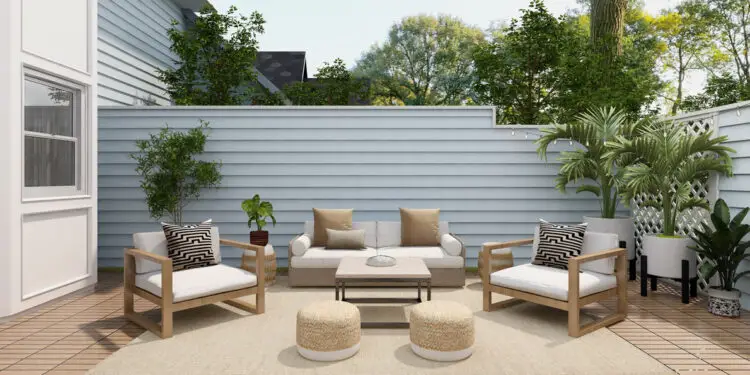 A garden patio makes for a welcoming and wonderful outdoor living space throughout every season and especially the summer months when you can sit outside and enjoy your living space. Even in the wintertime, the right garden design proves invaluable with a patio providing a weatherproof space to sit around a stunning fire pit feature. In comparison to garden lawns, properly fitted patios require little maintenance, so they are the preferred choice for many homes. From stone slabs to polished concrete, there is a style and design to suit everyone. If you are looking for a patio design to spice up your garden area this year here are 8 contemporary patio designs perfect for your home.
Multi-level Patio with Water Feature
A garden water feature can add such a comforting and relaxing feel to your space. A modern waterfall design will give your patio a sense of uniqueness and style with a beautiful look and calming sound effects. If you don't have much room in your ground space, go vertical and add multiple levels to your patio. A multi-level concrete patio design offers low maintenance but will also add a splash of colour too. Build seating into the walls to make a very modern and contemporary patio space. A modern patio will add a laid back and relaxed feel. If you have extra floor space, you can add a dining table and chairs for that added feature.
Contemporary Rattan Garden Furniture
If you want to create a modern look on your new patio, then you need a set of garden furniture that's going to match your style. With the popularity of hassle-free options for consumers in general, weatherproof rattan furniture has become the most popular option, as it can be left outside all year round without a cover (unlike wood which ends up rotting). One of the most popular items for modern decking is a rattan corner sofa set, which creates a sociable seating area without taking up too much room as they're located in a corner. 
To maintain the vibrancy and durability of your rattan furniture, proper care and maintenance should be observed. Since rattan furniture doesn't work well with water, make sure to put up awning in your outdoor space if you're living in regions prone to rain and storms. Here are a few tips to keep them as new as possible: 
Clean it gently with a soft cloth. Stay away from strong cleaning agents and abrasive creams to avoid damage. 

If your rattan furniture is wet from the rain, simply leave it under the sun to dry. Avoid bending or applying force to any part of the furniture as it dries. 

If you're seeing signs of excessive dryness, treat the furniture with linseed oil.
Brick or Concrete Patio with Fire Pit
No matter how big your patio space is, it is always a good idea to create a focal point to give the space a purpose. A fire pit is a must-have right now in your garden no matter what the weather. A brick or concrete patio will easily adapt to your garden area. Create a multi-level brick design that will separate each area so for relaxing around the fire pit and when eating.
The fire pit can be the focal centrepiece keeping it modern but very stylish. Add a stylish custom-built bench with some printed fabric to add colour, character, and most importantly somewhere comfy and cosy to sit.
The Classic Look
A neat paved garden is a classic and elegant design that feels tranquil and timeless. Paving slabs in sandstone will create a generous area for a table and chairs. Enclose the central lawn with a sandstone walking path giving you access to the seating area. Place flower raised beds and borders to finish the look. The beauty of this design is its simplicity. The flower beds and plants will create a feeling of calmness and order. Raised flowerbeds are a great way of adding a splash of colour.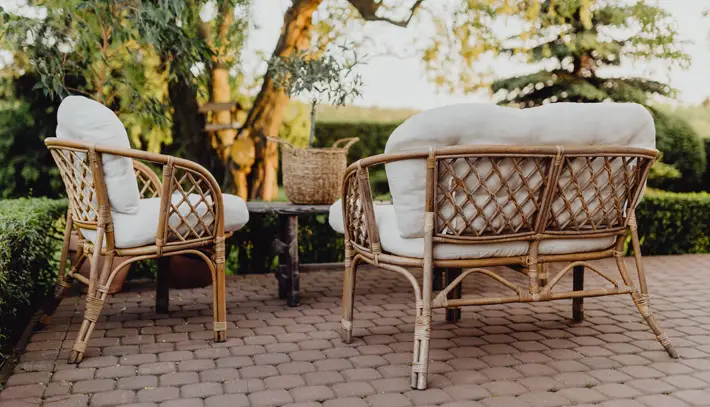 Design it modern with Contemporary Colours
When it comes to all aspects of interior design grey is still one of the most common and popular colours used. Take the colour grey out into your patio space by way of porcelain tiles or polished concrete. Coordinate the colour scheme with some grey shutters for your windows and doors. Add a glass top table and some chairs for that fresh and crisp look. Add a large white parasol to finish the look making it ideal to provide shade during the summer sunny days.
Design your garden into a corner space
A compact paved garden patio is a masterclass in designing a small garden without compromising on style. Large format paving slabs will form a seamless flooring option which could also be placed indoors. Add some large planters and generously padded seating to create that smart hotel feels and look. Add some horizontal fencing around the area to create coherent and private space. Some colourful cushions could also be added to the space to add some life and colour to the corner couch.
Use two different Materials
Using two different materials in your home is a patio design for true modernists. Neatly ordered fencing, precision landscaping, and clean white paving all contribute to a visually striking and sleek scheme. The white paving and grass mixed make such a stunning look and design for any home back garden. The space with some added seating would be ideal for those summer parties enjoying the sunshine outside with family and friends. With carefully selected materials, dazzling white bright paving, along with some red seating area brings real texture and warmth to the overall look and scheme.
Mix some textures to add some excitement to a small patio
As with smaller patios, the texture is very important here. It is the texture that will add some excitement and interest to your outside patio space. Texture in areas will blur the edges of your patio making it feel and look less enclosed. Plants are a great and popular way of adding different textures. When choosing plants always pick an array of different shapes and sizes. You can also add texture with materials so choose some fencing, furniture, and even a choice of paving options. Some luxury seating and table will create a stunning patio.
Soften the walls or fencing with some Greenery
To create privacy in the home fencing or boundary walls would be needed. Add some fresh greenery to the fencing or wall to soften it up. By adding greenery to walls or fencing, you are freeing up the floor space giving you a lot more room for some stylish furniture and plants. You could also add some fast-growing bamboo or tall plants. Create a space that feels intimate and cosy with some glowing garden lighting to complete the look. The glowing lights will create a cosy and relaxing mood.
We hope these creative and modern patio designs inspired you to create your own at home. Soak up the sun, dine alfresco, and lounge out with your family and friends with these inspirational ideas perfect for every home. Make your dream patio design come to life and create the atmosphere you want for your home.